Matrox Graphics this week announced that going forward it will use AMD Radeon graphics processing units as well as their drivers for its forthcoming multi-display graphics cards. The move will help to make Matrox Graphics' graphics cards more competitive on the market. The company hopes that its proprietary software will differentiate it from solutions by AMD or Nvidia. Corp.
Matrox Graphics is a rather legendary name in the world of graphics boards. The company has been building graphics adapters since 1978 and even used to develop leading-edge graphics processors in the 1990s and early 2000s. Unfortunately, Matrox ceased to develop high-end consumer-oriented graphics solutions in 2003-2004 after the launch of the Parhelia-512 graphics processing unit in 2002. While the company released several more graphics processors in 2005 – 2008 to add PCI Express and Windows Vista Aero acceleration technologies, they could not compete against solutions from ATI/AMD and Nvidia on the consumer market.
The new generation of Matrox graphics solutions will be based on AMD's code-named Cape Verde graphics processing unit (GCN 1.0 architecture, 640 stream processors, 40 texture units, 16 raster operating units, 128-bit memory bus) that powers AMD Radeon R7 250X/AMD Radeon 7700-series graphics cards. Thanks to support for DirectX 11.2, OpenGL 4.4, OpenCL 1.2 and other new technologies, Matrox's graphics adapters will finally be able to offer modern features and capabilities already provided by other graphics solutions.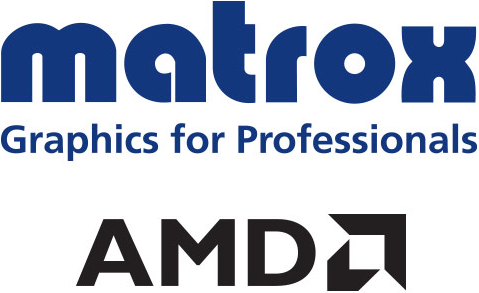 Matrox claims that its soon-to-be-launched product line will enable unique features that solve real-world problems in enterprise, industrial, pro A/V, digital signage, security, command and control, and other professional applications. The solutions will be supported by Matrox PowerDesk desktop management software with critical productivity-enhancing features, which will be integrated to work with AMD's professional display drivers.
"The AMD graphics core next (GCN) GPU we selected for our new product line allows Matrox to continue designing and manufacturing professional, reliable video cards. Matrox add-in boards strike the perfect balance between video output density, performance and power consumption," said David Chiappini, vice president of research and development, Matrox Graphics. "Our enterprise and industrial customers will continue to benefit from Matrox multi-display board designs, easy-to-use PowerDesk software, direct customer support and long product life cycles."
Discuss on our Facebook page, HERE.
KitGuru Says: Matrox Graphics has made a very logical decision to move to AMD graphics processors. Customers of Matrox have probably demanded new features for years, but Matrox just could not provide them. As a result, the company's market share has dropped to extremely low levels by now.