The last few days have seen a few crazy graphics cards announced, with the likes of Nvidia's Quadro P6000 offering ridiculous levels of performance at a hefty price tag. You haven't seen anything yet though, as AMD's Radeon Pro Duo Solid State Gaming (SSG) GPU, comes packing a pair of M.2 Samsung 950 Pro SSDs, giving it a terabyte of on board storage.
Much like Nvidia's recently unveiled Quadro cards, this Radeon Pro Duo SSG isn't designed for the consumer. With a price tag of $10,000 (£7,650), that should be obvious, but there are likely those still tempted by the idea of having a terabyte of local memory on their graphics card.
For almost everyone though, even the idea of that will be complete overkill. When the average Steam gamer is just coming on board with 4GB of VRAM, it might seem a little ridiculous to consider a terabyte necessary. That's why it has such a professional focus. As it stands, AMD's top-memory GPU has around 32GB, so this offers something unique.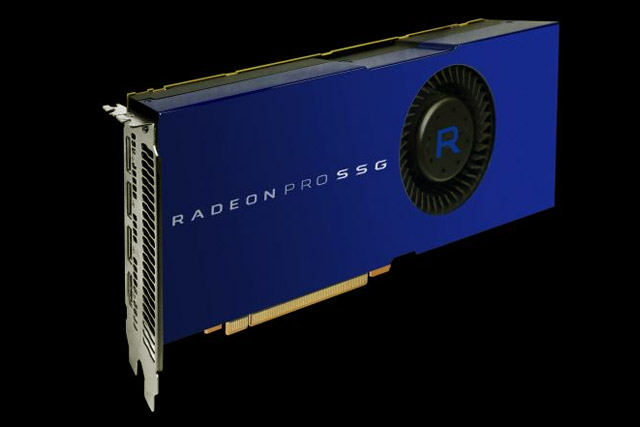 The dual Fiji cores of the Radeon Pro Duo and the 8GB of on board HBM offer solid performance in their own right, but by adding so much local storage (even if M.2 storage is much slower than RAM) AMD hopes to avoid the system in question utilising system memory, which requires a call to the CPU and can quickly grind a system to a halt in certain scenarios.
In one example at the SIGGRAPH show which AMD revealed the Pro Duo SSG, it showed it capable of handling video at 90 frames per second, even at 8K resolutions. In comparison, more mainstream GPUs were only capable of 17FPS (as per PCGN).
Anyone wanting to get their hands on this card will need to wait a short while, though there are said to be beta kits available for those particularly interested. AMD expects the card to be fully available at the start of next year.
Discuss on our Facebook page, HERE.
KitGuru Says: It would be really interesting to see the difference in performance between a card like this and Nvidia's new Quadro releases. I wonder if it might be a much better fit for certain applications.