AMD has finally stopped teasing everyone and has announced its new graphics card lineup for 2015. The expected R7 and R9 300 series graphics cards made an appearance but AMD also has four Fiji powered graphics cards up its sleeve all with HBM memory on-board, which is more than we were expecting from the leaks.
The announcement event kicked off with the company's own Richard Huddy taking to the stage to promise not just the fastest GPUs to date but also the most power efficient. However, we did start at the bottom of the chain with the R7 360 and R7 370, which will be launching on Thursday for $109 and $149 respectively. These two cards are currently being pushed as the best option for MOBA players as they will apparently deliver a solid 1080p/high frame rate experience in  competitive, less graphically intensive titles.
The R7 360 comes equipped with a small single fan cooler and 2GB of VRAM, while the R7 370 kicks things up a bit with 4GB of VRAM and a dual fan cooler. From there, we moved on to the higher end cards, the R9 series, featuring the R9 380, R9 390 and R9 390x, all featuring full DirectX 12 support- a point that was really hammered home throughout the announcement.
The R9 390 and R9 390x will expectedly feature 8GB of VRAM while the R9 380 will stick to 4GB. AMD did not specify which cores were running on these GPUs so we imagine there was quite a bit of truth to those 're-badging' rumours, which we discussed last week, HERE. The R9 380 will come in at $249, while the R9 390 and 390x will cost $329 and $349 respectively.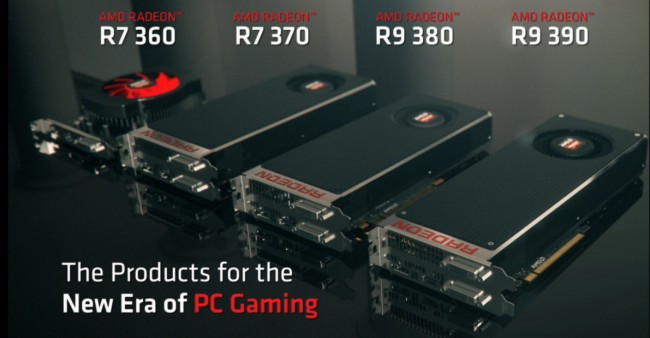 Now that the 300-series is out of the way, lets talk about the really exciting stuff, AMD's brand new graphics chip, Fiji. While we already knew that there would be a Radeon Fury X along with a cheaper Radeon Fury card, we did not know that AMD already had two other HBM Fiji GPUs up their sleeves.
To break it down, the Fury X is AMD's watercooled GPU, while the regular Fury will be air-cooled. Both feature 4GB of HBM memory and offer 1.5x performance per watt over the R9 290x.  The Fury X and Fury will cost $649 and $549 respectively. While the R9 300-series is expected to go on sale this Thursday, the Fury cards may take a little longer to land on the market with a 'Summer' release window being referenced by AMD CEO, Lisa Su.
Now for the surprise cards. AMD already has a dual GPU card in the works with two Fiji graphics cores on-board. A price was not announced but this will be available later this summer and will play a big role in AMD's new product, currently labelled 'Project Quantum', which is essentially a console sized PC with a dual Fiji card slotted in for smooth 4K gaming in the living room.
There was one more surprise announcement in the form of AMD's R9 Nano GPU. This is also a Fiji GPU but thanks to HBM, AMD were able to cut down on the PCB size significantly, bringing the card in line with the size of an R7 260. It offers up 2x performance per watt over the R9 290x and is cooled by just a single fan. In total, AMD has four HBM/Fiji GPUs hitting the market over the coming months.
Unfortunately, prices or exact release dates for the R9 Nano and the dual Fiji GPU were not announced but they are expected over the Summer period. The regular R7 and R9 300-series cards should hit stores as soon as Thursday this week.
Discuss on our Facebook page, HERE.
KitGuru Says: AMD surprised us a tad with four Fiji/HBM GPUs in the works, the Fury and Fury X are also priced very competitively against Nvidia's Titan X and GTX 980Ti, although we don't know what frame rates you can expect in games just yet- you'll have to wait for reviews to find that stuff out. What did you guys think of AMD's reveal today? Are you thinking about grabbing an upgrade?