The first waves of custom AMD Radeon RX 480 and Nvidia GTX 1060 graphics cards are starting to land and Asus is diving straight in with its new ROG Strix offerings, which promise higher levels of performance and much better cooling compared to the reference versions of these GPUs.
First up is the ROG Strix RX 480, which offers up to 15 percent faster performance in 3DMark Firestrike and up to 19% faster performance in games like Doom and Hitman when compared to the reference card. Asus has also incorporated the same triple fan cooling block found on higher-end GPUs this generation, delivering 30 percent cooling performance while being three times quieter.
The RX 480 comes with a boost clock of 1330MHz in OC mode and should be available from mid-August onward. You can currently pre-order the Strix RX 480 for £289.99.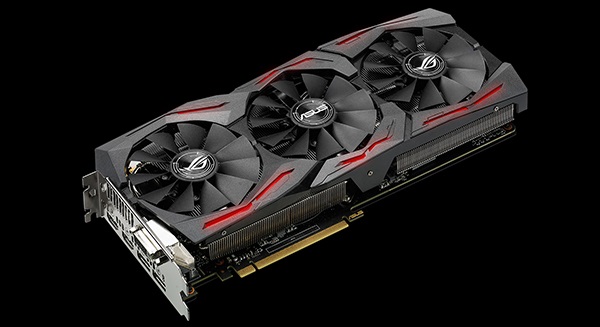 On the GTX 1060 side of things, the ROG Strix offers up to 6.5 percent higher gaming performance in titles like Doom and comes equipped with the same high-performance triple fan cooling block. The ROG Strix GTX 1060 comes clocked at 1873MHz in OC mode. This card is already available for £299.99.
Both cards share some similarities when it comes to Asus's own exclusive features, which include Auto-Extreme technology and Super Alloy Power II components for premium build quality and reliability. The fans used on the cooler have a patented wing-blade design too, which increase airflow.
Finally, both cards use the ROG Aura lighting system, which gives you some extra personalisation options.
KitGuru Says: Given how well the ROG Strix cooler performs on higher end cards like the GTX 1080, it will be interesting to see what levels of performance it can unlock on these mid-range cards. Are any of you currently shopping around for an RX 480 or a GTX 1060? What do you think of the new Strix cooler?