EVGA's previously announced GTX 980Ti 'VR Edition' has finally arrived following on from its debut at CES. The card arrives just in time for the first wave of virtual reality headsets, like the Oculus Rift and the HTC Vive, which will be hitting the market over the next couple of months. So what comes with a GTX 980Ti VR Edition? Well aside from the graphics card itself, you will be getting a 5.25″ drive bay designed to make it easier for you to hook up a headset directly to the GPU.
The drive bay comes with two USB 3.1 ports and an HDMI 2.0 port, which connects directly to a mini-HDMI port on the GPU internally for less external wires dangling around. The only problem with this is that the Oculus Rift requires another USB Port but most cases should have extra front panel connections for that.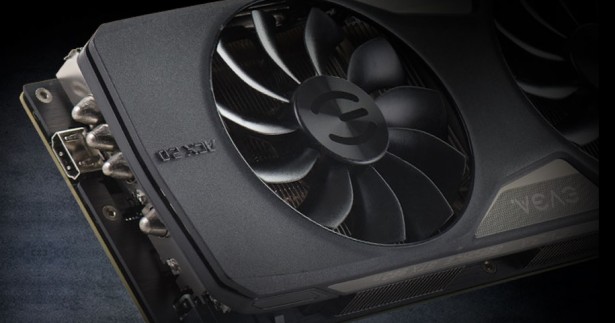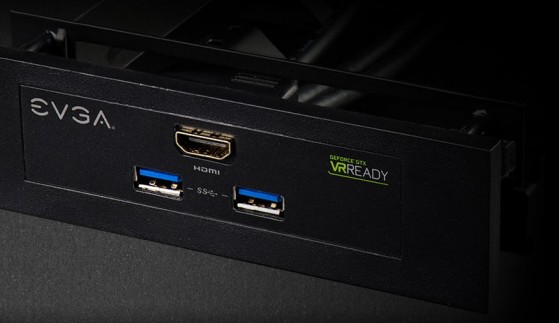 The GPU itself is a version of EVGA's ACX 2.0 card, with 6GB of GDDR5 memory along with the highly rated dual-fan cooler. The card is clocked at 1000MHz base with a boost up to 1076MHz though do keep in mind that Nvidia's Maxwell  architecture tends to be pretty good for overclocking so you should be able to get even more performance out of it with some manual tweaking.
European pricing and availability information is expected to arrive soon.
KitGuru Says: EVGA's VR connection bay is a pretty good idea and it should be easy for most to find space for particularly if they no longer use an optical disk drive in their system. What do you guys think of EVGA's GTX 980Ti VR Edition?