The GTX 1080Ti is on the way and while you can pre-order a reference cooled version directly from Nvidia already, custom-cooled solutions from AiBs are on the way. In particular, MSI is currently teasing its upcoming Twin Frozr/Gaming X GTX 1080Ti.
The Twin Frozr VI cooler is something we have praised many times in the past in graphics card reviews. With the GTX 1080Ti, we are likely to see many features return, including  Zero Frozr technology, which stops the fans from spinning until the GPU hits a certain temperature.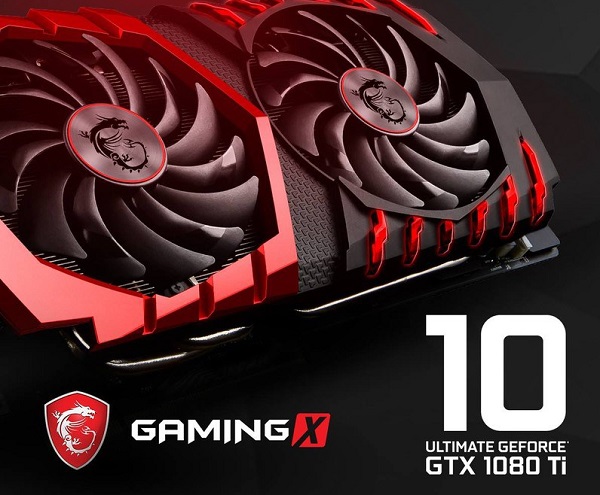 The red and black theme will once again make a return but hopefully the red LEDs found going along the second fan will be a bit brighter this time around. I have an MSI GTX 1080 Gaming X in my own personal rig and as lovely as the cooler is, I found the lights to be a bit dim.
Unfortunately at the time of writing, we are unsure when MSI's GTX 1080Ti Gaming X is going to release but it certainly appears to be on the way, complete with GP102 graphics core, 3584 CUDA Cores and 11GB of GDDR5X memory. Hopefully the additional cooling will also mean faster out of the box overclocks.
KitGuru Says: As far as my own personal tastes go, MSI's Twin Frozr coolers always stand out the most to me when I'm shopping for a new graphics card. Are any of you guys planning on upgrading to a GTX 1080Ti? Are you waiting on custom cooled models like the MSI Gaming X?