The Nvidia GTX 1060 officially launched today, with reviews showing it offering similar performance to a GTX 980 at a more budget friendly price point. Now that retailers have some stock in, it is a good time to check the prices and availability of certain custom cards here in the UK.
As we saw with the GTX 1080 and GTX 1070, Nvidia is launching a 'Founder's Edition' version of the GTX 1060. However, unlike the two higher end GPUs, the GTX 1060 FE will be limited edition and will only be available directly through Nvidia's store, removing the option for partners and retailers to sell the reference design model.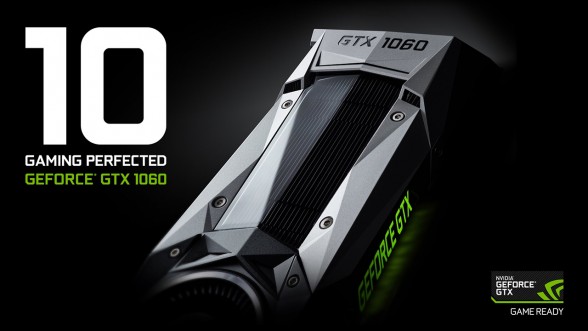 As a result, while the official MSRP for non-founder's cards is £239, we will be seeing some of the more popular custom cooled GPUs launching around the £275-£300 mark. Right now, Overclockers UK has the largest range of GTX 1060s available, so it seems to be the best place to look to get a general feel for pricing and availability at the time of writing. This could change in the future so don't avoid shopping around a bit.
Right now, you can grab an ASUS Strix (£299.99) , MSI Gaming X (£299.99), Gainward Phoenix Golden (£299.99), Gigabyte G1 Gaming (£289.99), or a Palit Super Jetstream (£289.99) GTX 1060 and have it delivered this week. It seems that the more popular GPU partner brands will be sticking around the £300 price point for now. Which is a jump from the Nvidia-only Founder's Edition, which costs £279.
There are of course some cheaper GTX 1060 options available to pre-order at launch, these include the EVGA non-SC (£238.99) and SuperClocked (£259.99) cards, as well as the Zotac Mini (£238.99), KFA2 EX-OC (£259.99) and the MSI Armour Edition (£269.99). There are two GTX 1060s in stock on the cheaper side, with the Palit Dual and the Gainward Dual cards both sitting at £249.95.
While this is a good gauge of where things are on launch day, if you don't have the cash right now, do keep in mind that we may see some fluctuation. Demand heavily outstripped supply for the GTX 1080 and prices ended up going through the roof here in the UK. If availability for the GTX 1060 becomes an issue, prices may end up going up a bit. You can find all of the cards we mentioned in this article, HERE.
Discuss on our Facebook page, HERE.
KitGuru Says: The GTX 1060 seems to have impressed many reviewers today and it is nice to see some of the popular custom coolers available at launch. Are any of you thinking about buying a GTX 1060? What do you think of the pricing?