There are many high-profile people with huge followings on Twitter with the power to start trends and change the opinions of many. Sometimes, verified users will put out tweets that many will see instantly, only to be deleted minutes later to avoid accountability. Tweet archives like PostGhost and Politiwoops are around to avoid influential tweets vanishing without a trace and unfortunately, Twitter doesn't seem to be fond of the idea.
Politiwoops, a website that archives the tweets of politicians was shut down by Twitter at one point but was later reauthorized to continue operations. PostGhost archives tweets from a broader spectrum of verified Twitter users and earlier this month, they got a Cease and Desist letter. In an effort to get reauthorized to publish tweets, as Politiwoops did, PostGhost has now issued an open letter to Twitter, calling for them to change their mind.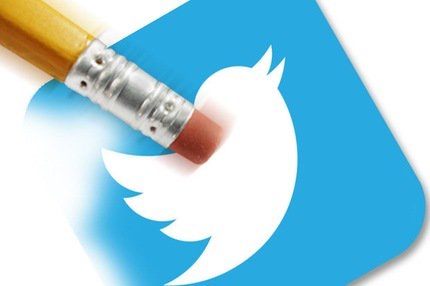 Image source: Laurent Chabbal/Twitter
The letter points out that in the build-up to the recent EU Referendum in the UK, several verified celebrities with a combined reach of 17 million followers, used Twitter as a platform to boost their political agenda. That is more reach than pretty much any single politician and could have a huge amount of impact. The crux of PostGhost's argument is that "the ability to reach millions of followers instantly and leave no trace is a massive and growing power, and one that is currently completely unchecked and undocumented."
Most people do use Twitter for social reasons but for the 0.05% of verified users on the service, it is an "outsized instantaneous megaphone" used to reach vast numbers of people in seconds. By removing the ability to archive tweets, Twitter removes accountability from these individuals but that won't stop screenshots of deleted tweets from going around, it will just stop news outlets from being able to fully verify their legitimacy:
"Finally, shutting down PostGhost won't stop people from sharing deleted tweets – but it will make verifying their legitimacy impossible. Not a week goes by that a deleted tweet isn't front page news (like this one from Donald Trump, with 9.4M followers, deleted in 2 hours). However, media outlets are forced to rely on screenshots taken by users to prove their existence. "
The letter ends with PostGhost reaching out for contact from Twitter to try and reach a resolution to this.
Discuss on our Facebook page, HERE.
KitGuru Says: I can see why Twitter might not want a deleted tweet archive around but for those with massive followings, it is hard to argue against PostGhost's efforts to hold them accountable for things said and seen by thousands, if not millions of people.