Mafia 3 launched on the PC today so in preparation for our full game analysis and benchmarks, I sat down to play the game this morning and get started on forming my first impressions. Unfortunately, the problems with Mafia 3 on the PC are immediately apparent with a very limited graphics options menu, alongside a hard 30 frames per second cap.
As far as settings go, options are pretty limited but at least the basics are there. Field of View goes up to 90 and you can choose between low, medium and high across all of the other options. Some more details would be nice, like seeing what specific form of Anti-Aliasing is in use, or what value is being used for each preset, like 2x, 4x or 8x.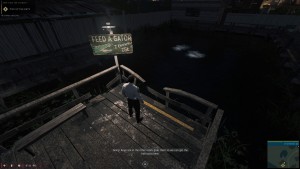 Click images to enlarge.
As for actual graphical quality, at first glance, it doesn't appear to be very good. Honestly, the game looks fairly low resolution all around when it comes to things like textures. However, do keep in mind that I have only seen the starting area at the moment.
The worst part about all of this is that developers kept it quiet right up until the game began unlocking in Europe, at which point a 'message to PC players' was put out. In this message, the Mafia 3 team said that they know there are issues with the PC version of the game and that a patch is coming to remove the frame rate cap and add some additional graphical options.
"We know how important having options that best suit your PC's performance capabilities are. The team has been hard at work ensuring that Mafia III's performance is consistent across all platforms, and right now the game runs at a solid 30 frames-per-second. We are currently working on an update for PC that will give players the option to play Mafia III at higher framerates."
"We currently have a patch running here at the studio that includes 30, 60, and unlimited frames-per-second options in the video menu, among other improvements for the PC version of Mafia III. We're verifying the patch now to ensure everything is working as expected".
So if all goes well, the patch should arrive this weekend, at which point, I'll pick the game back up again for benchmarking. Until then though, you may want to hold off on grabbing the game unless you can put up with the frame rate cap.
KitGuru Says: Mafia 1 and 2 were great PC games, so it is a shame to see the series fall so low with its third entry. Perhaps the patch can turn things around when it arrives but until then, you may want to steer clear. Hopefully issues won't extend beyond the graphical realm as we get deeper into the story.