The attitude of hard disk drives makers to solid-state drives is well known: they claim that such devices can only serve certain niche markets and cannot really compete against HDDs. On Friday chief executive of Seagate went on to say that nobody uses SSDs as storage devices.
Nowadays solid-state drives are used in various client personal computers. Notebooks use SSDs as primary storage solutions, desktops utilize solid-state drives as boot drives. But while it is pretty clear that SSDs have replaced hard disk drives from many systems and even whole product categories (e.g., from ultra-thin laptops), chief executive of Seagate claims that nobody actually uses solid-state drives as storage devices.
"There is no one that is using SSDs for storage," said Steve Luczo, chief executive officer of Seagate, during the earnings conference call with investors and financial analysts. "I mean, maybe at the margin for replacing boot drives… I mean, maybe one or three per cent of the hierarchy is SSDs for storage. Most of our flash product is actually not hanging off the storage bus, it is fast memory."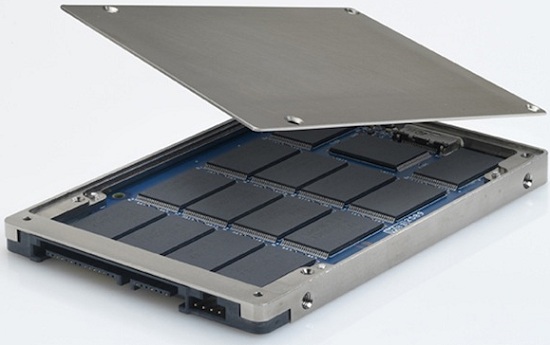 It is true that in desktops SSDs are primarily utilized as drives that are used to run operating system and frequently run applications, whereas large multimedia files are stored on high-capacity hard disk drives. In the datacentre, solid-state drives are used to store "hot" data, which essentially means that they are used for caching data that is accessed repeatedly.
However, it is also true that total available market of hard disk drives shrunk from 160 – 170 million units per quarter in 2010 – 2011 to around 110 – 111 million units in Q2 2015, based on estimates by Seagate and Western Digital. SSDs were of the key reasons why the number of hard drives sold per quarter decreased.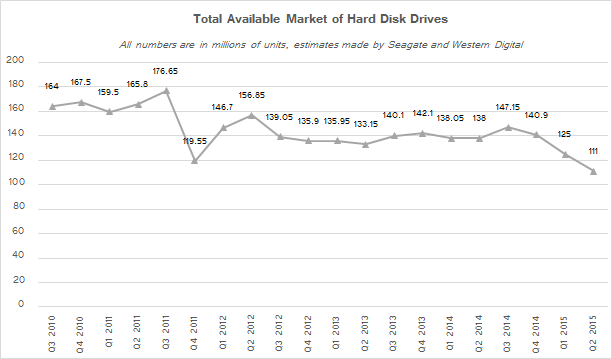 A good news for Seagate, WD and Toshiba is that as end-users adopt various client devices with NAND flash storage, they also start to use cloud data storage technologies, multimedia streaming and other services enabled by datacentres. The latter use a lot of expensive high-performance and high-capacity hard disk drives, something that clearly increases revenue and profitability of HDD makers.
Discuss on our Facebook page, HERE.
KitGuru Says: Both Seagate and WD essentially continue to ignore solid-state drives, especially for client PCs. While it is obvious that HDDs store the lion's share of data worldwide, it is clear that solid-state storage is an established multi-billion dollar market that is simply not addressed by the two storage giants. One of the thing that has to be mentioned is that Steve Luczo is a business management genius, who turned Seagate around in 2000 – 2002 period.