Seagate Technology has announced a unique hard disk drive for mobile computers that can store 2TB of data and is packed with exclusive technologies. The new ultra-slim HDD features shingled magnetic recording platters with extreme areal density as well as all-new mechanics.
The new 2TB HDD from Seagate comes in 2.5" form-factor and is only 7mm thick. The drive is based on two 1TB SMR platters with industry-leading areal density as well as new high-spatial efficiency mechanics, including new head, preamp, channel and other components. The usage of new mechanics allowed Seagate to pack two platters into a 7mm drive and reduce weight of the HDD to 3.17 oz. The drive uses Serial ATA interface, but Seagate does not disclose its spindle speed, cache capacity and so on.
"In an industry first, our engineers have been able to boost areal density to 1TB per platter in a 2.5-inch form factor, which will give OEMs the flexibility to design and build virtually any kind of mobile device they can envision, with plenty of storage to boot," said Mark Re, Seagate's chief technology officer. "Combining new mechanical firmware architectures, with state of the art heads, media and electronic design, this technology is a real game changer- providing four times more capacity than a 0.25TB SSD at a substantially lower cost."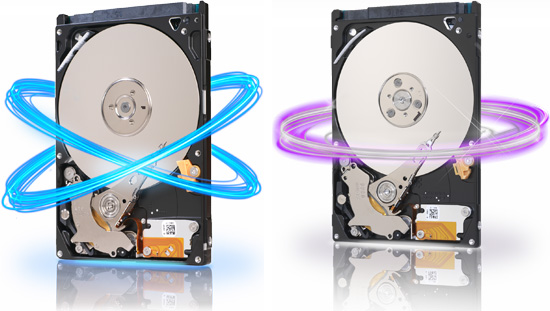 The SMR platters with extreme areal density will allow Seagate to build hard drives with even higher capacity than the drive announced this week. If the company has technologies for 1TB 2.5" platters, it means that it can also produce 2TB 3.5" platters, which will enable 10TB hard drives with 5 platters.
Seagate did not reveal whether 1TB SMR platters are made in-house, or by Showa Denko K.K. Earlier this year SDK introduced 750TB platters for 2.5" HDDs, but promised to release 1TB platters for such drives at a later date.
"The notebook PC continues to be an important productivity tool, especially for content creators who are producing an enormous volume of data," said John Rydning, IDC's research vice president for hard disk drives. "Seagate's new ultra-mobile HDD technology is ground breaking for Seagate and the HDD industry, making it possible for notebook PC users to have generous storage capacity in a thin and light PC."
Pricing of the new drive is unclear, but it will naturally cost more than competing solutions thanks to unique advantages it offers.
Discuss on our Facebook page, HERE.
KitGuru Says: The new HDD from Seagate is clearly unique and will enable thin-and-light laptops with unprecedented storage capabilities. Unfortunately, SMR-based HDDs are not performance champs, which means that such PCs will be rather slow even when compared to laptops with HDDs.