Seagate Technology late last week revealed plans to introduce a 2.5" hard disk drive with over 2TB capacity. The company did not reveal any additional technical details about the product, but said that it would be released in the next couple of quarters.
"Our 2TB 2.5-inch [hard disk] drive still leads the industry in areal density and will be refreshed in the next two quarters to a higher capacity, maintaining our leadership," said Dave Mosley, president of operations and technology at Seagate, during the company's conference call with investors and financial analysts. "We look forward to pushing these areal density improvements into the majority of our products in fiscal year 2016."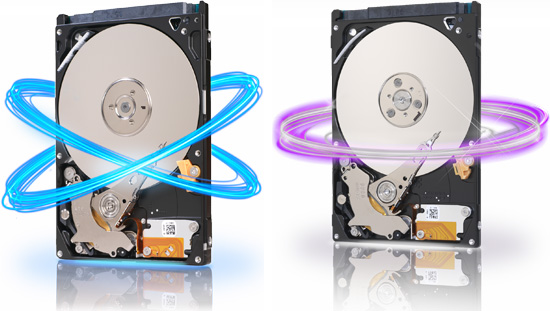 Earlier this year Showa Denko K.K., an independent producer of platters for hard disk drives, announced its first eighth-generation perpendicular magnetic recording platters for HDDs. The eighth-gen media has unprecedented areal density and is designed for 2.5" hard drives. Capacity of the new platter is 750GB, which allows to build dual-platter HDDs with 1.5TB capacity as well as triple-platter hard drives with 2.25TB capacity.
Showa Denko also intends to accelerate its development of next generation 2.5" HD media with storage capacity of 1TB. It is unclear when exactly such platters emerge on the market, but Seagate could use them to build dual-platter 2TB HDDs as well as triple-platter 3TB HDDs for notebooks.
Discuss on our Facebook page, HERE.
KitGuru Says: It will be very interesting to see what exactly Seagate plans to launch. 2.25TB capacity does not look like a breakthrough, but 3TB HDD that actually fits into laptops seems to be a very interesting product.