Seagate Technology on Tuesday unveiled the world's first hard disk drives with 8TB capacity. The HDDs are designed for scale-out data infrastructures that require maximum capacities at minimal footprints.
Seagate did not reveal a lot of technical details about its 8TB hard disk drives, but it said that the HDDs come in 3.5" form-factor, use the Serial ATA-6Gb/s interface and feature enterprise-class reliability as well as multi-drive RV tolerance for consistent enterprise-class performance in high density environments. Super-sized capacity of 8TB allows to store maximum amount of data per rack, which therefore improves storage densities and maximizes efficiencies of data-centers.
The hard drive maker did not unveil how many platters do the 8TB HDDs use and what type of magnetic recording technology they utilize. Earlier this year it was believed that 8TB hard disk drives feature platters based on shingled magnetic recording (SMR) technology, but Seagate neither confirmed nor denied the information. The SMR platters are projected to offer lower performance compared to perpendicular magnetic recording (PMR) technology, but Seagate also did not reveal any performance figures.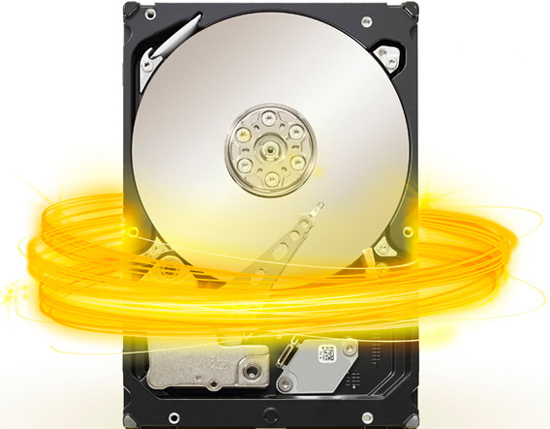 "As our world becomes more mobile, the number of devices we use to create and consume data is driving an explosive growth in unstructured data. This places increased pressure on cloud builders to look for innovative ways to build cost-effective, high capacity storage for both private and cloud-based data centers," said Scott Horn, Seagate vice president of marketing. "Seagate is poised to address this challenge by offering the world's first 8TB HDD, a ground-breaking new solution for meeting the increased capacities needed to support the demand for high capacity storage in a world bursting with digital creation, consumption and long-term storage."
Seagate said that it is shipping the 8TB drives to select customers now with wide scale availability next quarter.
Discuss on our Facebook page, HERE.
KitGuru Says: It will be extremely interesting to learn more about technologies behind Seagate's 8TB HDD as well as its performance. If Seagate managed to bring performance of SMR-based drives closer to that of PMR-powered drives, it could use the new recording technology for consumer hard drives as well, which means an increase of their capacities.