Toshiba Corp. late on Thursday introduced its first 6TB enterprise-class hard disk drive with 7200rpm spindle speed. The new HDD will be a part of the MG04 family, which is specifically designed for midline and nearline business critical workloads, introduced earlier this year and features persistent write cache technology.
Toshiba MG04 6TB hard disk drive features Serial ATA-6Gb/s (MG04ACA) or SAS-12Gb/s (MG04SCA) interfaces and sport 7200rpm spindle speed and 128MB cache. It is unclear whether the new MG04 HDDs are based on six 1TB platters or five 1.2TB platters. Power consumption figures for the drives were also not revealed by Toshiba. Maximum power consumption of other MG04 hard drives is 11.3W; in idle mode the drives consume 6W – 6.2W.
The new enterprise hard disk drives support both industry-standard 4K native and 512e advanced format sector technologies for optimum performance in the latest generation servers and storage systems. Emulated 512e AF sector technology performs best in legacy applications requiring 512 sector lengths using aligned-write environments.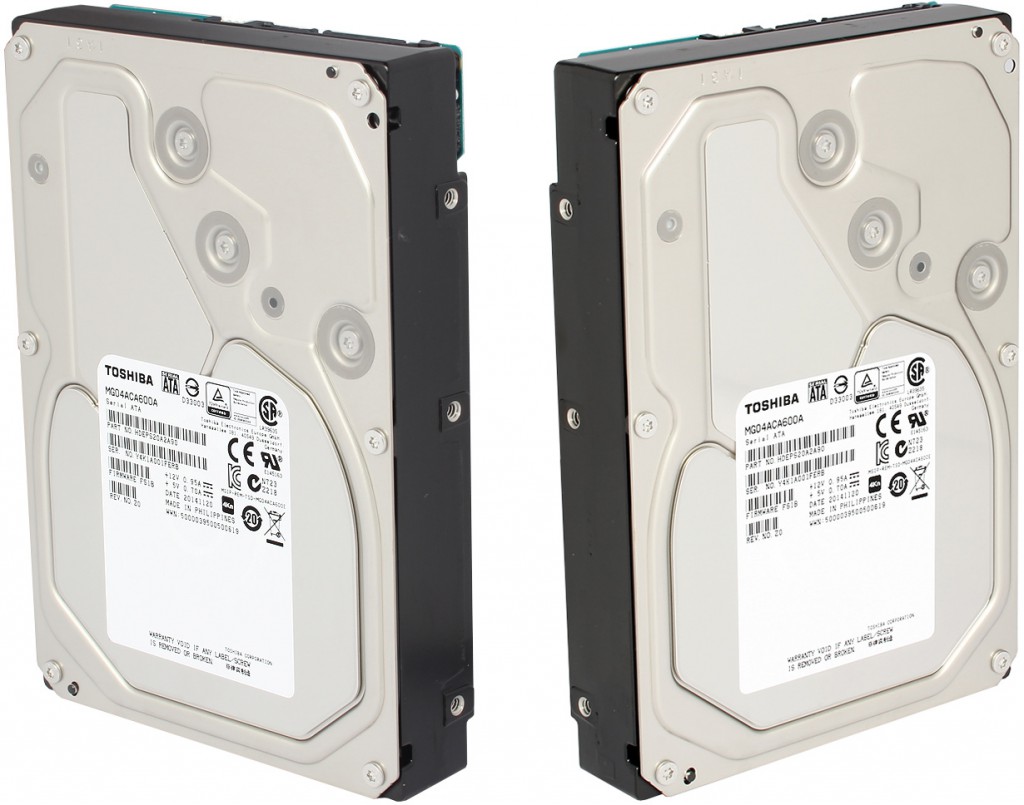 The new MG04 family of HDD also supports optional persistent write cache technologies that help to protect against data-loss in the event of sudden power loss, while also helping to improve performance and data reliability. Models supporting sanitize instant erase (SIE) option are also available.
"Our customers expect to benefit from the increased capacity, efficiency and performance made possible by the latest industry-standard interface and long sector technologies," said Scott Wright, director of HDD product marketing at Toshiba storage products business unit. "These additions to the MG04 series deliver an impressive 6TB capacity and continue to provide the benefits of Toshiba's persistent write cache technology to improve performance for business critical server and storage systems."
The 6TB MG04ACA SATA and MG04SCA 12-Gb/s SAS models will begin sampling to OEM customers in Q1 2015.
Discuss on our Facebook page, HERE.
KitGuru Says: The key thing about the new drives has not been disclosed: the amount and capacity of platters inside the drive. If Toshiba managed to squeeze in six platters into one 3.5" hard drive, then it is a technical breakthrough for Toshiba. If the company uses 1.2TB platters, then someone has started to sell 1.2TB enterprise-grade platters to Toshiba, which is a technical breakthrough of another company.