Toshiba Corp. has introduced a new breed of hard disk drives with 15K revolutions per minute spindle speed designed for mission-critical enterprise applications. The new AL13SX-series hard drives are among the fastest HDDs in the industry that will join solid-state drives in data centers that require massive storage capacities.
Toshiba AL13SXB and the self-encrypting AL13SXQ are available in 300GB, 450GB and 600GB capacities. The drives feature 64MB cache as well as SAS-6Gb/s interface. Toshiba declares 2ms average latency, 2.7ms average read seek time and 2.95ms average write seek time. The drives consume 5.8W in idle mode and 9W in active mode.
The new 15K RPM drives come in 2.5" form-factor and support different storage formats: 512n (native), 512e (emulation) or 4Kn. The long sector models (512e and 4Kn) reach sustained transfer rates up to 243MB/s – an increase of 27% compared to previous generation drives. The 512n models provide an increase of 19%, with sustained transfer rates reaching 228MB/s. The long sector models also feature persistent write cache technologies that help protect against data-loss in the event of sudden power loss. The drives can also quickly erase data thanks to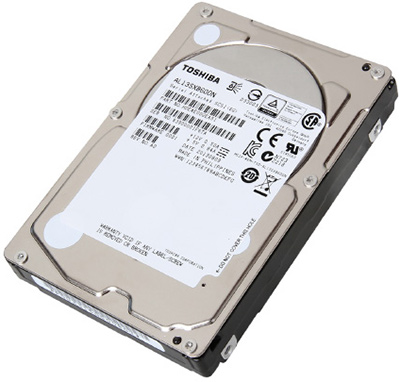 Last week HGST, a subsidiary of Western Digital Corp., introduced its new family of 15K 2.5" hard disk drives, which proves that such HDDs represent a good value for the market of enterprise-class storage. In particular, such drives are important for those, who want mission-critical-class storage devices with massive capacity at a relatively low price.
Sample shipping of Toshiba AL13SX-series hard drives will start from the middle of March, 2014.
KitGuru Says: While 15K HDDs in general will likely remain on the market for years to come, their popularity will decrease as the price difference with solid-state drives will get lower.