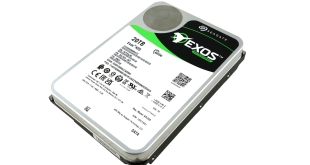 Launched at the same time as the IronWolf Pro 20TB drive which we recently reviewed, Seagate's 20TB Exos X20 has been designed to maximise storage capacity and rack space efficiency in enterprise environments. We find out what sort of performance is on offer for the £400 asking price.
Seagate's latest flagship drive for the Exos family, the Exos X20, uses 10 discs (each with an average areal density of 1,146 Gb/in²) to achieve its 20TB capacity along with 20 heads. It has a spindle speed of 7,200rpm and uses 256MB of cache. Seagate quote an official maximum transfer rate of 285MB/s while the average latency is quoted at 4.16ms.
Seagate quote an average 5.4W idle power rating for the 20TB Exos X20. Operating figures are up to 9.4W and 6.4W for random reads and writes respectively (4K QD16) and up to 8.1W for Sequential reads and writes (64K QD16).
The official workload rating of the drive is 550TB/year with an MTBF of 2.5M hours which is the same as the previous 18TB flagship drive and Seagate back the drive with a 5-year warranty.
Physical Specifications:
Usable Capacities: 20TB.
Spindle Speed: 7,200rpm.
No. Of Heads: 20.
No. Of Platters: 10,
Cache: 256MB DDR3L.
Recording Method: Perpendicular.
Interface: Serial ATA (SATA) 6Gb/s (SATA III).
Form Factor: 3.5in.
Dimensions: 28.1 x 101.85 x 147mm.
Drive Weight: 680g.
Firmware Version: SN01.
Be sure to check out our sponsors store EKWB here