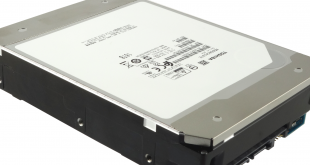 Designed to meet the ever-growing need for storage densities in the enterprise environment, the eighth-generation MG08 drives from Toshiba are also the company's second-generation helium-sealed HDD drives. The 16TB drives are available in a number of versions with a choice of two interfaces.
The 16TB MG08 series uses Helium technology which allows for 9 x 1.8TB (approx.) CMR (conventional magnetic recording) platters together with 18 TDMR heads to be crammed into a 3.5in format drive with a height of just 26.1mm. The drive has a spindle speed of 7,200rpm and is equipped with 512MB of cache. The official transfer rate for the MG08 series is up to 262MB/s.
The MG08 is available in a variety of versions. First, off it comes with either 6Gb/s SATA or 12Gb/s SAS interfaces. Then there are 512e or 4Kn Advanced Format Sector Technology options and finally, there are four SED (Self-Encrypting Drive) versions. The 512e models include Toshiba Persistent Write Cache Technology that offers protection against loss of data in sudden power-loss events.
There are four SATA models, two standard versions MG08ACA16TA (4Kn) and MG08ACA16TE (512e, the drive we are reviewing here) and two SED versions (4Kn MG08ACP16TA, 512e MG08ACP16TE).
The four 12Gb/s SAS models are; MG08SCA16TA (standard 4Kn), MG08SCP16TA (4Kn SED), MG08SCA16TE (standard 512e) and MG08SCP16TE (512e SED).
Power ratings for the SATA versions of the drive are quoted as 4W average idle with maximum 4K read/write power figures of 7.63W. Toshiba quote a workload rating of 550TB/year with an MTBF of 2.5M hours and back the drive with a 5-year warranty.
Physical Specifications:
Usable Capacities: 16TB.
Spindle Speed: 7,200rpm.
No. Of Heads: 18 (TDMR – Two-Dimensional Magnetic Recording).
No. Of Platters: 9.
Cache: 512MB.
Recording Method: Conventional Magnetic Recording (CMR).
Interface: Serial ATA (SATA) 6Gb/s (SATA III).
Form Factor: 3.5in.
Dimensions: 101.85 x 26.1 x 147.0mm.
Drive Weight: 720g.
Firmware Version: 0101.
Be sure to check out our sponsors store EKWB here