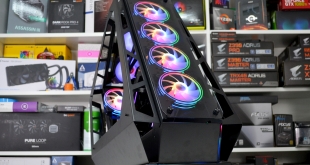 Big Chungus is one of the most interestingly named PC cases we have seen in a long time. In a market where a series of letters and numbers often make PC cases sound more like a robot from a sci-fi movie rather than somewhere to house your expensive hardware, having an actual name is refreshing. 'Big Chungus' was originally a viral meme in case you were wondering, but does this huge show case live up to its name and can it rival some of the other similarly priced open-air display chassis the market has to offer? We find out today.
Watch via our Vimeo channel (below) or over on YouTube at 2160p HERE
The case we are looking at today is the Kolink Big Chungus Unit Edition, on the box it is labelled as "V2" since it is an updated version of the original Big Chungus that released earlier this year. Kolink claims that the V2 Unit Edition improves on the original as it includes five 120mm dual Ring ARGB PWM fans (single ring fans in the original), as well as a black, anodised aluminium stand that comes pre-installed to the base of the cassis, the original had a red anodised aluminium stand that the user self-assembled. Other than that, the two look almost identical.
When Big Chungus arrives, you instantly notice the sheer size of the case, the box is almost a two-man job to carry, it is huge. Once out of the box and stood on the desk, the Big Chungus lives up to its name as it stands 668mm tall and 336mm wide. For the system build, I immediately thought about cramming in a load of custom water cooling to show off what this case is capable of since it is marketed as a showpiece chassis after all.
Kolink Big Chungus Unit Edition Features:
Large and unorthodox ATX form factor with a unique appearance designed for displaying and showcasing extravagant and extreme PC builds.
Open chassis layout with four sides of the case covered with tempered glass panels allowing airflow and an unrestricted view of internal components.
Unit Edition is an updated version of the original Big Chungus and includes five 120mm dual ring ARGB fans pre-installed along with two RGB lighting strips at the base and an RGB fan controller with remote control.
Steel chassis frame with a black anodised aluminium base that comes pre-installed, unlike the original red aluminium base that had to be assembled by the user.
Potentially supports front-mounted radiators up to 480mm long (360mm officially), top radiators up to 240mm, floor mounted radiators up to 360mm and/or a total of up to ten 120mm fans (4 x front, 2 x top, 1 x rear and 3 x floor), no support for 140mm fans.
Motherboard support includes ATX/E-ATX or Micro-ATX, maximum CPU cooler height is 175mm, maximum graphics card length is 335mm, as well as power supplies up to 220mm long.
Front panel connectivity consists of 1x USB 3.1 Type C, 1x USB 3.1 type-A, 1x USB 2.0 Type-A, 3,5mm Audio In/Out and a power button.
Full Specification:
Dimensions: 668 x 336 x 651 mm (H x W x D)
Weight: 16 kg
Material: steel, aluminium, tempered glass (sides), plastic
Colour: Black
Form Factor: E-ATX, ATX, Micro-ATX, Mini-ITX
Fans possible in total: 4x 120 mm (front side), 2x 120 mm (cover), 1x 120 mm (back side), 3x 120 mm (floor)
Pre-installed: 4x 120 mm (front, PWM, digitally addressable RGB-LEDs), 1x 120 mm (back panel, PWM, digitally addressable RGB-LEDs)
Fan/ARGB controller/Hub: Outputs 10x 6-pin (ARGB/PWM), 2x 3-pin ARGB (5VDG), Inputs: 1x 3-Pin ARGB (connection with motherboard), 1x PWM 1x SATA power (for power supply)
Radiator mountings: 1x max. 360 mm (front side), 1x max. 240 mm (cover), 1x max. 120 mm (back side), 1x max. 360 mm (bottom)
Power supply: 1x standard ATX
Expansion slots: 7
Drive Bays: 2 x 2.5″/3.5″ + 2 x 2.5″
I/O Panel: 1x USB 3.1 Type C, 1x USB 3.1, 1x USB 2.0, 1x Audio In/Out
Maximum graphics card length: 335 mm
Maximum CPU cooler height: 175 mm
Maximum length ATX power supply: 220 mm
However, when you start to look at the case in more detail it seems as though there are some shortcomings with the design. Because of its angular design, the case is tall at its highest point but the problem is the depth of the case from front to rear and the useable space it provides. The case isn't deep enough to allow the installation of a regular pump/res combo upfront so building custom water cooling inside the Big Chungus may not be as easy as we would expect.
Building a system inside the case also throws up some unexpected issues and limitations and makes the installation process frustrating and less enjoyable. There are several fundamental issues with the case such as pre-installed motherboard standoffs that are not removable and a micro-ATX pre-installed standoff that could potentially cause a short with ATX/E-ATX motherboard installations and possible component damage.
Other issues during installation included the LED strips at the base interfering with power supply installation, power supply screws not lining up easily and the power supply blocks half of the LED strip once installed. Cable management on the rear of the motherboard tray is virtually non-existent, there are cable pass-through holes but no cable management channels, tie-down points, eyelets or straps to neaten up cable installation which is annoying since you can see all the untidy cables through the glass panel.
Thermal Performance Testing
As with every KitGuru case review, thermal performance is important, therefore we shall measure this by running a series of tests to record CPU and GPU temperatures under load.
To simulate thermal performance under load, we run Aida64 stress tests, stressing CPU, FPU, Cache and GPU for 20 minutes with the case in various configurations. With this data, we can compare how each scenario affects thermal performance.
We will compare the system's thermal capabilities with a liquid-cooled solution for the CPU, using a Silverstone IceGem 240P, 240mm AIO and the graphics card stock cooling solution.
During thermal performance testing, only stock case fans will be used unless otherwise specified. All fans and pumps (where applicable) will be set to their standard fan curve profile as controlled by the motherboard.
All temperature measurements are presented as Deltas – the ambient temperature has been deducted from the CPU/GPU temperature giving us a Delta.
The following configurations are used to test the effect they have on thermal performance:
Default configuration;
Front panel removed;
Glass side panel removed.
Test system
Chassis: Kolink Big Chungus V2 Unit Edition
CPU: AMD Ryzen Threadripper 3960X
Motherboard: Gigabyte TRX40 Aorus Master
Memory: 2 x 16GB (32 GB Total) (2 x 8GB Modules + 2 x Dummy modules) Aorus RGB 3600MHz DDR4 memory
Graphics: Aorus AMD Radeon RX 5700XT
Storage: 500GB Corsair MP600 PCIe Gen4 NVME M.2 SSD
Power supply: Seasonic Prime TX-1000 1000W 80+ Titanium
CPU Cooler: Silverstone IceGem 240P TR4/TRX40 AIO cooler
Case Fans: 5 x stock 120mm dual ring ARGB
Thermal compound: Corsair TM30
Operating System: Windows 10 1909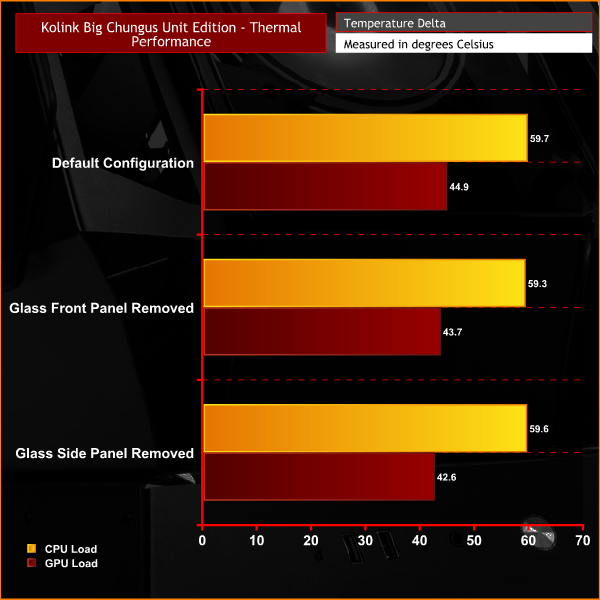 Thermal Performance Overview:
Because the Big Chungus is technically an open-air chassis, thermal performance is relatively unaffected by changing the configuration of the case such as removing side or front panels.
Removing the side panel or front panel of an airflow restrictive case usually has a noticeable positive effect on GPU and CPU temperature, but with the Big Chungus, we only recorded a minimal change in the CPU and GPU temperature when removing panels as expected from an open-air chassis.
We omitted any noise level testing from this review as the open layout of the chassis means that noise levels are not affected by changing the case configuration as they would be in more traditional PC cases.
Closing Thoughts
There is no doubt that Big Chungus V2 Unit Edition is a unique looking chassis, however, it is extremely frustrating to work with. During the build process, I was so discouraged by the issues that kept occurring I almost gave up on the build completely. There are so many small niggling issues with the Big Chungus and the build quality isn't of a high enough standard to warrant the premium £220 price tag the case has been given.
The most annoying and possibly dangerous flaw with the case is the pre-installed motherboard standoffs. This wouldn't normally be such an issue if the standoffs could be easily removed, but in the Big Chungus the motherboard standoffs are pressed into the steel tray and include a MATX standoff that could potentially contact a component on the rear of an ATX or E-ATX motherboard, short out a circuit and cause damage to hardware.
Another annoying oversight in the design of the Big Chungus is the complete lack of cable management on the rear of the motherboard tray. There are plenty of cable cut-outs in the right places which is great, however, there are no cable channels, eyelets, straps or points to fasten cables down anywhere which is a big disappointment since the case is equipped with glass side panels so the untidy cable management can be seen. Much cheaper cases with solid side panels have better cable management options than this.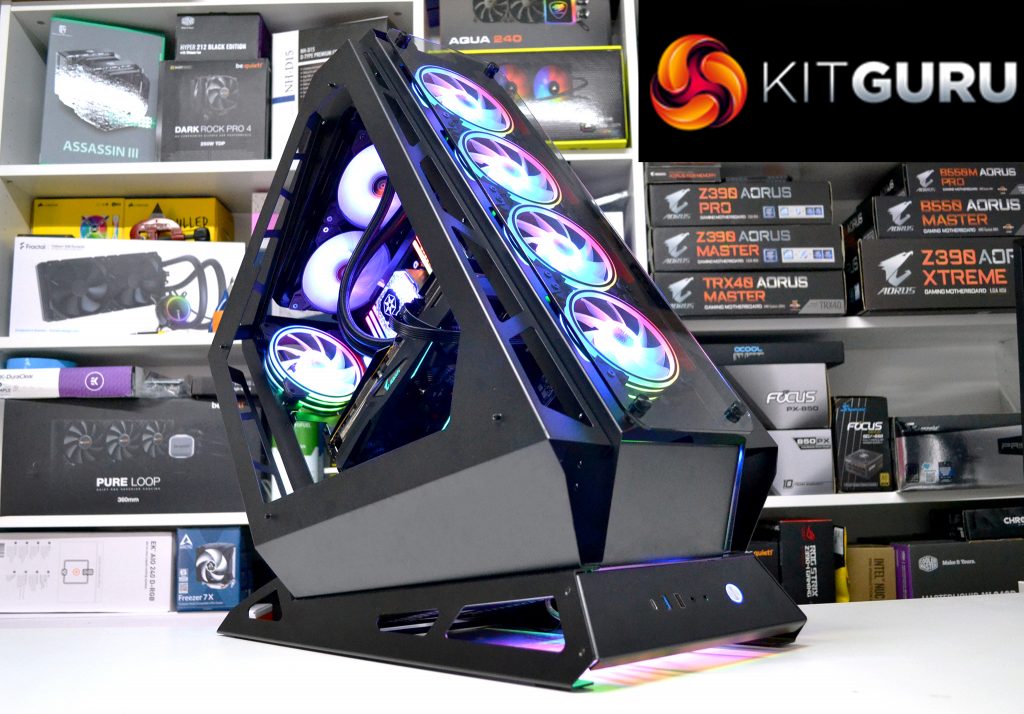 Installing the power supply was also problematic with the Big Chungus Unit Edition, the pre-installed LED strips on the base of the case interfered with installation and once the PSU was in position, the screw holes didn't line up correctly and the power supply blocked off half of the LED strips so the lighting effect glow was only visible from below the front of the case.
The list of issues continues, front panel motherboard connections are multicoloured and look unsightly, AIO installation at the top of the case is very tight, there isn't much space at the front of the case for a pump/res combo, LED strip power cables are too short, front panel connectivity is sparse for this price range, glass panels are tricky to re-install due to poor alignment and so on.
One thing that the Big Chungus V2 Unit Edition does have in its favour is the appearance, there is no other case you can buy that looks like the Big Chungus V2 Unit Edition. You also get five pre-installed ARGB fans, two ARGB LED strips and an RGB/Fan hub, although this would be expected from a case that costs in excess of £200.
So if you are a fan of the Big Chungus meme and want a PC case that resembles a fat rabbit then this might be the case for you, just make sure you cut out that dodgy MATX motherboard standoff and try not to get too stressed out while building a system inside as I did, maybe play some calming music to keep relaxed.

The Kolink Big Chungus V2 Unit Edition is available to purchase from Overclockers UK now, priced at £219.95 HERE.
Discuss on our Facebook page HERE.
Pros:
Unique looks.
Included ARGB Fans, LED strips and RGB/Fan hub.
Cons:
Poor build quality.
Potentially dangerous pre-installed MATX standoff.
Sparse front panel connectivity.
Mediocre water cooling support.
Serious lack of cable management.
KitGuru says:  What could be an interesting and unique chassis for showing off exotic builds is seriously let down by build quality and frustrating issues that spoil the build process.
Be sure to check out our sponsors store EKWB here