Gaming and digital experiences festival N1B (NiceOne Barcelona) is set to kick off today and will run through to 1st December. Anyone attending will be able to experience a host of gaming challenges and fun activities as well as accessing live Esports tournaments.
If you are one of the lucky ones going to N1B then be sure to check out the MSI booth. Attendees can take part in CS:GO and League of Legends tournaments where they can team up with YouTubers. MSI will also be running hardware workshops with hardware professionals participating in the MSI booth each day of the event.
"As a world leading gaming and content creation brand, MSI commits to provide world-wide gamers and creators with most innovative rigs and technologies for their needs. MSI, again, rolls out the cutting edge and comprehensive gaming products, bringing all gamers and creators more amazing experience!" says Sam Chern, MSI Marketing VP.
Throughout the event, MSI will be showcasing its new products including new Content Creation equipment and its latest and greatest high-performance hardware for gaming and enthusiasts. New hardware on show from MSI will include the GE75 Raider gaming laptop featuring Nvidia RTX graphics, 9th generation Intel Core processor and a 240Hz display. Sticking with the mobile theme, the MSI Prestige 15 creator's laptop will be on show too.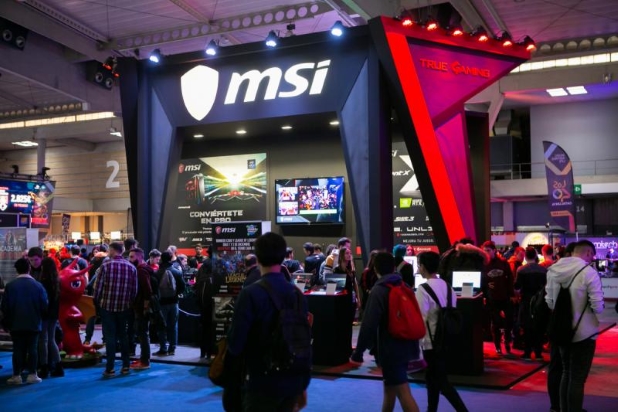 Image credit: firabarcelona.com 
In terms of gaming hardware on show, there will be products such as the MSI Trident X Plus compact gaming PC range that feature Intel 9th generations Intel Core processors and Nvidia RTX graphics, the MSI Oculux NXG251R 240Hz RGB gaming monitor will be showcased, along with a range of graphics cards and motherboards on display too.
The N1B gaming and digital experience festival starts today and runs until 1st December at the Gran Via Venue in Barcelona. Tickets can be purchased online for single-day access priced at €18, or a three-day pass covering Friday, Saturday and Sunday can be purchased for £40. For further information on the events schedule and the brands taking part, check out the official N1B website.
Discuss on our Facebook page HERE.
KitGuru says: If you are heading off to the N1B gaming festival be sure to check out the MSI booth for daily events and to take a first look at new products. N1B looks like it will be a great experience for all types of gamers so if you are free this weekend, why not check it out?