Antec DF500 RGB is a budget PC case that comes with three 120mm RGB fans at the front and a tempered glass panel that shows off the interior of the build. Those are two key features for any case manufacturer that wants to grab the attention of the buying public. Wrap up the package with a reasonably low price and it may well seem at first glance that you have a winner of a product. Let us take a deeper look however.
Note: if the above images are not displaying properly, you may need to disable Ad Block as it is known to interfere with our display code
Features:
Dynamic RGB styling
Tinted front panel and tinted tempered glass side panel
Excellent air flow management
Separate Power Supply/3.5" HDD bay chamber
Magnetic Dust Filters
Supports graphics card up to 380mm
CPU cooler clearance 155mm
Specification:
Motherboard support: ATX, Micro-ATX, Mini-ITX.
Expansion slots: 7.
Included fans: 3x 120mm RGB front intake.
Fan mounts: 3x 120mm/2x 140mm front, 3x 120mm/2x 140mm roof, 1x 120mm rear.
120mm radiator mounts: 120mm/240mm/360mm front, 120mm rear.
5.25″ drive bays: None.
Internal drive bays: 2x 3.5-inch/2.5-inch, 4x 2.5-inch.
Dimensions: 480mm H x 470mm D x 200mm W.
Building our test PC was a struggle in a number of areas. We detail these problems in our video and readily acknowledge that each individual issue looks fairly minor. There is no space below the motherboard, the cable management holes are tight, it is tricky to install the power supply, the number of cable anchor points is limited and the three fans lack PWM control. The two options for controlling the fans are to either find three separate fan headers on your motherboard or to use the constant power Y cable that is provided in the accessory pack. Both solutions are workable but neither is ideal and we would have been happier should Antec have provided a PWM hub. Better yet, the fans could have had PWM control and perhaps more LEDs in the hub to enhance the RGB experience, and wouldn't it have been nice if they upgraded the RGB to Addressable RGB?
You can see our train of thought but no doubt you can also spot the problem with our reasoning. Each of those changes would improve the DF500 RGB and would also add to the cost, and at its heart the DF500 is a basic ATX case that ought to be very cheap. We doubt the plastic front panel would have added greatly to the bill of materials, so we have to think it is the three RGB fans that have pushed the price up to £75.
In stock configuration you control the lighting in the fans by toggling the button on the front panel through red, green, blue, orange, purple, neon green and white. This works exactly as you would expect and if you have never experienced RGB before we imagine you will be happy. On the other hand if you know something about RGB you will want to daisy chain the cables together and connect them to your motherboard, just as we did with the Asus Prime X299-A, and then used Aura to control the lighting. The annoyance, as mentioned, is that most people will struggle to connect three front fans to their motherboard and will probably want to add a rear or top exhaust fan to complete the airflow equation.
As you will have seen in our video we installed a custom loop cooling system and found the interior of the case was tight for space. We had little trouble squeezing in the components, however the single biggest problem was the installation of the Seasonic power supply as there is barely enough room to slide it in from the side. The On/Off rocker switch next to the power plug almost defeated us so let us say once again, the DF500 RGB is incredibly tight for space.
Testing
To put this case through its cooling paces we will be using a test system consisting of an Intel Core i7-7820X, reference GTX 980 and an SSD. This system allows us to produce a substantial amount of heat and effectively test the Antec DF-500 RGB's cooling capabilities.
For stress testing we use AIDA64 to create the maximum amount of load our CPU and GPU are ever likely to see.
Test System:
Processor: 3.6GHz/4.3GHz Intel Core i7-7820X 8-core/16-thread
Motherboard: Asus Prime X299-A
Custom loop cooling:
CPU block: Aqua Computer Cuplex Kryos
Graphics block: EKWB Copper/Plexi
Radiator: Alphacool NexXxos ST30 360mm
Pump/reservoir: EK X-RES 140 Revo D5 PWM
Fittings: Alphacool 16mm/10mm
Coolant: Mayhems Pastel White
Memory: 32GB G.Skill TridentZ RGB DDR4-3200MHz
Graphics card: GeForce GTX 980 4GB
SSD: Samsung 860 EVO M.2
Power supply: Sea Sonic Prime Titanium 600W Fanless
OS: Windows 10
Cooling Performance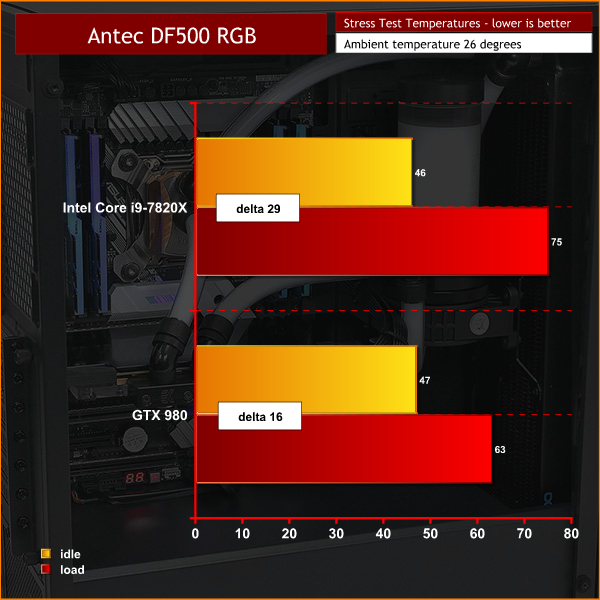 Cooling Performance Overview
We tested the DF500 RGB on a warm summer's day and the cooling was unimpressive for a custom loop, however it performed adequately so in that sense the DF500 RGB achieves a passing grade. It is clear the three front fans are struggling to draw in enough air at the front however 'struggling' is one heck of a sight better than 'failing.'
Acoustics performance Overview
Despite a complete absence of sound deadening material and some of the thinnest materials we have seen in a PC case, the DF500 RGB did a decent job. We ran the fans relatively slowly at 800rpm and set the D5 pump to 40 percent so we expected low noise. On the other hand, if you increase fan speeds or ramp up your pump you will hear every extra decibel instantly.
Closing Thoughts
The Antec DF500 RGB clearly started life as a classic budget mid-tower ATX chassis with compact dimensions and thin materials that help keep the price nice and low. Adding the tempered glass side panel should have been quick and easy, and then they were faced with the task of adding RGB.
The chosen route employs three basic RGB fans that have been connected to a hub that is controlled by a dedicated button on the I/O panel. The system is tried and true and works well, and provided you have low expectation about cooling you may well be happy with this case.
On the other hand if you want to install a proper cooling system, whilst retaining the RGB fans, you will doubtless run into the problems that we faced. There is a fine line between cutting costs and going too far, and we simply find it unacceptable when you struggle to install a regular ATX power supply. It all comes down to the 200mm width of the case and the design choices that are forced after that point and we consider it frustrating to say the least.
It is clear that Antec could have chosen to use PWM fans with a PWM hub and this is a simple matter of cost and price, rather than a fundamental principle of the design. No doubt Antec felt they included sufficient cable anchor point and that the cable management holes would do the job. With each one of the many design choices we felt they should have provided more or made them larger or given us more space for working.
We are quite sure that Antec would tell us this would raise costs and that would defeat the object of the exercise which is a budget case with tempered glass and RGB. We agree with that line of thinking however the DF500 RGB isn't especially cheap. Listed at £76 you can find it discounted to around £60 which is competitive for a case with these features.
The problem for us is that the features seem like a tick box exercise while the rest of the case is sub par. You can find a great many cases on sale for £60 or £70 that include glass and RGB however it is quite possible that Antec has the cheapest case with three RGB fans where, say, the Kolink Punisher only has two and if you want to step up to the Kolink Observatory with four RGB fans you have to spend £67.
The point here is not to argue about the merits of Antec versus Kolink (or whoever) but rather than to point out that if you slice the case market into tiny segments the DF500 RGB sits in a very specific niche with a tempered glass panel and three RGB fans.
Our problem is that pretty much everything else about the case ought to be improved.

Buy from Overclockers UK for £74.99 inc vat HERE
Pros:
RGB control works either manually or via motherboard.
Tempered glass panel looks good.
Ticket price looks appealing.
Cons:
Power supply installation is very tight.
No PWM hub for the three fans.
The fan frames are too large for correct radiator installation.
Front panel has restricted air intakes.
Cable management holes are tight.
Very few cable anchor points.
Front filter cannot be used when you install a radiator.
KitGuru says: Antec DF500 RGB needs to be either cheaper or better.
Be sure to check out our sponsors store EKWB here