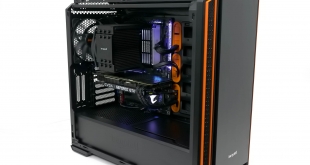 be quiet! tells us the Silent Base 601 is a reworking of the original Silent Base 600 that we reviewed back in October 2015.
This may well be true, up to a point, however we feel the Silent Base 601 has been changed from end-to-end and is effectively a new case. Primarily the case has lost the optical drive bays and gained a power supply cover but we feel it is best to approach the 601 as a new model rather than a 600 Rev. 2.
Watch the video via our VIMEO Channel (Below) or over on YouTube at 2160p HERE
Note: if the above images are not displaying properly, you may need to disable Ad Block as it is known to interfere with our display code
Incidentally, in our video your host got confused by two different cases from be quiet! that have similar names and referred to an older model with a top panel that can be raised on posts for ventilation. In point of fact this feature is actually present on the Pure Base 600 from 2017 rather than the Silent Base 600.
Of course we could have edited out that slip, however it acts as a prompt for us to say that is it worth taking a look at the Pure Base 600 review to get a feel for the different approaches that be quiet! takes with its various ranges of cases.
The Silent Base 601 has been changed extensively yet maintains a familiar approach to tackling noise levels. The panels are chunky and heavy and use convoluted passages for the airflow along with the thickest noise deadening foam panels we have ever seen.
Specification:
Motherboard support: E-ATX up to 275mm wide, ATX, Micro-ATX, Mini-ITX.
Expansion slots: 7+2.
Included fans: 1x 140mm front intake Pure Wings 2 1,000rpm, 1x 140mm rear exhaust Pure Wings 2 1,000rpm.
Fan mounts: 2x 120mm/140mm front, 3x 120/140mm roof, 1x 120/140mm PSU shroud.
120mm radiator mounts: 120mm/240mm/360mm front, 120mm/240mm/360mm roof, 120mm rear.
140mm radiator mounts: 140mm/280mm front, 140mm rear.
5.25-inch drive bays: None.
Internal drive bays: 7x 3.5-inch (3 included)/14x 2.5-inch (6 included).
Dimensions: 514mm H x 532mm D x 240mm W.
Building our test PC inside the be quiet! Silent Base 601 was quick and simple as the layout is completely conventional. We referred to the user guide just once to check how to remove the front panel over the air filter – you just slide it vertically upwards – and that was only to satisfy our curiosity. The build was straightforward and it certainly helped that we were using a be quiet! Dark Rock 4 CPU cooler and didn't have to think about where we were going to mount a radiator or an All In One cooler.
We were able to install our chosen Core i7-8700K on a Gigabyte Z370 Aorus Ultra Gaming motherboard, followed by 32GB of Corsair Dominator Platinum SE 3466MHz memory and could then top off the assembly with the CPU cooler. The package then slipped easily inside the Silent Base 601 so you can imagine our frustration when we first spotted the fan was back to front and later saw that the cooler had the be quiet! logo upside down. There are times where even the most simple thing can get complicated.
As we point out in the video, cable management is a weakness with this case. It is fiddly to route the cables around the lower drive mount and use a bunch of zip ties to anchor the fan and front panel cables. Then you feed the power supply cables through the chunky orange cable management grommets, which are immediately next to the great big cut-outs where you can install optional drive bays.
The version of Silent Base 601 that we were sent does not have a tempered glass window and does not come with blanking covers for the drive bay cut-outs, which all feels a little peculiar. And then you close the two doors and cable management becomes a complete irrelevance as you can see absolutely nothing inside the case whatsoever. Provided you haven't got any cables trapped in the cooling fans it pretty much doesn't matter what you do inside the case as all evidence of your laziness is invisible to the outside world.
Nonetheless, there are more expensive versions of Silent Base 601 that come with the glass panel and it follows those those customers will need to put in the required effort with cable management to get the desired result.
In our video we note the two supplied 140mm fans are be quiet! Pure Wings 2 and refer to 'better fans.' In case there is any doubt we were referring to be quiet! Silent Wings 3. It strikes us as curious that the front fan is positioned low down in the case but that is doubtless intended to help with cooling for the hard drive tower.
With the PC finished the build looked tidy and we had plenty of options for adding more storage and were all set to check for air flow, cooling and noise levels.
Testing
To put this case through its cooling paces we will be using a test system consisting of an Intel Core i7-8700K, reference EVGA GeForce GTX 1080 Ti SC 11GB and an SSD. This system allows us to produce a substantial amount of heat and effectively test the be quiet! Silent Base 601's cooling capabilities.
For stress testing we use AIDA64 to create the maximum amount of load our CPU and GPU are ever likely to see.
Test System:
Processor: Intel Core i7-8700K
Motherboard: Gigabyte Z370 Aorus Ultra Gaming
CPU cooler: be quiet! Dark Rock 4
Memory: 32GB Corsair Dominator Platinum SE 3466MHz
Graphics card: EVGA GeForce GTX 1080 Ti SC 11GB
Power supply: be quiet! Straight Power 11 750W
Storage drive: Samsung 960 Pro M.2 SSD
OS: Windows 10
Cooling Performance.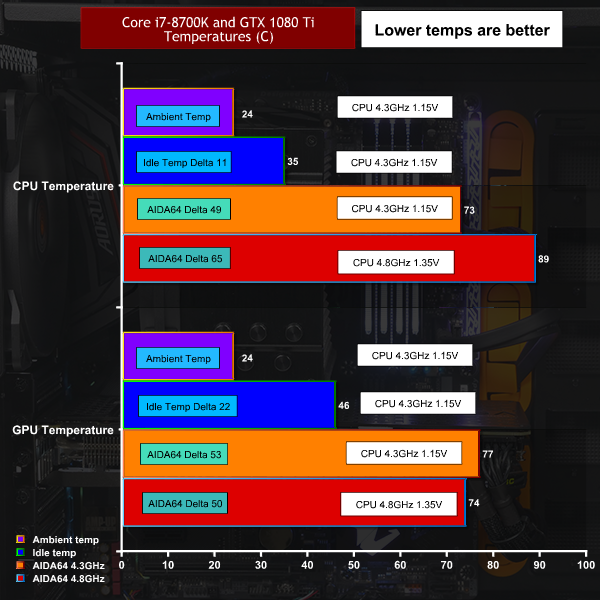 Cooling Performance Overview
It has been quite some while since we used an air cooled CPU and GPU in a case review so for this build we decided to use the be quiet! Dark Rock 4 cooler on the CPU, along with a regular EVGA GTX 1080 Ti graphics card. The upshot was a PC that operated at temperatures in the range of 70-80 degrees C at stock clock speeds with the CPU rising to the 89 degree throttling point when we overclocked to 4.8GHz and put the system under 100 percent load.
Acoustics Performance Overview
In regular operation the be quiet! Silent Base 601 is very quiet, however when the CPU and GPU are highly stressed and the fan speeds rise you can certainly hear them working away. We didn't hear a significant difference between the three settings on the fan controller (which are adjusted using the switch on the I/O panel) but  setting one was marginally quieter than the other settings so we used that throughout.
Closing Thoughts
The be quiet! Silent Base 601 is a decent contender in the world of ATX cases, however it is tricky to point to a feature that is new or innovative. Indeed, for many potential customers the main attraction will be the absence of RGB lighting and they will likely choose the version of the 601 we reviewed with two solid doors rather than tempered glass.
The incremental changes made by be quiet! include the removal of the optical drive bays, which gives you a good deal more space at the front of the case. In addition, the 601 is larger in all three dimensions than the 600, and as a result the specification states that you can install a 280mm or 360mm radiator at the front and a 360mm radiator in the roof.
We have no doubt those figures are correct, however we have little interest in installing a radiator in the roof of this case, regardless of the provision of a sliding radiator rack to ease installation.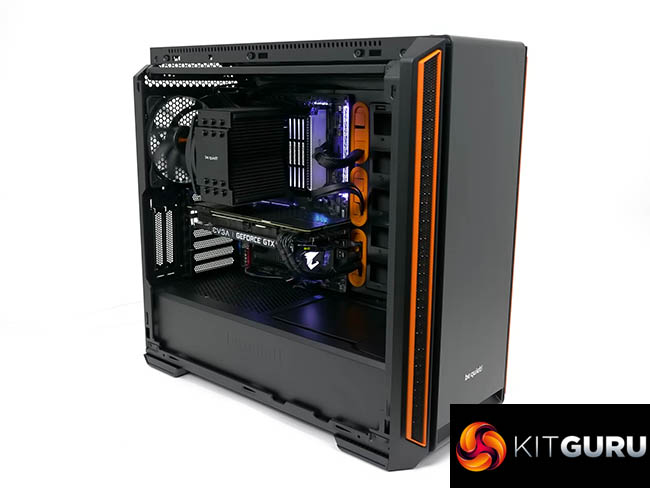 We would be perfectly happy to install a radiator or All In One in the front of the case, and if we went down that path we would move the front Pure Wings 2 fan to the roof of the case. The approach we took instead was to use a be quiet! Dark Rock 4 air cooler on our Core i7 CPU and that worked very well. We feel confident we would have got even better cooling results if the case was equipped with be quiet! Silent Wings 3 fans.
Perhaps the most interesting features of the Silent Base 601 are the hefty great slabs of noise deadening material and the two doors that swing out slightly and lift off vertically. If your PC is located under a low desk that might be a problem but for many other people the arrangement gives rapid access to the innards of the PC.
This is the level of detail you need to consider with the Silent Base 601 as it is truly difficult to get excited about the way the power supply installs from the rear or the fact that the 601 has a power supply cover.
All we know is that here in the UK the price is uncomfortably high and we wish the exchange rate would move in a more favourable direction.

You can pre-order the Silent Base 601 for £114.95 from Overclockers UK HERE.
Pros:
Solid build quality.
Side panels lift off vertically.
Full length dust filters on the front and bottom.
Low noise levels during regular operation.
Cons:
UK price is quite steep.
Fan controller can only manage three fans.
I/O panel does not have USB Type C.
KitGuru says: be quiet! Silent Base 601 is a solid piece of work that will delight RGB heathens.
Be sure to check out our sponsors store EKWB here