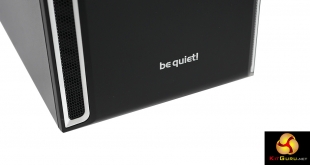 The Germans have gone budget. be quiet! has launched its new Pure Base 600 case as an entry-level model that sits below the Silent Base and Dark Base cases we saw in 2016 and 2017. As you will see in our video, our initial impressions were a bit … glum. There are no windows and certainly no tempered glass, so basically you get a black box that looks a bit plasticky. Pull off the two side panels and the interior is an open design without a power supply cover where it appears that everything is on show and there are few features of interest.
You can see the optical drive bay housing and the three separate hard drive bays but perhaps the most exciting thing is the inclusion of two Pure Wings 2 fans, 140mm at front and 120mm at the rear. At this stage in the game KitGuru was ready to throw in the towel and award the Pure Base 600 a 'Dull but Nice' award and move on to the next review.
Happily we persevered which is just as well as we nearly missed a trick or two.
Watch via our VIMEO Channel (Below) or over on YouTube at 2160p HERE
Specification:
Motherboard support: ATX, Micro-ATX, Mini-ITX.
Expansion slots: 7.
Included fans: 1x 140mm front intake, 1x 120mm rear exhaust.
Fan mounts: 1x 140mm or 3x 120mm front, 2x 140mm/3x120mm roof, 1x 120/140mm rear.
120mm radiator mounts: 120mm/240mm/360mm front, 120mm/240/360mm roof, 120mm rear.
140mm radiator mounts: 140mm/280mm roof.
5.25″ drive bays: 2
Internal drive bays: 3x 3.5, 8×2.5″.
Dimensions: 470mm H x 492mm D x 220mm W.
Our problem is that the user guide is incomplete and acts more like an aide memoire than an instruction manual. By contrast the reviewer's guide is excellent and points you (well, your reviewer actually) towards some hidden gems.
The removable vent panel on the top of the case is a pain to remove and appears to be a more awkward version of the ModuVent used by Fractal Design. In fact the eight mounting clips double up as supports so the top panel can be raised slightly, further or removed completely. In our video the panel is in the higher position.
On a handful of KitGuru videos where we have criticised case manufacturers for leaving the top of the chassis open and unfiltered we have seen reader comments along the lines of 'Yes but the exhaust air blows upwards and keeps the dust out.'
To which we reply, sure, but when the PC is turned off dust, insects and pet hair can easily drift inside the chassis.
The answer is a magnetic dust filter but this variable height top cover is at least a partial solution.
Then we have the front panel which does not simply pull off but instead requires you to release a couple of clips inside the chassis. This leaves the I/O panel connected to the chassis so you end up holding the panel without a messy trail of cables. The panel is more sophisticated than you might expect as the two air intakes in the channels on the edges are individually filtered by modules you can pop open to clean. This is very clever, entirely unexpected and deserves clear instructions in the user guide.
The pull out dust filter below the power supply is completely conventional.
We have one major complaint about the nature of the Pure Base 600 which is that it theoretically supports up to a 360mm radiator in the roof or a 280mm/360mm in the front.
Well yes, up to a point. The Pure Base 600 needs to be taller for one thing, ideally 10mm or so. This would have allowed us to install a be quiet! Silent Loop All In One in the roof but instead it clashed with our chosen G.Skill TridentZ DDR4 memory. You can take it from us the TridentZ is not especially tall so we lay the blame at be quiet!'s door.
You could indeed install a liquid cooler at the front of the case, provided you remove the optical bays and the installed front fan. That seems unlikely as you are throwing away two of the features that come as part of your budget package.
To summarise: cooler in the front – yes, theoretically. Cooler in the roof – perhaps, but not in our experience.
We resorted to an air cooler, avoiding the horror of the be quiet! Dark Rock 3 mounting system and instead plumping for the simplicity of the Phanteks PH-TC12DX tower cooler.
Testing
To put this case through its cooling paces we will be using a test system consisting of an Intel Core i7-5820K, GeForce GTX 980 and an SSD. This system allows us to produce a substantial amount of heat and effectively test the be quiet! Pure Base 600's cooling capabilities.
For stress testing we use a mixture of AIDA64 and FurMark to create the maximum heat output.
Test System:
Processor: 3.3GHz/3.6GHz Intel Core i7-5820K
Motherboard: Gigabyte GA-X99-UD4
CPU cooler: Phanteks PH-TC12DX
Memory: G.Skill TridentX DDR4-3200MHz RAM
Graphics card: GeForce GTX 980 4GB
Power supply: be quiet! DarkPower Pro 750W
Storage drives: SanDisk Extreme II SSD
OS: Windows 10 Pro.
Cooling Performance.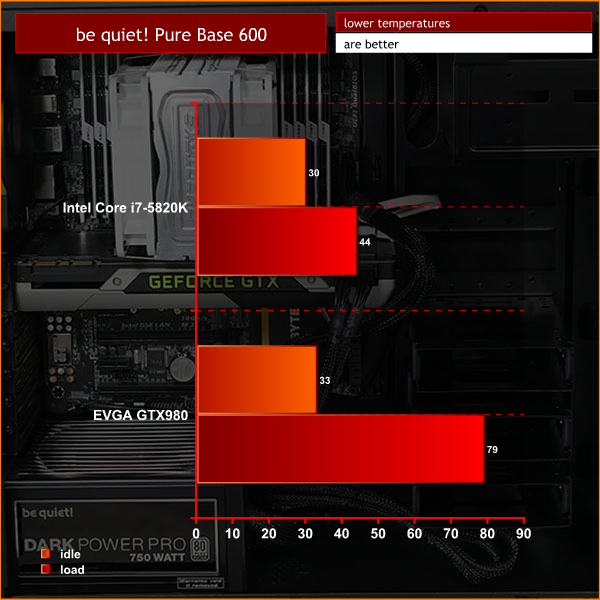 We had few expectations about the Pure Base 600 and were pleasantly surprised by the low temperatures we observed during our stress tests. Those front air intakes may look restrictive but running the case with the top panel raised guarantees you will have no problems with air flow. Thumbs up to be quiet! on this front.
Acoustics performance.
The three-position fan controller has an audible effect on fan noise however the three positions could be fairly described as Very Quiet, Quiet and Perfectly Acceptable.
We tested the Pure Base 600 with the top panel raised and rate the case as very quiet indeed. The noise deadening material inside the panels clearly helps and we know from past experience that be quiet! uses baffled air flow to reduce noise to a minimum. The fact they can perform the same trick on this budget case is impressive.
Closing Thoughts.
The be quiet! Pure Base 600 emerges this review with a certain amount of credit. It looks understated but can hardly be called exciting and clearly puts the emphasis on function over form. Including two case fans that are hooked up to a fan controller is a good idea, and the variable air flow permitted by the top cover also deserves some credit. We know that a good few customers will like the idea of optical drive bays.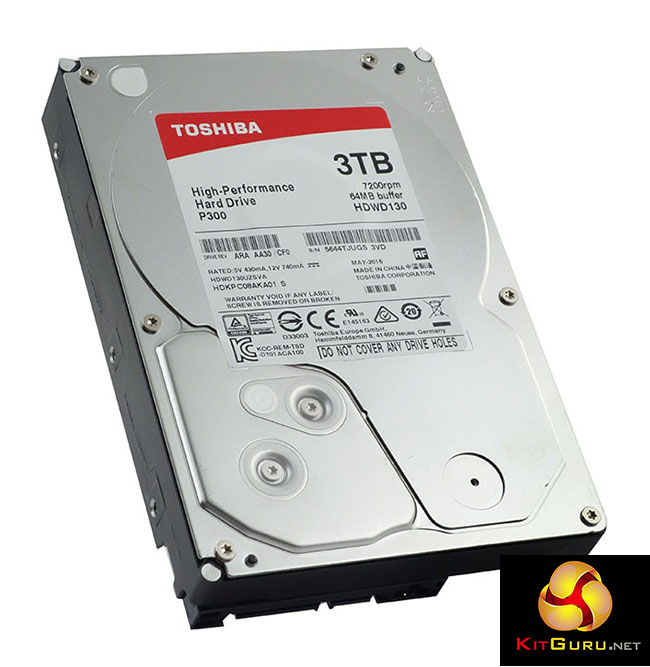 Balanced against that we are frustrated by the position of the cable management holes as they were blocked by our ATX motherboard. Even more frustrating is the lack of space above the motherboard as a few more millimetres would open up options for the installation of a liquid cooler.
Using a 120mm tower air cooler works well in this case but it should be easier to use a liquid cooler. We can only assume the drive to reduce costs meant the size of the Pure base 600 was cut to an absolute minimum. Save that for the Micro-ATX version please be quiet!. Overall we were happy enough but not ecstatic and found the Pure Base 600 certainly has merit.

You can buy the be quiet! Pure Base 600 Chassis from Overclockers UK for £79.99 inc vat HERE.
Discuss on our Facebook page, over HERE.
Pros:
Very quiet even when working hard.
Impressive cooling.
Two fans are supplied along with a controller.
Individual dust filters on front intakes.
Clever opening top panel.
Support for three HDD and two SSD or up to eight SSD.
Cons:
Cable management is pretty much non-existent.
Installing a liquid cooler is unnecessarily difficult.
More space required above the motherboard.
Side panels are tricky to install.
KitGuru says: be quiet! Pure Base 600 packs some pleasant surprises.