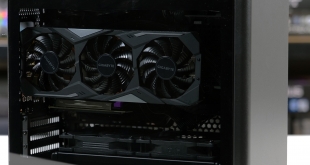 Cooler Master claims their MasterBox NR200P  delivers 'Unlimited Options' which is not quite correct, but neither is it far off the mark as this impressive Mini-ITX case packs in most of the features you associate with a regular ATX tower. You can install a number of storage drives, a 240mm or 280mm radiator and a triple slot graphics card in either the horizontal or vertical position. You may think we're building up to hit you with a high price but no, NR200P is also pretty darn cheap.

Watch the video via our VIMEO Channel (Below) or over on YouTube at 2160p HERE
Full product details HERE
Main features
Limited Size, Unlimited Options
The NR200P includes many features found in larger ATX chassis while retaining a space-efficient form factor. The NR200P comes with a vented steel side panel for unrestricted airflow, and a crystal-clear tempered glass side panel to reveal the beauty of a computing beast, both are included and can be changed at your leisure. A PCI Riser is included for vertical GPU installation to better showcase it against the glass, or to feed it fresh air from the side with the vented panel.
Unrestricted Cooling Potential
The NR200P can house up to 7 fans in total for every cooling configuration imaginable. Two 120mm Sickleflow fan are included. The compact structure can efficiently house CPU coolers up to 155mm in height and radiators up to 280mm in length, so even the hottest running hardware can't be held back.
Triple-slot GPU support and Included Vertical Riser Cable
Triple slot GPUs are supported with a maximum length of 330mm and maximum width of 156mm allowing the fitment of large high-end graphics cards. A custom-sized riser cable is included to mount a graphics card vertically to showcase it, or allow radiator mounting at the bottom of the chassis to keep the system running as cool as it looks.
All external panels, including the tempered glass and top mounted fans are secured with pins for easy removal, facilitating quick access to the internals without the use of tools.
360 Degree Accessibility
Every panel and frame part of the NR200P can be dismantled. Screws are used to secure the frame parts to allow advanced disassembly and multiple angles to easily work inside of the chassis.
Multiple motherboard support options
Compatible with Mini-ITX and Mini DTX. The PSU can be front-mounted for extra motherboard clearance with a maximum space of 244 x 226 mm.
Out-of-the-box Custom Cooling Support
Two liquid cooling pump locations alongside side and bottom radiator mounting locations allow for powerful, custom water-cooled builds inside a compact enclosure.
Specification:
Motherboard support: Mini-ITX, Mini-DTX.
Expansion slots: 3.
Included fans: 2x 120mm 650-1,800rpm PWM top exhaust.
Fan mounts: 2x 120mm140mm left side, 2x 120 top, 1x 92mm rear, 2x 120mm floor.
Radiator mounts: 240mm/280mm left side, 92mm rear, 240mm floor.
5.25-inch optical drive bays: None.
Internal drive bays: 1x 3.5-inch/2.5-inch, 1x 3.5-inch, 2x 2.5-inch.
Dimensions: 376mm L x 185mm W x 274mm H.
In our video we show a number of different ways you can install your hardware inside the NR200P but there are two minor points we want to clarify. The first is that you can move the power supply caddy to the front of the case to create more clearance for your motherboard, which might be handy if you are using DTX rather than ITX. This is a neat feature but it was irrelevant in our particular circumstances.
The second is that we did not have a 120mm air cooler on hand that would fit inside the NR200P without fouling the inside of the side panel, however Cooler Master states that Noctua U12A and U12S will both fit, and we have also seen reports that Cooler Master Hyper 212 will also work correctly.
Building a PC inside the NR200P is indecently easy for a relatively small case. Compared to your ATX tower it is compact but we know of other ITX cases that are half the volume of the NR200P. Clearly you have to choose whether you want to pack in the maximum storage, max out on cooling or fit the largest graphics card that money can buy. We have every confidence you will be able to install an RTX 3090 inside the NR200P – which sounds interesting – however we have to wonder about the impact on thermals.
Testing
To put this case through its cooling paces we will be using a test system consisting of an Intel Core i9-10900KF, Gigabyte RTX 2080 Super and an SSD. This system allows us to produce a substantial amount of heat and effectively test the Cooler Master MasterBox NR200P's cooling capabilities.
For stress testing we use AIDA64 to create the maximum amount of load our CPU and GPU are ever likely to see.
Test System:
Processor: Intel Core i9-10900KF (10 cores/20threads)
CPU Cooler: Fractal Design Celsius S24
Motherboard: Gigabyte Z490i Aorus Ultra
Memory: 32GB Corsair Vengeance LPX DDR4-3600MHz
Graphics card: Gigabyte RTX 2080 Super 8GB
Power supply: Seasonic Focus SGX-650 Gold 650W
SSD: 1TB Intel 760 M.2 NVMe
OS: Windows 10
Running a Core i9-10900KF CPU at full speed means the NR200P had to deal with 205W from the CPU alone and while it managed the task, this was a close-run thing.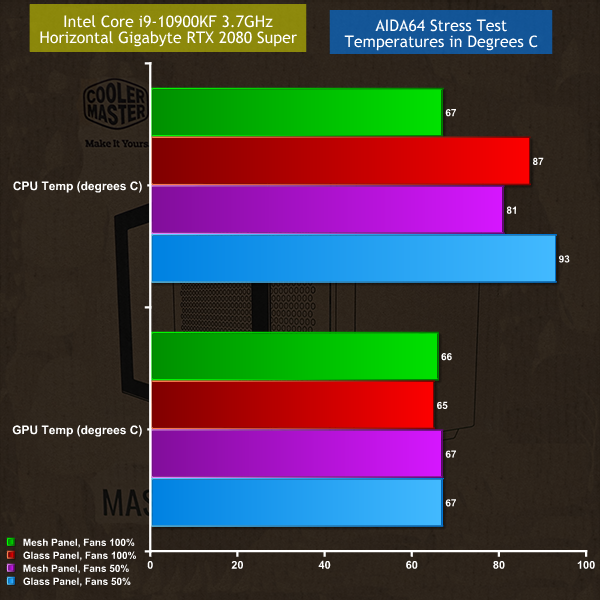 Restricting the CPU to 125W makes a significant difference to thermals, just as you would expect. It is also clear from our test results the glass side panel chokes the AIO cooler when it is mounted in the side of the case.
Admittedly you can predict those results from a quick glance at the test set-up but the hard figures prove the point.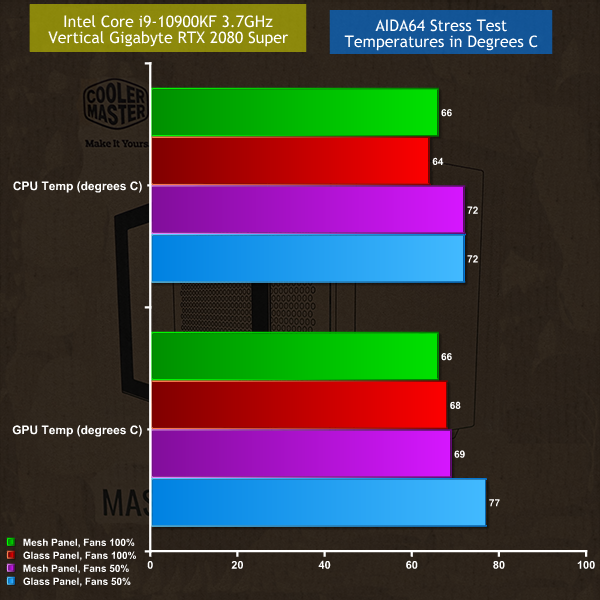 Moving the AIO cooler to the floor of the case transforms the cooling of the NR200P as it can pull in cooling air from the bottom and exhaust it directly through the roof of the case.
There is some controversy about mounting the cooler in this orientation so we will quote Cooler Master here 'We recommend the MasterLiquid line of AIO coolers to avoid the pump running dry thanks to CM dual chamber design.' That information is at the foot of one of the image in the video at 16 minutes 30 seconds so let's see how many viewers blindly quote Gamers Nexus to tell us we are 100 percent wrong!
Cooling Performance Overview
Running a Core i9-10900KF CPU at full speed means the NR200P had to deal with 205W from the CPU alone and while it managed the task, it was tough going. Restricting the CPU to 125W demonstrated the abilities of the NR200P and showed how important your cooling configuration can be in a high performance PC. Overall the NR200P performed very well and proved that a small PC can also pack in high end components.
Closing Thoughts
We have very few issues with the Cooler Master MasterBox NR200P and can offer a great deal of praise. The obvious point is that the NR200P is fairly large as ITX cases go, but balanced against that it is much smaller than a Micro-ATX or ATX tower case.
A significant part of the deal is the use of an SFX or SFX-L power supply and this leads us to two minor complaints. When the power supply caddy is in the upper position (required for SFX-L and useful for SFX) the power pass through cable fouls the front fan in the roof of the case. Two options here are to use skinny 120mm fans in the roof or to make the case about 10mm taller.
The second point is that the velcro cable management straps under the power supply caddy are very fiddly and require you to tidy the cables in stages as you drop the caddy into place. This could easily be remedied by Cooler Master.
Our other issue is that neither the NR200 or the NR200P strikes quite the correct balance of features and accessories. What we want is an NR200 with the Mesh side panel, a 92mm rear fan and a single 120mm fan in the roof along with the PCI Express riser cable that comes with the NR200P. The Glass panel looks cute but it causes problems so lets just forget about it Cooler Master.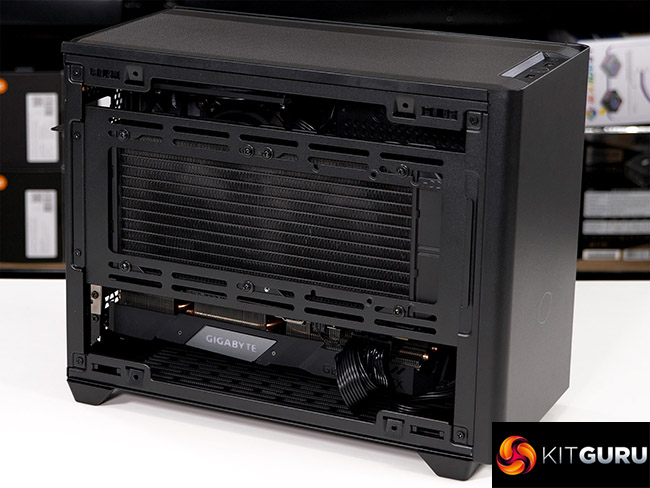 That might sound like a series of complaints but you can see we are actually arguing about which features we want to see from which version of the NR200, and that demonstrates just what a fine job Cooler Master has done. At every stage they have pushed the limits so you can install more storage than anyone could reasonably demand, along with proper adult cooling and the option of a dual or triple slot graphics card.
That list of features is better than you see in many tower cases and is deeply impressive in this ITX chassis. One area where we are torn is the absence of USB Type-C. We would love to see Type C on every case on the market but we understand this feature is not supported by every motherboard and it inevitably adds a significant cost so we're going to leave this point hanging in the air, just so you know the thought had crossed our mind.
Overall we are deeply impressed by Cooler Master MasterBox NR200P and suggest an updated version named NR200 Mesh as detailed above and priced at £80 or £85, and then you would really see us smile.
By the way, did you notice we got through this entire review without mentioning RGB? And wasn't that just a welcome relief!
You can buy the Cooler Master MasterBox NR200P for £89.99 HERE
Pros:
Long list of options for cooling, graphics and storage.
Very good design that is mainly tool-free.
PCI Express riser is included.
Sensible price.
Excellent access to your hardware.
Should be able to accommodate an RTX 3090!
Cons:
Mini-ITX/DTX remains a niche market.
Accessory screws are very similar yet are mixed in a bag.
Installation of power supply caddy is fiddly.
Front 120mm fan in the roof cannot be used with an SFX-L power supply.
KitGuru says: Cooler Master NR200P is ideal for anyone building their first Mini-ITX PC.
Be sure to check out our sponsors store EKWB here