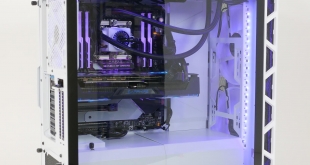 The launch of the Cooler Master MasterCase H500P went off the rails, as our man Dominic found in October 2017 as the case did not breath correctly and also tended to fall apart when you moved it around. Cooler Master knew things weren't right and in January we saw a revised H500P at CES.
Fast forward a couple of months and here we are with the Cooler Master MasterCase H500P Mesh White. The 'White' part is self-explanatory and while the 'Mesh' aspect is important it is only part of the story as Cooler Master has changed some significant details of the H500P.
Watch the video via our VIMEO Channel (Below) or over on YouTube at 2160p HERE
Specification:
Motherboard support: E-ATX (up to 305mm x 272mm), ATX, Micro-ATX, Mini-ITX.
Expansion slots: 7+2.
Included fans: 2x 200mm RGB 800rpm front intake, 1x 140mm 1,200rpm rear exhaust.
Fan mounts: 3x 120mm/140mm or 2x 200mm front, 3x 120mm/140mm or 2x 200mm roof, 1x 120mm/140mm rear.
120mm radiator mounts: 120mm/240mm/360mm front, 120mm/240mm/360mm roof, 120mm rear.
140mm radiator mounts: 140mm/280mm front, 140mm/280mm roof, 140mm rear.
5.25″ drive bays: None.
Internal drive bays: 2x 3.5-inch/2.5-inch, 2x 2.5-inch.
CPU cooler clearance: 190mm
Graphics card maximum length: 412mm
Dimensions: 542mm (H) x 544mm (L) x 242mm (W)
As we explain in our video the top panel is now secure with a thumb screw at the rear and the new Mesh front panel clips into place. Those simple changes mean the revised Mesh case feels much more sturdy and also flows air considerably better. As an added bonus the new Mesh front panel will be made available an an accessory that can be used on the first version of H500P.
The other significant change is that the power supply can slide into the case from the rear, thanks to the removable plate that has been a feature on so many cases. For some reason this feature was omitted from the H500P.
Other features such as the fans and drives bays are unchanged with the result that the specification remains unchanged from H500P to H500P Mesh.
Building the PC is something of a labour as cable management is hard work. The front fans need to be connected to a suitable motherboard header and also to an RGB header and the routing for the front panel I/O is untidy. The part we liked least was the way the PCI Express cables for the graphics card were left on full display.
When you take those points together and stand back you are left with the overall feeling that the H500P Mesh is a perfectly decent case. It is better than the original H500P however the changes that have been made are nothing more than common sense and proper design. The problems with H500P should have been fixed during the R&D stage and rather suggest the original H500P was little more than a Beta version.
Testing
To put this case through its cooling paces we will be using a test system consisting of an Intel Core i9-7980XE, Sapphire Vega 64 and an SSD. This system allows us to produce a substantial amount of heat and effectively test the Cooler Master MasterCase H500P Mesh White's cooling capabilities.
For stress testing we use AIDA64 to create the maximum amount of load our CPU and GPU are ever likely to see.
Test System:
Processor: 3.4GHz Intel Core i9-7980XE
Motherboard: Asus Rampage VI Extreme
CPU cooler: Deepcool Captain 360 Ex White RGB
Memory: 32GB G.Skill TridentZ DDR4-3200MHz
Graphics card: Sapphire Nitro+ Radeon RX Vega 64 8GB HBM2
Power supply: Sea Sonic Prime Titanium 1300W
Storage drive: Samsung 960 Pro M.2 SSD
OS: Windows 10
Cooling Performance.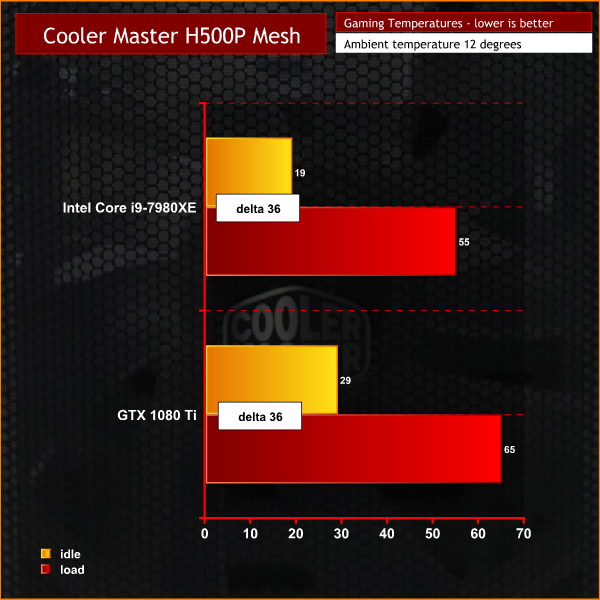 Cooling Performance.
We tested the Cooler Master MasterCase H500P Mesh in a room with a bracing ambient temperature of 12 degrees and it performed well. Both our Core i9-7980XE and Sapphire RX Vega 64 were well within their safe limits and we had no complaints about air flow.
Acoustics performance.
Initially we had the two 200mm front fans connected to a CPU OPT header and they were darn loud until we moved them to a SYS header and set the UEFI to a Silent profile. After that the fans in the case were clearly audible but they weren't annoying or problematic.
Closing Thoughts.
Cooler Master has updated the MasterCase H500P and it now works correctly. The original H500P was flawed and we advise anyone who bought that case to request a new Mesh front panel from Cooler Master. They will naturally wish to sell the Mesh panel to you as an accessory, so you might end up having an argument. We wish you luck.
The H500P Mesh is now reasonably sturdy and does a decent job however cable management is less than perfect. You will probably be eyeing up those two mighty 200mm RGB fans as they are the major styling point of this chassis, in which case you might be less fussed about some of the other minor problems we have detailed.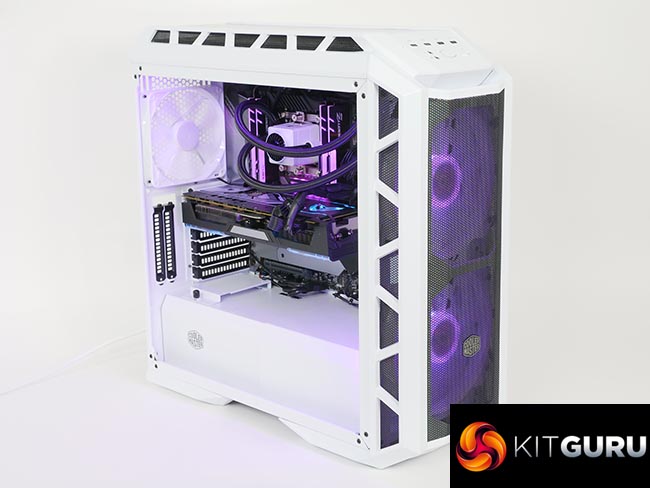 It is clearly a shame that Cooler Master released the original H500P in a form that was unsatisfactory as that will inevitably tarnish the name of the H500P Mesh.
Cooler Master has fixed the worst problems in H500P but now needs to make further changes to cable management that will improve the function of the chassis. At that stage we will be interested to see the illuminated mid-plate and two more 200mm fans in the roof of the case that we shown in the next version of the H500P at CES.
These would be interesting enhancements but right now Cooler Master still has work to do on the core chassis of H500P.
Pros:
The new Mesh front panel flows air well.
The pair of 200mm RGB fans look superb.
Cons:
Cable management holes are insufficient.
Removing the glass side panel requires use of a screwdriver.
Rear cable cover panel is too shallow to be useful.
Connecting and managing the cables for the front fans is a trial.
KitGuru says: The new Mesh version of the MasterCase 500P is a considerable improvement over the original H500P.
Be sure to check out our sponsors store EKWB here