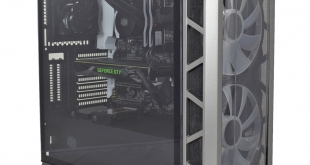 Yes – HAF is back! After a long period in the metaphorical case wilderness, Cooler Master's fan-favourite High Air Flow (HAF) series makes a dramatic return in the form of the H500P. Considering the bold design – complete with tempered glass, RGB fans and modular elements – it seems the H500P is just as much about form as it is function. Could this be the defining case of 2017?
With the recent release of the C700P – Cooler Master's Cosmos refresh – and now the return of the HAF series, Cooler Master is definitely looking to breathe new life into old favourites. With the H500P coming in significantly cheaper, at £134.99, than the C700P, it is also likely to have much wider appeal, so just how good is it?
Specification
Materials: Outlook – Plastic, Steel, Mesh. Body – Steel. Side panel – Tempered Glass, Steel.
Dimensions (LxWxH): 544x 242 x 542mm / 21.4 x 9.5 x 21.3 inch
Motherboard Support: Mini-ITX, Micro-ATX, ATX, E-ATX (support up to 12″ x 10.7″)
Expansion Slots: 7 + 2 (Support vertical graphics card installation)
Drive Bays, 5.25″: 0 (2 optional via bracket). 2.5/3.5: 2. 2.5 SSD: 2
I/O: Port USB 3.0 x 2, USB 2.0 x 2, Audio In & Out (supports HD Audio)
Pre -installed Fan(s): Front 200 x 25mm RGB fan x 2, 800RPM. Rear 140 x 25mm fan x 1, 1200RPM
Fan Support: Top – 120/140mm fan x 3 or 200mm fan x 2. Front – 120/140mm fan x 3 or 200mm fan x 2. Rear – 120/140mm fan x 1
Liquid Cooling Support: Top – 120mm, 140mm, 240mm, 280mm, 360mm (maximum thickness clearance 55mm). Front – 120mm, 140mm 240mm, 280mm, 360mm. Rear – 120mm, 140mm
CPU Cooler Clearance: 190mm/7.5 inch
GPU Clearance : 412mm/16.2 inch
Power Supply Support: Bottom Mount, ATX PS2
At its core, the H500P is a very user-friendly chassis thanks to the sheer amount of features put in place. Both front and top panels are removable, the tempered glass side panel attaches via a single latch mechanism, it has a two-piece power supply shroud that is also removable, a large cable management plate is included and let's not forget about those two huge RGB fans.
Such an array of features – some new, some we've seen before – make building in the H500P very satisfying. My favourite feature is undoubtedly the cable management plate at the rear of the case – it is simply a slab of metal which covers up the cable mess, but it makes the overall build look so much cleaner. No more faffing around with cable ties or anything like that – just stick a sheet of metal over the rat's nest and call it job done.
One feature that I didn't mention in the video is vertical GPU mounting. The H500P has two vertically oriented PCIe slots, so there is clearly scope to add a GPU in that way. However, there does not seem to be any way of actually supporting the card once its installed, and a PCIe riser card is not included anyway, so I was not able to put this feature to the test.
Moving on, and as I mention in the video, I can only find one real issue with the H500P, and that is its use of plastic panels and acrylic windows. For a case of this price I wouldn't expect an all-aluminium frame without any plastic – it is just the plastic used is quite flimsy and creaky. It looks perfectly fine from an aesthetic point of view, I just don't think the plastic could withstand much force. For instance, if you were to try and pick the case up by the plastic panels, I am sure you would end up in a very sticky situation.
There are other minor annoyances – such as the need for a 4-pin RGB header to enable the RGB fans to light up, when I would've preferred an integrated case controller – but by and large the H500P is a pleasure to build in. It looks great and has definitely brought the HAF family right into 2017.
Testing
To test the H500P, I installed the following components:
Ryzen 7 1700
Gigabyte AX370-Gaming 5
Cooler Master MasterLiquid 120
Nvidia GTX 1080 Ti
16GB Geil Super Luce DDR4
Sandisk SSD PLUS 120GB
Seasonic PRIME 650W Platinum
Thermal dynamics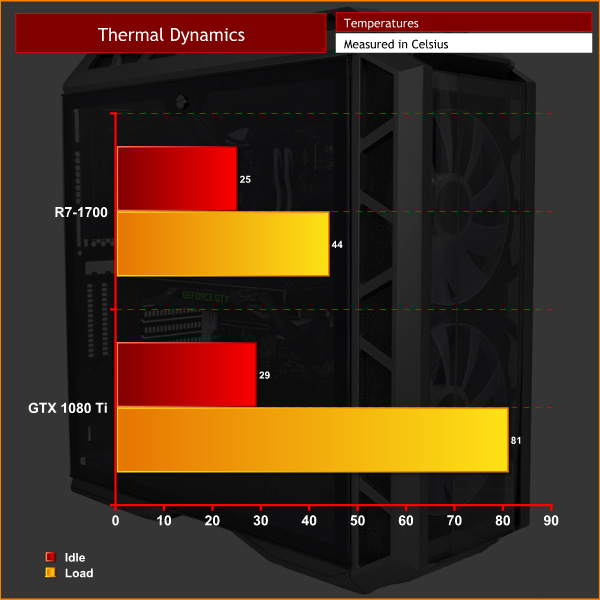 Ambient: 21C
As you can see, thermal performance of the H500P is excellent. The two 200mm fans clearly deliver excellent airflow to all areas of the internal chassis and our core components definitely demonstrate that.
Acoustics
The noise levels of the case fans are similarly impressive. While thrashing the system with Prime95 and Fire Strike stress test, the loudest component (by quite a distance) was the graphics card – the two front fans spin at a mere 800rpm so emit very little noise. Great airflow + very low noise levels = one very happy reviewer.
Closing Thoughts
On the whole, the H500P is an excellent case from Cooler Master. It brings the HAF series right into 2017, with tempered glass, RGB fans and even some modular elements about the case.
Its looks and features are definitely its two strongest suits, with the cable management vanity plate being a very simple yet effective way to achieve a clean PC build.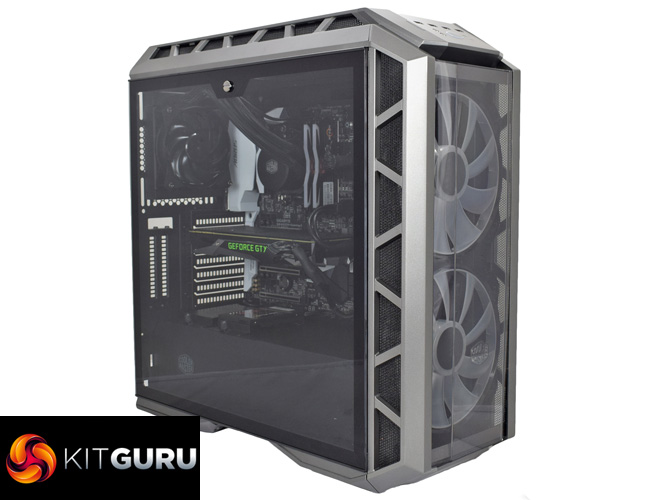 The plastic panels are disappointing and let the case down, though, as the overall premium feel is lessened somewhat by the creaky and relatively flimsy top and front panels. If Cooler Master released, say, the H600P with aluminium and glass panels we would be all for it.
As it is, I still thoroughly recommend the Cooler Master H500P. It looks great and is a pleasure to build in – just don't try and pick it up by its plastic panels.
You can buy one from Overclockers UK for £139.99 HERE.
Pros
Looks great.
Two 200mm RGB fans deliver excellent air flow and lighting.
Lots of nifty features in all departments.
Nice and quiet.
Cons
Plastic front and top panels are a disappointment.
KitGuru says: The H500P heralds the return of a forgotten hero – HAF is well and truly back.
Be sure to check out our sponsors store EKWB here