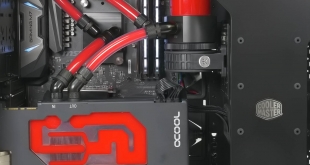 We saw the Cooler Master MasterCase SL600M at Computex 2018 and described it as 'A lot more case than it appears'. The case admittedly exudes a certain designer chic thanks to its aluminium front and top panels but at first glance, you may think that Cooler Master has designed an oven, rather than an enclosure for a PC. The front of the case has zero in the way of intakes for cool air, however the SL600M is considerably more sophisticated than it appears and Cooler Master has this covered.
The main feature is the inclusion of two 200mm fans in the floor of the case so the air is drawn in from underneath and then blown vertically through the case. You can add cooling hardware in the floor or the roof however the front of the case is reserved for the power supply which is located roughly where the optical drives would go in a more conventional case.
Watch the video via our VIMEO Channel (Below) or over on YouTube at 2160p HERE
Note: if the above images are not displaying properly, you may need to disable Ad Block as it is known to interfere with our display code
Specification:
Motherboard support: E-ATX up to 272mm wide, ATX, Micro-ATX, Mini-ITX.
Expansion slots: 7+2 vertical graphics.
Included fans: 2x 200mm bottom intake, 800rpm PWM.
Fan mounts: 3x 120mm/2x 140mm front/2x 200mm roof, 3x 120mm/2x 140mm front/2x 200mm floor.
120mm radiator mounts: 120mm/240mm/360mm roof, 120mm/240mm/360mm floor.
140mm radiator mounts: 140mm/280mm roof, 140mm/280mm floor.
Radiators in roof up to 43mm thick, radiators in floor up to 72mm thick.
5.25-inch drive bays: None.
Internal drive bays: 4x 3.5-inch/2.5-inch, 4x 2.5-inch.
Front I/O panel:
USB ports: 1x USB 3.1 Gen. 2 Type C, 2x USB 3.0 Type A, 2x USB 2.0 Type A.
Audio: 1x headset jack, 1x mic jack.
Dimensions: 573mm H x 544mm D x 242mm W.
You get a great many options when it comes to installing your graphics card. There is the regular horizontal installation, or you can use the two vertical slots, provided you buy an accessory PCI Express cable for £25, or you can rotate the entire I/O panel at the rear of the case. You can see how this works in our video and while it wasn't applicable to our liquid cooled graphics card, it could be a very useful option for anyone installing a monster air cooled GPU who wants to maximise air flow.
The funny thing about MasterCase SL600M is that the feature we saw most prominently at Computex was the illuminated front I/O panel. The I/O has a host of USB ports and when you wave your hand near the panel a proximity sensor lights it up so you can find the correct place to plug your flash drive or peripheral. After six seconds the lights go out again. The feature works perfectly well but was merely nice to see, rather than a game changer.
In this review we are very much focussing on the internal layout of the case, the unique series of multifunction brackets for installing drives and the air flow through the case. There is a huge amount to see with the SL600M and for the most part it works impressively well.
We chose to install a custom loop on our Ryzen 7 CPU and GTX 1080Ti GPU and that threw up a number of minor headaches. We discuss these at length in the video but the key decision was the location of the pump/reservoir along with a switch to a short reservoir to increase the clearance to the radiator. We also found it necessary to install the two 120mm fans above the radiator, outside the core chassis and under the top cover, again to give clearance inside the case. Once we had reached that point it seemed like a good move to install the graphics card vertically, purely for aesthetic reasons. Cooler Master had included the necessary accessory PCI Express cable and while we noted the graphics card floated in free space without any extra support the installation worked well and did not cause any concern.
For our build we used a single M.2 SSD however we checked out the options for installing extra hard drives and SSDs and found that Cooler Master's system worked very well and we could have easily installed two 3.5-inch drives and four 2.5-inch drives without any trouble.
Testing:
To put this case through its cooling paces we will be using a test system consisting of an AMD Ryzen 7 2700X, EVGA GTX 1080Ti and an M.2 SSD. This system allows us to produce a substantial amount of heat and effectively test the Cooler Master SL600M's cooling capabilities. For stress testing we use AIDA64 to create the maximum amount of load our CPU and GPU are ever likely to see.
Test System:
Processor: 4.0GHz AMD Ryzen 7 2700X
Motherboard: MSI X470 Gaming M7 AC
CPU cooler: 240mm custom loop
CPU block: EK Supremacy EVO AMD
Pump/Reservoir: EK-XRES 100 Revo D5 PWM
Coolant: EK Cryofuel Solid Scarlet Red
Radiator: Black Ice Nemesis 240GTS
Fans: 2x EK Vardar F1-120
Memory: 16GB HyperX Predator RGB DDR4-2933MHz
Graphics card: EVGA GeForce GTX 1080 Ti SC 11GB
Power supply: Seasonic Prime Titanium 1000W
Storage drive: Samsung 960 PRO M.2 SSD
OS: Windows 10
Cooling Performance: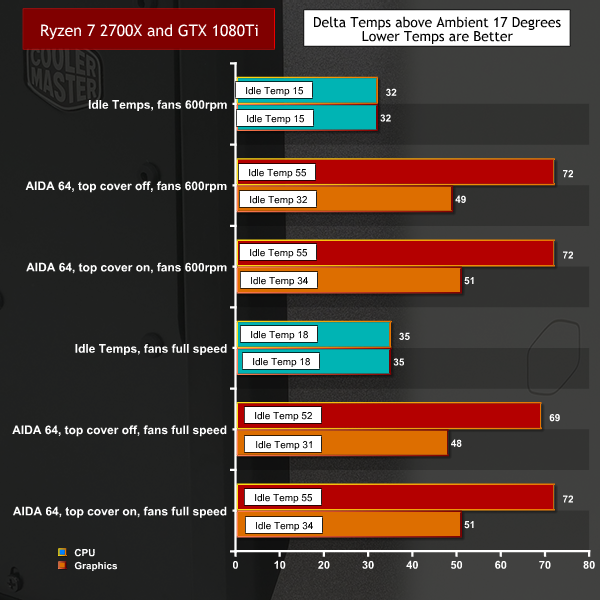 Cooling Performance Overview:
As we say in our video, the CPU temperature was higher than expected and we feel this is due to the performance of the CPU block. On the other hand the GPU temperatures were exactly where we expected and overall we were happy with the cooling performance of the SL600M.
The biggest surprise during this review was that running the fans low and slow delivered almost the same performance as when we cranked up the speed. This suggests the SL600M has good air flow that doesn't require fast fans to save the day.
Acoustics Performance Overview:
The Cooler Master MasterCase SL600M has the potential to be noisy as there is no noise deadening material used in the construction. However Cooler Master has thought this through. The two 200mm fans run at 800rpm maximum and while they are audible at high speed they are effectively silent at 400rpm or 600rpm. Noise levels effectively depend on which other fans you install and if you choose an air cooler on your CPU, that might be the end of the story. We used low speed Vardar F1-120 fans on our radiator and they were fairly quiet despite being located at the very top of the case.
Depending on your choice of fans and the setting you use for the fan controller, you may find the SL600M gets noisy, however, we were happy with the acoustics of our test set-up.
Closing Thoughts:
The Cooler Master MasterCase SL600M is an impressive case that radically overhauls the internal layout of an ATX chassis. The motherboard is arranged in the usual position but the cooling is a rotated 90 degrees with those two 200mm fans in the floor of the case.
That fundamental decision has forced Cooler Master to make a number of design choices, in particular with regards to the multifunction brackets that are located in the main compartment and inside the front cover next to the power supply.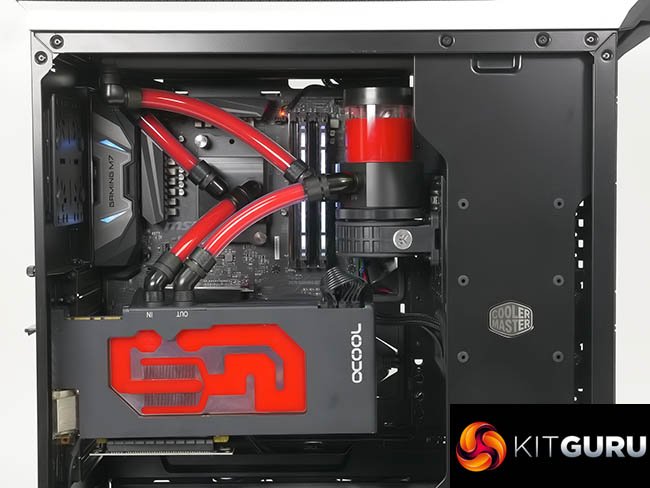 This has worked out well and you have a huge number of options when it comes to installing your hardware, although you will often find that installing a drive in one place means you cannot install a second drive or pump elsewhere . Pretty much every decision affects every other decision and you will need to take it steady with your build and plan each step of the way.
We were happy with our finished PC, however, we didn't find an overwhelming argument in favour of the layout used inside the SL600M. When you consider Cooler Master's huge portfolio of cases, that makes perfect sense. This is just one option among a great many options, so if you are bored with the usual way of doing things, you can mix it up with SL600M without suffering any consequences besides a slightly higher price.
Our single biggest disappointment is that the aluminium finish on the front and top panels doesn't look and feel as sophisticated as we would have hoped. Clearly that is a personal view rather than an absolute judgement but it removed some of the allure from this fascinating and novel case.

Buy from Overclockers UK for £189.95 inc vat HERE
Pros:
Good airflow from the two 200mm fans.
Multipurpose brackets for HDD, SSD and pumps are clever.
Front I/O panel supports all three types of USB.
Quiet operation.
Cons:
Removing the windowed panel is surprisingly tricky.
PWM fan hub only controls PWM and not 3-pin fans.
'Brushed aluminium' finish is silver painted and looks a bit naff.
Price is quite steep.
KitGuru says: Cooler Master demonstrates a novel case design can also work very successfully.
Be sure to check out our sponsors store EKWB here