Cooler Master teased its new MasterCase SL600M during Computex earlier this year, aiming to blur the lines between a professional, silent system and a gaming rig. The case marks the beginning of the firm's new "Sleek" SL-Series, launching in November for £189.99.
The premise of the MasterCase SL600M was to design a gaming case that keeps performance intact, while easily fitting within a professional environment without looking out of place. Aesthetically, Cooler Master's sand-blasted aluminium finish across the top and front should feel at home almost anywhere, with a tinted glass side panel to display internals with pride.
Although a riser cable would need to be purchased separately, the rotatable PCI bracket allows for the vertical mounting of up to two graphics cards, making the most of the glass window clearance. Hard drives can also be vertically mounted, with room for four 3.5-inch HDDs and six 2.5-inch SSDs. Reactive lighting makes use of a proximity sensor on the advanced I/O panel in order to darken for immersive viewing whenever no movement is detected.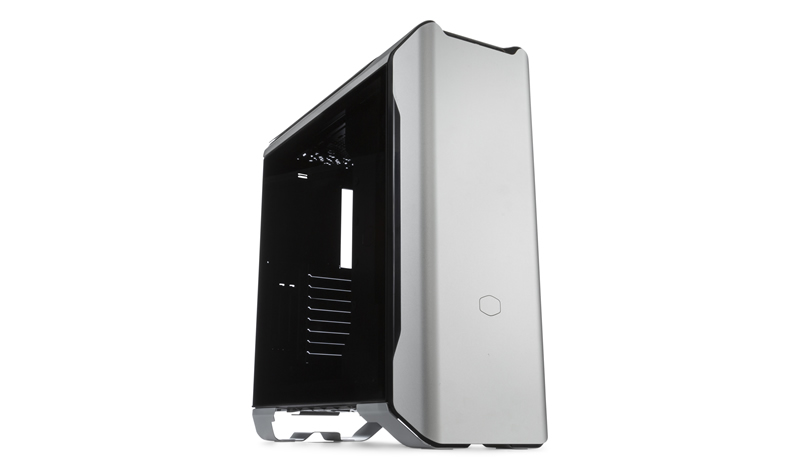 The MasterCase SL600M sports a vertical layout with a chimney-based heat design. This sees 200mm fans pull air from the base and push it unobstructed up through the roof, creating a "natural direction for efficient thermal performance," according to Cooler Master. With more effective general air cooling, Cooler Master hopes to cut down on sound as graphics cards and processors relying on thermal feedback won't need to speed their fans up as often.
Noise is further dampened with the use of much larger 200mm fans, designed to push large amounts of air with minimal RPM. Users can choose to manually amp up the fan speed, as Cooler Master provides a PWM fan slider on the I/O panel. Alongside quieter internal operation, an asymmetrical mesh located on the roof is designed to break up sound waves, without sacrificing cooling applications.
Cooler Master will be making its MasterCase SL600M available on November 30th for £189.99.
KitGuru Says: The MasterCase SL600M certainly looks the part and is something I wouldn't be ashamed of on my desk, however the price does seem on the higher end. Still, with a range of premium features, it could very well be justified. What do you think of Cooler Master's latest SL series?