The Deepcool Gamer Storm Baronkase Liquid will soon go on sale soon at a price of £120, so you may leap to the assumption that this is an expensive case that is aimed at the enthusiast market. In fact Deepcool has flipped things on their head and has included a Captain 120EX RGB liquid cooler that costs £90, as well as a tempered glass window with some RGB lighting.
This suggests the bare Baronkase would sell for between £30 and £50, which means we are faced with the novel prospect of a budget mid-tower that is packed with loads of extras.
If the gallery above does not display please whitelist us in your ad blocker as it can interfere with our display code.
Main features:
mATX Size Supports ATX motherboard.
Tempered Glass Side-panel.
Pre-installed Integrated Liquid Cooling System with 120mm Radiator.
Combined RGB Lighting System with Manual Controller.
All-metal Front Panel.
If that was all there was to the Baronkase Liquid we could thank Deepcool for installing the liquid cooler (which saves us some time) and that would be the end of the matter, however there is more to the story. In addition to those features the Baronkase Liquid also has a nifty feature where this Micro-ATX chassis can accommodate an ATX motherboard, which sounds like a contradiction in terms.
A typical mid-tower case is around 500mm tall while the Baronkase Liquid measures 460mm tall according to the KitGuru ruler (rather than Deepcool's official figure of 470mm). That number includes the detachable carry handle so the core chassis actually measures 430mm in height, including the feet.
When you build your PC you can install your ATX power supply on the floor of the case in the conventional position along with a Mini-ITX motherboard. Alternatively you can plump for a Micro-ATX or ATX board and put the power supply up the front of the case in the space where optical drives would usually go. The process is slightly fiddly as you have to support the power supply while you install the screws but truth be told the biggest problem is that the process is unfamiliar.
Once the power supply and motherboard are installed and the cold plate/pump unit of the cooling system is attached to the CPU you are pretty much good to go. One of the final steps is to install your graphics card which will likely take you longer than you might expect. In the first place you will probably have to remove the mid-plate inside the case to open up access which means you lose one of the SSD drive mounts.
In our video we incorrectly say there is one SSD mount on the front of the case above the flow meter and two on the rear panel. In fact there is one on the front, one on the removable mid-plate and one on the rear, so you will probably be limited to using two drive caddies and two SSD mounts.
After that you connect the power supply cables to the graphics card, move the various cables and coolant tubes to one side, and slide the graphics card into place. It's all a bit fiddly but not especially difficult and you simply need to allow extra time for the build.
Specification:
Motherboard support: ATX, Micro-ATX, Mini-ITX.
Expansion slots: 5.
Graphics card: Maximum 340mm in length.
Included fans: 1x 120mm top exhaust, 1x 120mm rear exhaust.
Fan mounts: 2x 120mm/1x 140mm front, 2x 120/140mm roof, 2x 120mm floor.
120mm radiator mounts: 120mm/240mm roof.
140mm radiator mounts: 140mm/280mm roof.
5.25″ drive bays: None.
Internal drive bays: 2x 3.5"/2.5", 3×2.5″ (2×2.5" with long graphics card)
Dimensions: 423mm Deep x 460mm High x 215mm Wide.
Full specification HERE
Testing
To put this case through its cooling paces we will be using a test system consisting of an AMD Ryzen 5 1600X, EVGA GTX 1080TI SC and an SSD. This system allows us to produce a substantial amount of heat and effectively test the Deepcool Gamer Storm Baronkase Liquid's cooling capabilities.
For stress testing we use AIDA64 to create the maximum amount of load our CPU and GPU are ever likely to see.
Test System:
Processor: AMD Ryzen 5 1600X 6 cores 3.7GHz
Motherboard: Asus Prime X370-Pro
CPU cooler: Captain 120EX RGB
Memory: 16GB G.Skill FlareX DDR4-3200MHz
Graphics card: EVGA GTX 1080Ti SC 11GB
Power supply: Sea Sonic Prime Titanium Fanless 600W
Storage drives: Samsung PM951 M.2 SSD
OS: Windows 10
Cooling Performance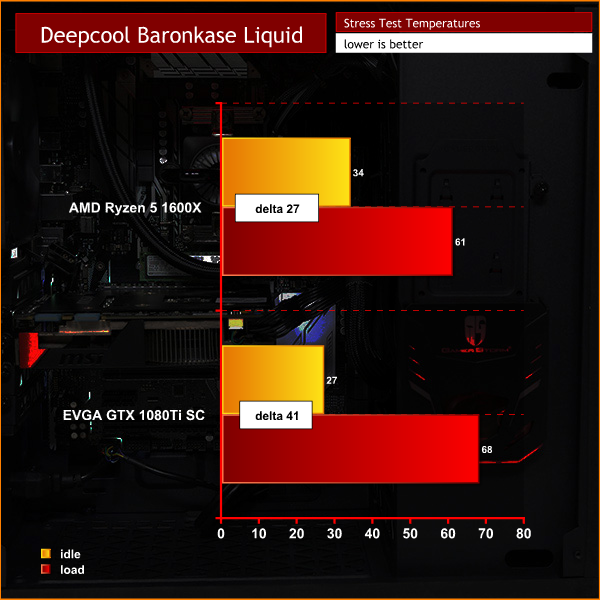 Cooling Performance summary
We were concerned the unusual layout of the Baronkase Liquid might cause problems as there are no intake fans at the front and the power supply and cables appear likely to hinder air flow. As things turned out we were happy with the temperatures of our six core Ryzen 5 CPU (95W TDP) and beefy GTX 1080Ti graphics card. Clearly you might get different results with a hotter CPU that stresses the 120mm liquid cooler to a greater extent but with our chosen build we had no cause for concern.
Acoustics performance
Deepcool Baronkase Liquid has two 120mm fans and a pump in the liquid cooler however we could barely hear any noise from these items. We would be very surprised if you could hear them at any point in our video.
We left fan speed under the PWM control of the Asus Prime X370-Pro motherboard and the system behaved itself admirably.
Closing Thoughts
The Deepcool Baronkase Liquid is an unusual case as it offers you the choice of a conventional Mini-ITX layout or a novel ATX system with the power supply installed in the front of the case. This has allowed Deepcool to keep the Baronkase Liquid small and compact and while the build gets fiddly on occasion it is not especially difficult. It is not immediately clear why you would want to build an ATX system inside this case as it only has five expansion slots so the more logical approach would be to use a Micro-ATX motherboard inside a dedicated chassis such as Fractal Design Mini C Window.
Of course that takes no account of the price and Deepcool Baronkase Liquid is very cheap for a case that comes with a liquid cooler that includes a flow meter, as well as a bunch of RGB lighting and a tinted glass panel. We would be happier if Deepcool spent slightly more on materials and improved the build quality, even if that resulted in a slightly higher price.
The two drive caddies are hard to remove unless you pry them with a screw driver and the front air filter looks scrappy and like something of an afterthought. Having said that, the steel front panel is a solid piece of work, the control buttons for the lighting feel solid and the glass panel is easy to remove and install.
Discuss on our Facebook page, over HERE.
Pros:
Integrated cooling system.
Small footprint.
Good value.
Visual indicator for coolant flow.
RGB lighting.
Cons:
Tight for space inside.
Graphics card uses same space as cabling and liquid cooling.
Air filters are basic.
Cable management is a touch messy.
No noise deadening material.
There is no Power rocker switch on the back of the case.
Buy from Scan for £119.99 inc vat HERE
KitGuru says: Baronkase Liquid comes fully featured and ships with a Captain 120EX RGB liquid cooler. It is great value for money.

Be sure to check out our sponsors store EKWB here