Anyone who is in the market for a PC case that looks utterly unique should pay close attention to the Deepcool Quadstellar. Arranged in four sections with aluminium housings that Deepcool calls cabins, this huge case has RGB lighting, tempered glass panels and Wi-Fi control of the cooling system.
We have never seen anything like this case before and while those of you who think a box with 90 degree corners is just the ticket may want to go and make a cup of coffee before moving on to the next review we say 'hold that thought.'
By all means make that coffee but do please take the time to watch our video as you owe it to yourself to see what is going on at the outer reaches of case design. Deepcool is pushing the limits with Quadstellar so sit back and enjoy the ride.
Features
Outfitted with 4 independent functional compartments to eliminate heat dissipation interference for different hardware components
Optimized heat dissipation ventilation channels designed using heat dissipation simulation, physical prototype testing, and IR spectrograms.
Smart mobile device APP control for dynamic management of lighting / heat dissipation / active thermal control gates.
Reserved areas for installing high-end separate water-cooling accessories to maximize the gamer vibe and compatibility.
Fitted with 8x 3.5-inch and 2x 2.5-inch drive bays (with additional 3x 2.5-inch bays in the case) to offer a huge capacity for game files or data storage.
Independent graphic card compartment supports up to 3-way SLI/CrossFire cards (for normal 4-way).
Specification:
Motherboard support: E-ATX (305mm x 330mm), ATX, Micro-ATX, Mini-ITX.
Expansion slots: 8+6.
Included fans: 4x Deepcool TF120 front, 1x Deepcool TF120 rear
Fan mounts: Front: 6×120mm; Rear:1×120/2×80mm; Side: 2×120mm
120mm radiator mounts: 120mm/240mm/360mm front, 120mm/240mm bottom.
140mm radiator mounts: Not supported
5.25-inch drive bays: None.
Internal drive bays: 8x 3.5-inch/2.5-inch, 5x 2.5-inch.
I/O panel: 2x USB 3.0, audio jacks.
Construction: Steel, aluminium and glass.
Software: RGB lighting effects controlled by Quadstellar APP (Addressable RGB Sync Supported)
Graphics card maximum length: 380mm
CPU cooler maximum height: 110mm
ATX PSU maximum length: 300mm
Weight: 14.5kg
Dimensions: 493mm H x 538mm D x 483mm W.
Removing the four cabins from the Quadstellar requires a bit of care as you are dealing with a big and heavy case. Once you have it stripped down you quickly realise there is so much space inside that it is going to be easy to install your hardware. In fact the biggest restriction to your build is that you are limited to 120mm fan units and cannot opt for 140mm.
Our chosen E-ATX Asus Rampage VI Extreme looks fairly small inside the Quadstellar and the Deepcool Captain 360 Ex White RGB liquid cooler pretty much vanished in the front of the case. We had to make a decision whether we installed the EVGA GTX 1080Ti graphics card directly on the motherboard but instead decided to use the upper compartment where the connection is made by the supplied PCI Express riser cable.
In the bottom of the case we installed a Sea Sonic 600W Prime Titanium Fanless that looks absolutely tiny and up top where you find eight drive caddies we installed … nothing. The only storage drive in the PC was a single, solitary M.2 SSD but honestly, if we had slipped two or three drives into the caddies the Quadstellar would still have looked half empty.
Turning the PC on is fun as the illuminated Deepcool logo doubles up as the power button and then the four covers on the front air intakes do a motorised dance as they open and close twice. After that we went through our own song and dance as we installed the Deepcool app to control the lighting, fans and cooling intakes.
We explain the process in detail in the video but in short you connect your phone to the local router using 2.4GHz, use Scan in the app to find the Quadstellar and then adjust the settings for the case.
Based on our experience you are more likely to have to find the electronic control unit deep inside the case and then press and hold the reset button on the box for six seconds during start-up. After that you ought to be able to make a Wi-Fi connection, and you'll be fine until the next time the connection is lost.
Testing
To put this case through its cooling paces we will be using a test system consisting of an Intel Core i9-7980XE, EVGA GTX 1080 Ti and an SSD. This system allows us to produce a substantial amount of heat and effectively test the Deepcool GamerStorm Quadstellar's cooling capabilities.
For stress testing we use AIDA64 to create the maximum amount of load our CPU and GPU are ever likely to see.
Test System:
Processor: 3.4GHz Intel Core i9-7980XE
Motherboard: Asus Rampage VI Extreme
CPU cooler: Deepcool Captain 360 Ex White RGB
Memory: 32GB G.Skill TridentZ DDR4-3200MHz
Graphics card: GeForce GTX 1080 Ti 11GB
Power supply: Sea Sonic Prime Titanium 600W Fanless
Storage drives: Samsung 960 Pro M.2 SSD
OS: Windows 10
Cooling Performance.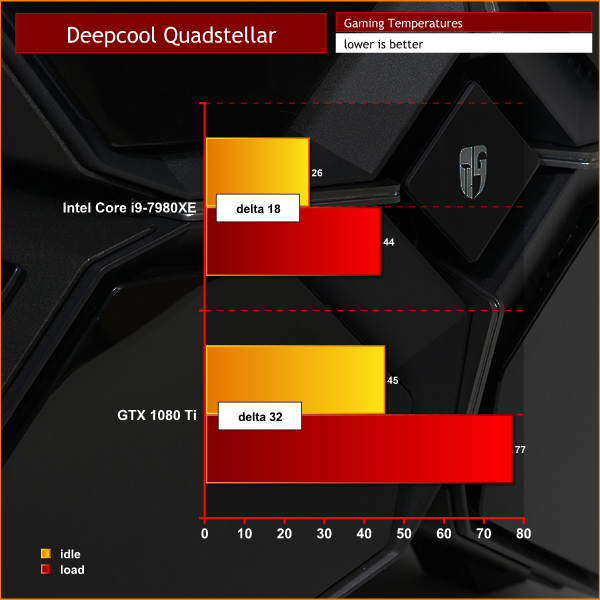 In the usual course of things we test temperatures in a room that is kept in the range of 18-20 degrees. The Quadstellar mucked up that routine as it was assembled in an outbuilding and was simply too big and heavy to bring into the warm for testing.
As a result it was tested in a cooler environment of 14 degrees which explains in part why the CPU temperature is lower than you might expect, although the very effective Deepcool Captain 360 was also a factor. The GTX 1080Ti GPU ran at the temperatures we expected to see and overall we were happy with the Quadstellar.
It is surprising how well this case works with the front intakes closed, however you get much more satisfactory results when the vents are open and the case can breath correctly.
Acoustics performance.
We set the seven 120mm fans in the Quadstellar and on the Captain 360 at 500rpm and the system was very quiet.
Closing Thoughts.
The Deepcool Quadstellar is an extraordinary case that has a unique shape. It is a puzzle why anyone would want a case this large or how they might fill even half the space with hardware, however that is a secondary matter. The bigger concern is where you would locate the case as it requires a significant amount of space, along with a table that is good and sturdy.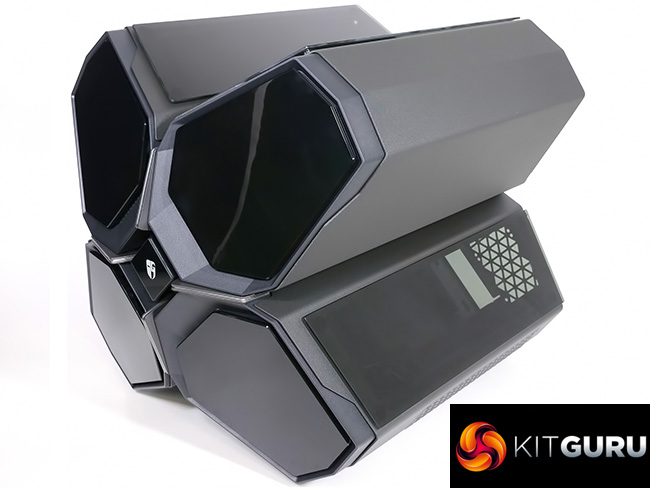 You can build a PC in the Quadstellar that has pretty much any specification you desire as there is enough room to go crazy. In fact you have to go crazy or it looks like you simply are not trying! While you're at it you had better be sure you include some lighting as part of your build. The RGB front panel looks superb but you need lighting inside the case that can take advantage of all those glass panels. Perhaps the most annoying aspect of the Quadstellar is the control software as the Wi-Fi connection caused us a number of problems. Realistically most people will configure the Quadstellar two or three times and will then probably leave it alone so this may be less of a problem than we imagine.
There is surely only one reason why any case would have 14 expansion slots or eight drive caddies and that is to do something with all that space. In other words it seems that Deepcool started with an unusual structure for the Quadstellar and then found ways to use all that space by delivering a list of features that is as long as your arm.
In a way we quite like that as the Quadstellar is clearly crazy bonkers but it looks great and we like it a great deal. Yes, the price is very high but we expect that and do not really mind. In fact our single biggest complaint is more of an observation that Quadstellar is big, heavy and deeply impractical.
Pros:
Dramatic styling.
Integrated lighting and fan control.
Huge amounts of space for E-ATX and full size PSU.
Glass panels are retained by magnets.
Cons:
Quadstellar is big and heavy.
Liquid coolers are limited to 120mm fan units.
This case requires a good deal of lighting to fill the cavernous interior.
Wi-Fi connection for light/fan control app is flaky.
KitGuru says: Deepcool pushes the limits with the mighty Quadstellar
Be sure to check out our sponsors store EKWB here