Fractal Design is changing direction with its new duo of Celsius liquid coolers that consists of the 240mm Celsius S24 and 360mm Celsius S36. We have previously reviewed Fractal Design Kelvin which is based on a copper radiator and technology from Alphacool and now it's the turn for Celsius which uses an aluminium radiator and is made by Asetek.
This liquid cooler uses the latest 5th Generation Asetek technology which is used by other companies such as NZXT and EVGA however Celsius S24 is unlike any other liquid cooler we have seen before.
Specification:
Fans 2x Dynamic X2 GP-12 PWM
Fan speed 500rpm – 2,000rpm
Fan bearing LLS
Fan control PWM
Maximum air flow 87.6cfm
Radiator material Aluminium
Radiator dimensions 284mm x 122mm x 31mm
Tube length 400mm
Connection unions G 1/4"
Coldplate Asetek 5th Generation
Coldplate material Copper
Pump speed 1,950rpm – 3,150rpm
Rated power (with fans) 6.6W
Sockets supported:
Intel 1150/1151/1155/1156, 1366, 2011, 2011-3
AMD AM2, AM2+, AM3, AM3+, AM4, FM1, FM2, FM2+
For one thing, Celsius S24 comes with support for AMD Ryzen (Socket AM4) while other manufacturers are adding support for Ryzen to new coolers. If you buy a cooler that  has been in stock for a few weeks you may well need to apply for an AM4 mounting kit so you can proceed with your PC build. This hassle simply doesn't apply with Fractal Design.
Delving deeper into the thinking behind Celsius S24, Fractal Design hasn't attempted to develop its own monitoring software in the style of NZXT or Corsair but instead favours a stripped down lean-and-mean approach.
The two Dynamic X2 GP-12 PWM connect to a small fan hub on the radiator, which avoids cable clutter, and then you make a single connection to the CPU header on your motherboard to control the pump and both fans.
This should work perfectly well with any decent motherboard as the BIOS will likely give you three or four PWM profiles to control the cooler. In the event your PWM control isn't so great Fractal Design has built in a further option. The body of the pump doubles up as a rotary switch that can be clicked from PWM mode to Auto, and this engages the Asetek firmware inside the cooler.
We found this worked in precisely the same manner as the Standard mode of the BIOS of our Asus motherboard and therefore provides a superb fallback way of controlling the cooler.
Testing
We took full advantage of the AM4 support and built a compact Ryzen 7 1700X test system that went together very easily. The new AM4 stand-offs that are supplied by Fractal Design work very well and deserve to become a new industry standard.
Installing the Celsius S24 in the roof of the case was easy enough however the 400mm hoses were so long that we had to move them around a fair amount to get them inside the case. On the plus side they are very flexible and this was not difficult.
Test System:
Processor: AMD Ryzen 7 1700X 3.4GHz/3.8GHz
Motherboard:  Asus Prime X370-Pro
Memory:  16GB G.Skill FlareX DDR4-3200MHz RAM
Graphics card:  GeForce GTX 1080 8GB
Power supply: Sea Sonic Prime Titanium 850W
Storage drives: Samsung 256GB SSD M.2
OS: Windows 10 Professional.
Cooling Performance.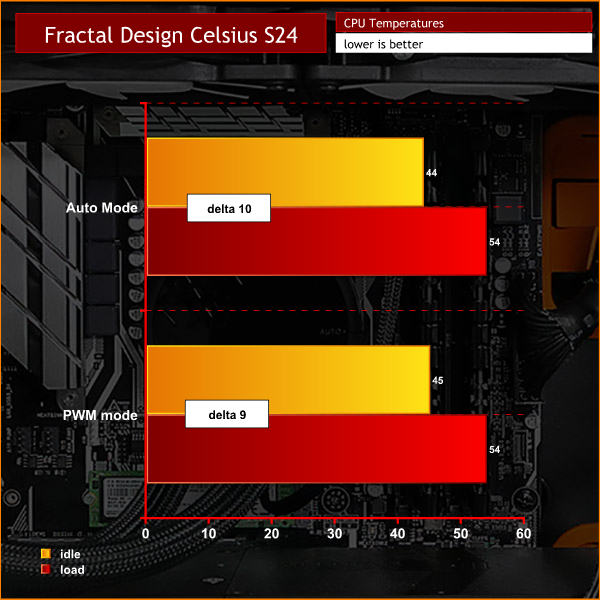 The Fractal Design Celsius S24 cooler delivered very satisfactory temperatures for our Ryzen 7 1700X, which was exactly what we expected to see. AMD has an excellent thermal interface inside Ryzen that really lets the cooler work to maximum efficiency.
Acoustics performance.
Our chosen be quiet! Silent Base 600 case is full of noise deadening material and the Celsius S24 was effectively silent. When you listen carefully from outside the case you can hear the fans but the pump is effectively silent. Fractal Design tells us there is additional sound dampening inside the pump to decrease noise levels, and we see no reason to disagree.
Closing Thoughts.
The Fractal Design Celsius S24 is very good. We like the stripped down approach and the combination of black radiator with white fans. While we like to see decent monitoring software, it is refreshing to find a cooler that just plugs in and works without any extra fuss or bother.
Having said that, it wouldn't do any harm to have some illumination in the pump body. Nothing fancy, no need for RGB — just something to show that we have life.
In terms of complaints and problems we would like to see the fan cables shortened as that would make the installation even tidier, however that is as far as it goes.


It is a similar story with the 400mm hoses, which make life considerably easier when you use a tall case but conversely cause minor installation problems in a compact case.
Overall the Fractal Design Celsius S24 looks good and is an effective cooler that comes at a competitive price.
Discuss on our Facebook page, over HERE.
You can buy the Fractal S24 for £104.99 from CCL HERE
You can buy the Fractal S36 for £114.99 from CCL HERE
Pros:
Out of the box support for AM4
G1/4" fittings.
Choice of Auto and PWM modes
Hoses are 400mm long.
Cons:
Fan cables are longer than necessary.
Lovers of RGB will feel left out.
Some illumination would be good.
KitGuru says: Fractal Design takes a novel approach with the Celsius S24. Its a very capable cooler.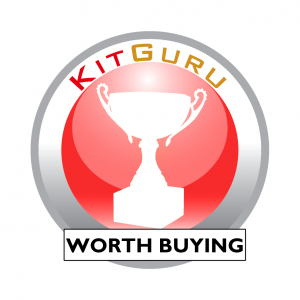 Be sure to check out our sponsors store EKWB here