Fractal Design launched the Meshify C way back in September 2017 and now we have its replacement, the Fractal Design Meshify 2 Compact. As the name suggests, this is a smaller and more compact version of the Meshify 2, which is a case we absolutely adore. Our mission for today is to establish whether or not a smaller and cheaper case is necessarily better.
Main features
Iconic angular mesh front provides filtered airflow with a bold, stealth-inspired aesthetic Compact yet spacious interior accommodates ATX, mATX and mITX motherboards
Room for GPUs up to 360 mm with a 240 mm radiator in the top, or up to 360/280 mm front radiators with GPUs under 305 mm
Seamless TG panel with steel frame support and bolt-free top-latching mechanism
Modular chassis design with removable top panel assembly opens up to fully expose the case interior on three sides
Seven fan mounts with three pre-installed Fractal Design Dynamic X2 fans
Three front USB ports including one USB 3.1 Gen 2 Type-C with fast charging and speeds up to 10Gbps
New front panel design with hinged removable mesh and tether-free bezel for easier access to front fan mounts
Nylon front filter that can be removed from the mesh to further increase airflow
Support for radiators up to 360/280 mm in front and 240 mm up top
Flexible storage options supporting two 2.5"/3.5" drives and up to four SSDs (two SSD brackets included)
Easy-to-clean filters on the front, top and base with full PSU coverage and convenient front access
Three cable alignment clips and six velcro straps
Full length power supply shroud with two-part removable cover
Bridgeless expansion slots ensure obstruction-free connections
Fractal Design supplies a long list of features for the Meshify 2 Compact which will be familiar to anyone who has watched any of our recent Fractal videos. There is no doubt the Compact is a chip off the Meshify 2 block, however the fact it is smaller necessarily means you are slightly restricted in your choices when it comes to storage and cooling.
Specification:
Motherboard support: ATX, Micro-ATX, Mini-ITX.
Front panel I/O: 1x USB 3.1 Gen 2 Type-C, 2x USB 3.0, Audio.
Expansion slots: 7.
Included fans: 2x 140mm 1,000rpm front intake, 1x 120mm 1,400rpm rear exhaust Fractal Design Dynamic X2.
Fan mounts: 3x 120mm/2x 140mm front, 2x 120/140mm roof, 1x 120mm rear, 1x 120mm floor.
Radiator mounts: 360mm/280mm front, 240mm roof, 120mm rear, 120mm floor.
5.25-inch optical drive bays: None.
Internal drive bays: 2x 3.5-inch/2.5-inch, 2x 2.5-inch.
Dimensions: 474mm H x 427mm D x 210mm W.
As you will see in our video, we had no difficulty moving the supplied 140mm Fractal Dynamic X2 GP-14 fans from the front of the case to the roof and then installing a 280mm Fractal Design Celsius+ AIO cooler in their place. We had plenty of space to install a massive Sapphire RX 6800 XT graphics card and had to look hard to establish what makes this a compact case, rather than a regular ATX mid-tower. The answer lies in the details, such as the absence of a vertical GPU option or the inability to install a 140mm/280mm radiator in the roof.
Testing
To put this case through its cooling paces we will be using a test system consisting of an AMD Ryzen 7 3800XT, Sapphire RX 6800 XT graphics card and an SSD. This system allows us to produce a substantial amount of heat and effectively test the Fractal Design Meshify 2 Compact's cooling capabilities.
Test System:
Processor: AMD Ryzen 7 3800XT (8 cores/16 threads)
Motherboard: Asus TUF Gaming X570-Plus
Memory: 32GB G.Skill TridentZ Neo DDR4-3600MHz
Graphics card: Sapphire Radeon RX 6800 XT 16GB
Power supply: Seasonic Focus GX-650 Gold
SSD: 1TB Team Group T-Force Cardea Liquid
OS: Windows 10 Pro
Cooling Performance
Cooling Performance Overview
During our Time Spy stress test the system was pulling 450W at the wall socket so we have every confidence in the Fractal Design Meshify 2 Compact's abilities. Cooling is good without being stellar but realistically we doubt many of you will go for the same level of performance hardware we chose here.
Closing Thoughts
Fractal Design has done a fine job with the Meshify 2 Compact, however we are confident the design process was a fairly simple job. The new Compact is heavily based on their existing designs except it is smaller and has fewer options.
You can forget about moving the interior panels around, adding a dozen storage drives or installing dual large radiators. If you want those features then Fractal Design can accommodate you, but not with the Meshify 2 Compact.
This is a simple case that pulls apart in moments and offer you plenty of access to the interior during your build. The fact you have fewer options means you will make your decisions quickly and easily, and we fully expect you will complete your build in record time.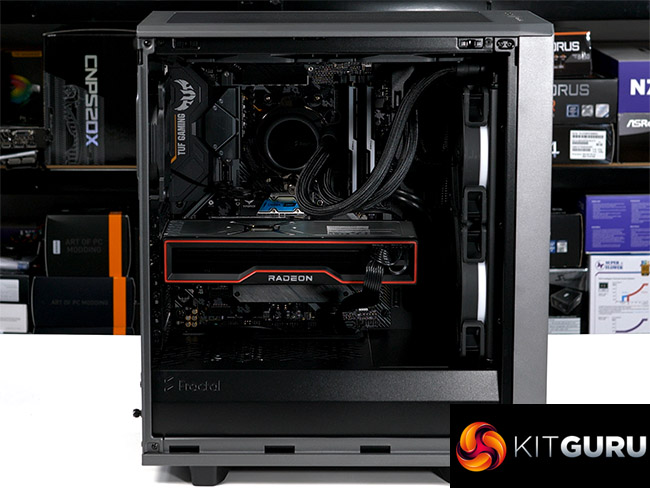 You should have no difficulty making your PC look neat and tidy as the cable management system on the right hand side works very well and then the side panels simply snap into place. We hate it when you have to lean on a panel as you slide it forward until the thumbscrews engage.
Fractal Design has done a superb job in this respect. The end result is a compact PC that should be nice and quiet while also running at acceptable temperatures. In other words the Meshify 2 Compact achieves a fine balance and this gives up great hope for the inevitable Meshify 2 ITX.
We don't yet have a buy link but you will be able to buy the Fractal Design Meshify 2 Compact for £97.
Pros:
Two front 140mm fans and a 120mm rear fan are included.
USB Type-C on the front I/O.
Front panel is untethered.
Very good cable management
Tool-free side panels.
Cons:
Minimal space at the foot of the motherboard.
No fan hub included.
Price is a tad steep.
Cooling is nothing special.
KitGuru says: Fractal Design Meshify 2 Compact is a case that caters to the mainstream yet still delivers proper quality and features.
Be sure to check out our sponsors store EKWB here