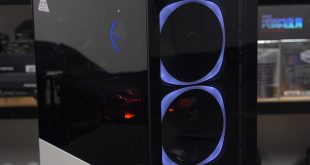 NZXT has taken the basic £70 H510 case and added a bunch of accessories to create a super duper version called Elite that is priced at £150. The Elite name is a bold statement that raises our expectations sky high, so it is probably just as well NZXT didn't call this case 'The Ultimate.' Let's take a look at what NZXT delivers in return for such a tall pile of cash.
Watch the video via our VIMEO Channel (Below) or over on YouTube at 2160p HERE
In essence NZXT has taken the basic H510 that costs £70 and added the Smart Device v2 fan/lighting control unit and an LED strip to create the £100 H510i. The H510 Elite takes things one step further as it comes with dual 140mm Aer RGB 2 fans at the front of the case. While we like the unusual shape of the Aer RGB 2 fans we feel it is a bit of a stretch to describe two fans as Elite.
As we point out in our video, our main initial concern is that the front of the case is sealed glass and the only air intake is a narrow series of perforations in the steel side panel of the case.
Note: if the above images are not displaying properly, you may need to disable Ad Block as it is known to interfere with our display code
Main features
The H510 Elite compact ATX mid-tower is perfect for your RGB build. Behind the flush-mounted, tempered glass front panel, you'll discover our renowned Aer RGB 2 fans keeping your components brilliantly cool.
Well-engineered airflow.
Removable radiator mounting bracket.
Multiple fan filters
Vertical GPU mount.
A front panel USB-C connector.
All-steel and tempered glass construction.
The H510 Elite also includes the NZXT Smart Device V2, powering the built-in RGB light strips and case fans.
Specification:
Motherboard support: ATX, Micro-ATX, Mini-ITX.
Expansion slots: 7.
Included fans: 2x 140mm AER RGB 500-1,500rpm front intake, 1x AER F140 roof, 1x AER F120 rear exhaust.
Fan mounts: 3x 120mm/2x 140mm front, 2x 120/140mm roof, 1x 120mm rear, 1x 120mm floor.
120mm radiator mounts: 120mm rear.
140mm radiator mounts: 140mm/280mm front.
5.25-inch optical drive bays: None.
Internal drive bays: 2x 3.5-inch/2.5-inch, 3x 2.5-inch.
Dimensions: 460mm H x 428mm D x 210mm W.
Testing
To put this case through its cooling paces we will be using a test system consisting of an Intel Core i9-7920X, RTX 2080 Founders Edition and an SSD. This system allows us to produce a substantial amount of heat and effectively test the NZXT H510 Elite's cooling capabilities.
For stress testing we use AIDA64 to create the maximum amount of load our CPU and GPU are ever likely to see.
Test System:
Processor: AMD Ryzen 5 3600X (6 cores/12 threads, 4.1GHz all cores)
Motherboard: Gigabyte X570 Aorus Pro
CPU cooler: NZXT Kraken X42 140mm All In One
Memory: 16GB Corsair Vengeance LPX DDR4-3200MHz
Graphics card: Asus ROG Strix RX Vega 64 8GB
Power supply: Seasonic Focus+ Gold 1000W
SSD: Toshiba RC100
OS: Windows 10
Cooling Performance.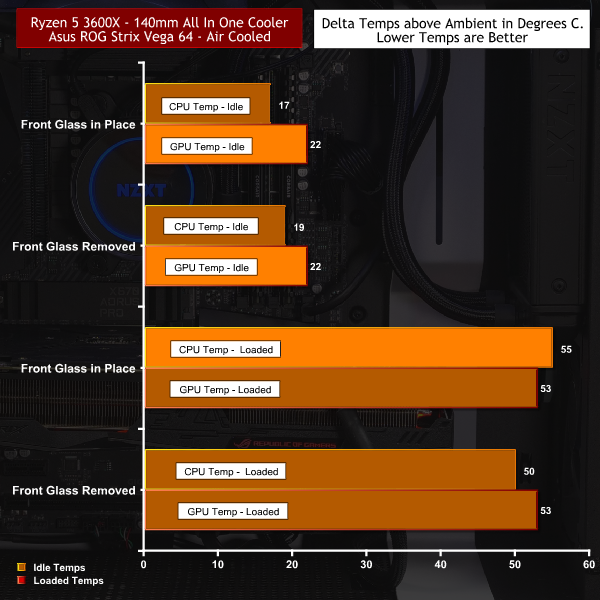 Cooling Performance Overview.
We fully expected the NZXT H510 Elite to act like an oven and bake our poor little Ryzen 5. In fact the case worked reasonably and both CPU and GPU survived the experience. Removing the front glass panel reduced the CPU temperature by five degrees, where some people using an air cooler have reported temperature changes of up to 15 degrees. This tells us that an All In One cooler at the front of the case is an effective solution with the H510 Elite. Nonetheless, we would like to see NZXT offer a Mesh version of the H510 so we had the opinion of maximum air flow.
Closing Thoughts.
The NZXT H510 Elite is a relatively basic chassis that has been updated, upgraded and enhanced until it bears little relation to a £70 budget case. Unfortunately it also fails to offer the features you can reasonable expect from a £150 case and that means we cannot recommend the H510 Elite.
In the event the price was slashed, say to £99, we would have a completely different view which emphasises our point that the case is reasonably OK while the price is wildly incorrect. It is clear the glass front panel restricts air flow however our 140mm NZXT AIO cooler did a good job so this is not a fundamental problem, but more like an annoyance.
We wish to goodness that NZXT would revise the drive tower such that the drives are installed in caddies that slide into place. The current system is absolutely awful. Also, we would like more space around the motherboard tray. It is clear this would involve a new core chassis and new panels i.e. a new design and tooling, however the shrink-wrap nature of NZXT mid-tower cases emphasises the aesthetic over convenience.
Other details such as the cable management system with those moulded channels and the hook and loop straps work very well.
At its heart the H510 Elite is a competent budget case that has been upgraded again and again, with the result the price is far too high, and as a result it has lost sight of its potential customers.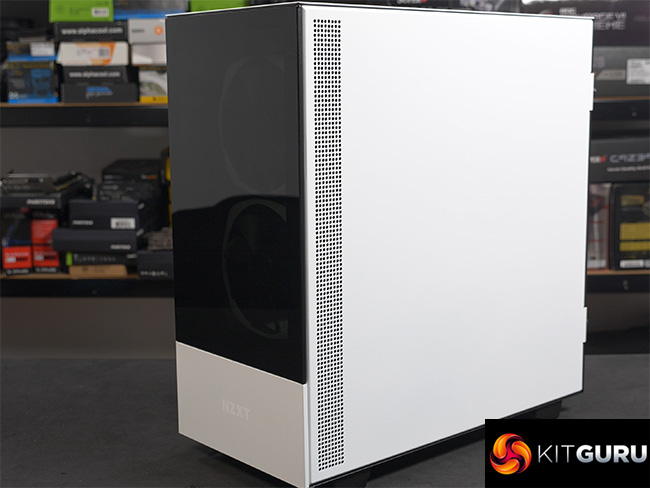 You can buy the NZXT H510 Elite for £149.99 HERE
Pros:
Very attractive styling and glass panels.
Good cable management.
Aer RGB 2 fans look good and work well.
Front panel I/O includes USB Type C Gen 2
Cons:
Price is far too high.
Air flow is hurt by the sealed glass panels.
Hard drive cage does not use caddies.
KitGuru says: It is a pretty good chassis, but the price of the NZXT H510 Elite is far too high considering what you can get elsewhere for £150.
Be sure to check out our sponsors store EKWB here