It has been a full three years since we reviewed the Phanteks Evolv Shift X, and that is such a long time ago that we are going to approach the Phanteks Evolv Shift 2 Air as though it was a brand new case. The core chassis is very similar to the original Shift however there have been some interesting changes, most notably to the side panels which use a material described as 'Ultra-Fine Performance Mesh', or to put it another way – 'Clever Fabric'. Phanteks claims this material provides excellent airflow and also doubles up as dust filters.
Watch the video via our VIMEO Channel (Below) or over on YouTube at 2160p HERE
Main features
Unique vertical form factor features ultra-small footprint for versatile placement
Great accessibility with direct access to the motherboard and GPU 'Rear-I/O' with a simple press on the top panel
Premium quality materials such as 3mm thick anodized aluminium, tempered glass and mesh fabric
Support for large 2.9 slot graphics cards up to 335 mm long
GPU Riser cable included (PCIe 3.0)
Support for CPU coolers up to 85 mm high
Highly improved airflow design for optimal cooling
Support for 2 x 2.5-inch SSD and 1 x 3.5-inch HDD, that can be swapped with an additional 2x 2.5-inch SSD with optional bracket
Support for SFX or SFX-L power supply
Supports 3 x 120/140 mm fan locations
Supports a 120 mm AIO cooler
Improved cable management with smart cable routing options to create a clean interior
Integrated D-RGB Lighting that can be further expanded and synced with motherboards
Software-free lighting control featuring tasteful D-RGB colors and lighting effects
Comes with 1x SK 140 mm PWM fan
SFX PSU allows a 45mm thick radiator.
SFX-L PSU allows a 30mm thick radiator.
Specification:
Motherboard support: Mini-ITX.
Expansion slots: 2.
Included fans: 1x 140mm PWM rear exhaust.
Fan mounts: 2x 120mm/140mm rear, 1x 120mm/140mm floor.
Radiator mounts: 120mm rear.
5.25-inch optical drive bays: None.
Internal drive bays: 1x 3.5-inch, 2×2.5-inch (3.5-inch can be swapped for 2×2.5-inch with accessory)
Power supply: SFX, SFX-L
Dimensions: 490mm H x 274mm D x 186mm W.
In our video we walk you through the process of building a PC in the Evolv Shift 2 Air as it is a strange experience. We are familiar with Mini-ITX cases that are taller than you might expect and we are also familiar with small cases that boast of support for a full-sized graphics card. Evolv Shift 2 is unusual in the way it separates the CPU and the GPU into two chambers and then makes installation of both rather awkward.
On the graphics side of things you have to remove the caddy, install the graphics card, hook up the PCI Express riser and power cables and then install the assembly as one unit. It's not difficult but the lack of working room makes it fiddly. It is a similar story with the CPU as the only place you can install a 120mm AIO is in the lower half of the case. This is clearly a design choice to minimise the footprint of the Evolv 2 and while we can understand that decision, we found it made the job of building the PC rather harder than we would have liked.
Testing
To put this case through its cooling paces we will be using a test system consisting of an Intel Core i5-10600, RTX 2080 Super and an SSD. This system allows us to produce a substantial amount of heat and effectively test the Phanteks Evolv Shift 2 Air's cooling capabilities.
For stress testing we use AIDA64 to create the maximum amount of load our CPU and GPU are ever likely to see.
Test System:
Processor: Intel Core i5-10600 (6 cores/12 threads, Max Turbo 4.8GHz)
Motherboard: Gigabyte Z490I Aorus Ultra
Memory: 32GB Corsair Vengeance LPX DDR4-3600MHz
SSD: 1TB WD Blue M.2 NVMe
Graphics card: Sapphire Radeon RX 6800 XT
Power supply: Seasonic Focus SGX-650
OS: Windows 10
Custom Loop Cooling
CPU block/Pump/Reservoir: Barrow CPU water block, pump and reservoir combined unit
Radiator: Alphacool NexXxos ST30 120mm
Fans: 2x Noctua Chromax NF-F12 PWM 120mm
Fittings: Alphacool
Coolant: Alphacool Tec Protect
Cooling Performance
Cooling Performance Overview
While the layout of the Evolv Shift 2 Air is unusual, the fact is those fabric side panels mean the case effectively operates as an open test bench. We are confident your graphics card will run at a lovely, low temperature but when it comes to your CPU you have to factor in both your choice of CPU and CPU cooler. We simply do not like the idea of running a Ryzen 9 3950X or Core i9-10900K with a 120mm AIO cooler so for this review we wimped out and chose a Core i5-10600 which ran icy cold.
Closing Thoughts
Phanteks has updated the original Evolv Shift and the major parts work reasonably well. The panels can be removed and replaced with ease, the fabric filter panels are very clever and the location of the SFX/SFX-L power supply leaves plenty of room for your graphics card.
Furthermore you can easily feed cables from the rear I/O panel – remember, it's at the top of the case – under the top cover and out the back to connect to your monitors and other hardware. Of course the only reason you have to consider the routing of external cables is because Phanteks chose to rotate the motherboard and put the rear I/O at the top in the first place.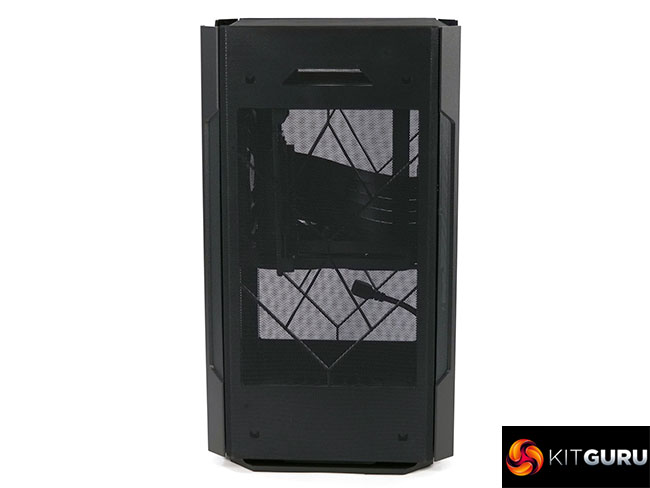 It is a similar story with cable routing which tends to cause headaches in small form factor builds. It is clear Phanteks has worked hard to provide cable grommets and velcro straps to assist routing, and the user guide gives very clear instructions about which cable should go where.
In practice we found cables running very close to the Phanteks exhaust fan and had no way of securing them to guarantee nothing would get chomped. The bundle of cables from our Seasonic SGX-650 was the size we would expect yet created a fair amount of unsightly mess slap in the centre of the main compartment, and that was despite Phanteks' best efforts.
Flipping around to the graphics on the other side of the compartment  where we used a Sapphire RX 6800 XT we found the power cables were a very tight fit. This reinforces our view that cases with unusual layouts can cause a whole series of problems and the Evolv Shift 2 Air certainly qualifies as unusual.

You can buy the Phanteks Evolv Shift 2 Air for £89.99 from Overclockers UK HERE.
Discuss on our Facebook page HERE.
Pros:
The fabric side panels flow air without restriction.
Shift 2 is sure to accommodate your gaming graphics card with ease.
Captive thumbscrews on all four side panels.
Very reasonable price.
Cons:
The CPU cooler is limited to 120mm for an AIO
The graphics caddy has a hidden thumbscrew that is a test of your patience!
The RGB on the top cover is feeble and seems like a waste of space.
Once the power supply is installed you can forget about installing a bottom fan.
Cable routing requires care to avoid conflict with the fans.
KitGuru says: The layout of Evolv Shift 2 Air is more complex than we like to see and that makes the build process rather fiddly.
Be sure to check out our sponsors store EKWB here