Of all the cases we have reviewed on KitGuru, we reckon the Evolv Shift X from Phanteks is one of the most tricky to describe. Clearly it is a tower with glass panels on two sides and aluminium on the other sides, but that is where things get complicated. The Evolv Shift X can either be stood upright or laid on its side so it is either very tall or rather long but however you look at things it isn't a small case, despite the fact it only accommodates a Mini-ITX motherboard. It is a reviewer's knee jerk reaction to describe Mini-ITX as small form factor – however Shift X ain't small.
To cap it all, Evolv Shift X (and it's smaller sibling the Evolv Shift) are designed for liquid cooling rather than air cooling. We all know that proper liquid cooling is hard work in a Mini-ITX system so this seems to fly in the face of common sense. On the other hand if you stick to an All In One cooler it looks rather dull in such a spectacular case.
This brings us to the big question; just what the heck is Evolv Shift X all about?
Watch the video via our VIMEO Channel (Below) or over on YouTube at 2160p HERE
Specification:
Motherboard support: Mini-ITX.
Expansion slots: 2.
Included fans: 1x 140mm bottom intake, 1x 140mm exhaust.
Fan mounts: 2x 120/140mm front.
120mm radiator mounts: 120mm/240mm front, 120mm/ bottom.
140mm radiator mounts: 140mm/280mm front.
5.25″ drive bays: None
Internal drive bays: 2x 3.5 (if no radiator is installed) 4x 2.5″.
Dimensions: 650mm H x 274mm D x 170mm W.
Building a PC in the Evolv Shift X is fiddly, but provided you follow the user guide you should be OK. The user guide is very good and packed with useful information, which will be annoying for those hardy enthusiasts who don't believe in manuals. You need to install the power supply as the first component in the system, and when you slide the graphics card into place you have to decide whether you want the block facing outwards or the fan facing inwards.
Installing the motherboard, CPU, memory and SSD should be straightforward, and then you use the remaining space for the radiator, fans, pump and reservoir. Deciding the order of the loop and then connecting the components together is a bit of a struggle due to the limited access, however the process is helped by the way the panels can be easily removed from the core chassis. Hooking up the cables is probably the toughest part of the job.
Phanteks has included an 8-pin EPS extension cable however you may also require an extension for the main ATX cable too. These cables are routed through a channel and secured with Velcro ties.
This case has the I/O positioned facing upwards so the orientation of the various connectors might look a bit odd. If you build an AMD system the rectangular CPU block will be rotated 90 degrees from the visually correct orientation.
It is a fact of life that Mini-ITX motherboards can have their connectors positioned in pretty much any location on the board. When you take these points together you will probably be able to connect your hardware together but may well struggle to keep everything looking tidy. We also found it was necessary to add a fan controller as we did not have four fan headers on our chosen Gigabyte Mini-ITX motherboard.
Cooling Performance
To put this case through its cooling paces we will be using a test system consisting of an AMD Ryzen 7 1700X, Nvidia GTX 1080 and an SSD. This system allows us to produce a substantial amount of heat and effectively test the Phanteks Enthoo Evolv Shift X's cooling capabilities.
For thermal testing we use AIDA64 which allows us to stress our CPU and GPU to create the maximum amount of load our hardware is ever likely to see.
Test system:
Processor: 3.8GHz AMD Ryzen 7 1700X
Motherboard: Gigabyte AB350N-Gaming WiFi
Memory: 16GB G.Skill TridentZ DDR4-3200MHz
SSD: 480GB Corsair Force LS
CPU block: EKWB Supremacy EVO AMD
Radiator: Alphacool NexXxos ST30 280mm
Fans: 2x EKWB Vardar F1-140
Pump/reservoir: EKWB XRES 100 DDC
Graphics card: MSI Aero GTX 1080 8GB
Graphics block: Alphacool NexXxos GPX
Fittings: Alphacool Eiszapfen 10/16mm
Coolant: Mayhems Pastel Red
Power supply: SilverStone SX600-G 600W
OS: Windows 10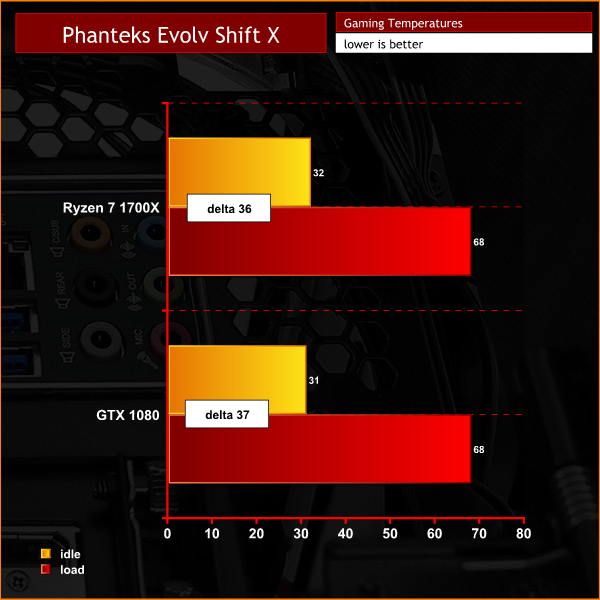 During our stress testing the temperatures climbed steadily until they equalised at 68 degrees. This is hotter than we like to see however we had packed a good deal of hardware inside the Evolv Shift X and it was stressed to the maximum. Balanced against that, noise levels were low and we would have been happy using the system to play games on a TV or to render videos in an office.
Closing Thoughts
Phanteks Evolv Shift X looks like a quirky PC chassis however it performs well and can accommodate a proper level of hardware. For our test PC we combined a Ryzen 7 1700X with GTX 1080 and a custom loop cooling system yet it pulled through and delivered solid performance.
We struggle to see a compelling reason why the Evolv Shift X has been designed the way it has, apart from the obvious point that it is unusual and aesthetically far removed from the 'standard' ATX tower. On the one hand Evolv Shift X looks appealing and interesting but balanced against that it is fairly large. When Corsair designed its pre-built One PC it was able to pack in the components very tightly. With Evolv Shift X Phanteks has been obliged to leave room inside the case so the customer has some flexibility in their choice of components.
The quality of the components used in the Evolv Shift X meets Phanteks' usual high standards however the design has some drawbacks. These are inherent to the idea of building a case that is long and thin as the SFX power supply is a good distance away from the motherboard. You can help the situation by using a quality modular SFX-L power supply but we are confident you will spend quite some time routing cables and making it all look tidy.
It's a similar story with the fans as you will probably add two fans to the two that are supplied and then you will have to find a way to control four fans in a Mini-ITX system. Phanteks often supplies a fan hub with its cases, but not in this instance.
When you consider that looks and aesthetics are such an important aspect of the Evolv Shift X, it seems bizarre that Phanteks gives you two connection points for add-in LED strips but does not include any lighting with the case. You can bet money that Phanteks would have made integral lighting look considerably more tidy than the kludge that was achieved by your reviewer.
Overall we like Evolv Shift X however its unique design causes some obvious problems with cable management. If you have been waiting for a case with these eye-catching looks then no doubt you will be unbelting your credit card with some haste. In certain circumstances this could be the most fabulous gaming PC to stand near your TV, provided you have a swish loft with plenty of polished wood and bare steel fittings.
The mainstream customer who wants something more practical will probably steer a wide berth and instead choose something more conventional, in which instance Phanteks will probably have a suitable case in their extensive portfolio.
Read more on the case on the Phanteks website HERE
Discuss on our Facebook page over HERE

Buy from Overclockers UK for £149.99 inc VAT HERE
Pros:
Stunning combination of aluminium and glass looks great.
Extensive use of dust filters.
Cooling works well for such a novel form factor.
The price is reasonable for an unusual design.
Cons:
Cable management is hard work.
Probably the largest Mini-ITX case we have ever seen.
No LED lighting is included.
I/O panel on the top is awkward.
KitGuru says: Phanteks Evolv Shift X will appeal to the individual, rather than the mainstream.