Phanteks has cruelly kept us waiting three months since we first saw the Evolv X at Computex 2018 and now the time has arrived for a review. It is fair to say the Evolv X was one of the stars of Computex and was certainly one of the most anticipated products that mainstream gamers might actually buy (32-core Threadripper and 28-core Intel got more attention but that's a different story).
You may wonder why the reviewers of the world were going nuts over a case that seems to be an update of the existing Evolv ATX TG that we reviewed in 2016.
Phanteks answered this point by demonstrating three different builds in Evolv X that showed off liquid cooling, dual systems and massive amounts of storage. Those three modes showed that Evolv X was highly versatile despite being fairly compact. The Evolv X is slightly taller and wider than the Evolv ATX yet it feels like it has 50 percent more space inside. We don't want to push this point too far by suggesting that Phanteks has delivered a PC case that uses TARDIS technology however we are quite clear they have done something very clever indeed.
Watch the video via our VIMEO Channel (Below) or over on YouTube at 2160p HERE
Note: if the above images are not displaying properly, you may need to disable Ad Block as it is known to interfere with our display code
Specification:
Motherboard support: E-ATX (up to 264mm wide), ATX, Micro-ATX, Mini-ITX.
Expansion slots: 7.
Included fans: 2x 140mm front intake, 1x 140mm rear exhaust.
Fan mounts: 3x 120mm/140mm front, 3x 120/2x 140mm roof, 1x 120mm/140mm rear.
120mm radiator mounts: 120mm/240mm/360mm front, 120mm/240mm/360mm roof, 120mm rear.
140mm radiator mounts: 140mm/280mm/420mm front, 140mm/280mm roof, 140mm rear.
5.25-inch drive bays: None.
Internal drive bays: 10x 3.5-inch (4 mounts included), 9x 2.5-inch (6 mounts included).
Dimensions: 520mm H x 510mm D x 240mm W.
We have little doubt you will come away from our video with a strong impression about Evolv X however we are prepared to wager that what you see will depend on how you want to build your next PC. Anyone who wants to populate the case with up to ten HDDs and nine SSDs (not ten as we said in the video, sorry about that) will accept they cannot pack out the case with liquid cooling, and will also be limited on graphics card length, down from 420mm to 300mm.
If you're looking for dual system support with Mini-ITX in the roof you will also require the new Revolt X power supply that is due to launch in the near future.
And then there's the gamer who wants to install a decent amount of cooling. You can certainly install your PC hardware along with an All In One and an air cooled graphics card and it will work well. We used the optional vertical mount for the graphics card which is very effective and the spacing strongly suggests it would also allow an air cooled graphics card to breath correctly.
The RGB lighting that is built into the case looks great and if you connect it to an Asus or MSI motherboard using the Digital 5V connection you will enhance the lighting even further. If you want to go the whole hog we suggest you use Phanteks Halos fan frames to transform the stock Phanteks fans into fully illuminated versions that look superb, just as we did in the video.
If you go down that route you will have a PC that looks good and works well however you are paying a fairly large amount of cash for a case without taking advantage of most of the features.
You will have gathered from the tone of our video that we recommend a custom loop for both CPU and graphics cooling, in which case there is plenty of space in the front for a radiator and pump/reservoir assembly. There is also plenty of space in the roof of the case to install a second radiator and, as we demonstrate, you can remove the top of the case in moments to give full access to the radiator mounts.
If you choose to mount a DDC pump on the floor of the case you will have to buy the Phanteks pump bracket as an accessory as it is not supplied with Evolv X.
Cooling Performance.
To put this case through its cooling paces we will be using a test system consisting of an Intel Core i7-8700K, EVGA GTX 1080 Ti and an SSD. This system allows us to produce a substantial amount of heat and effectively test the Phanteks Evolv X 's cooling capabilities.
For stress testing we use AIDA64 to create the maximum amount of load our CPU and GPU are ever likely to see.
Test System:
Processor: Intel Core i7-8700K
Motherboard: Gigabyte Z370 Aorus Ultra Gaming
CPU cooling system:
CPU Block: Phanteks Glacier C350iP
Reservoir: Phanteks Glacier R220
Pump: DDC
Radiator: Alphacool 280mm NexXxos ST30
Fittings: Phanteks
Coolant: Mayhems Pastel Green UV
Memory: 16GB Team Xcalibur RGB DDR4-3600MHz
Graphics card: GeForce GTX 1080 Ti 11GB
Power supply: Seasonic Prime Titanium 600W Fanless
Storage drives: Samsung 960 M.2 SSD
OS: Windows 10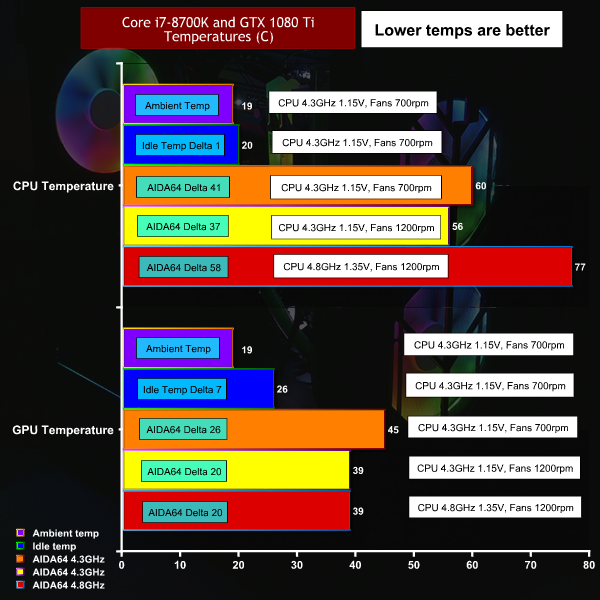 Cooling Performance Overview.
The original Evolv ATX was notorious for having restricted air intakes at the front with tiny exhausts in the roof. Phanteks has spaced the front of the Evolv X 30mm from the main chassis to provide plenty of intake while the roof of the case now has extensive ventilation. No doubt Phanteks could go further by providing mesh panels for the front and roof however that would change the aesthetic dramatically. We were entirely happy with the way the cooling worked for our custom loop configuration.
Acoustics performance.
With the fans spinning at 700rpm the Evolv X is effectively silent. Turn up the speed to the maximum 1,200rpm and you can hear them clearly however they are not offensive. By that token if you add more cooling in the roof of the case and run the fans above 1,000rpm we are confident you will increase the audible noise levels with this case.
Closing Thoughts.
Phanteks Evolv X is clearly based on Evolv ATX however it has been reworked to such an extent that it counts as an entirely new enclosure. The options for installing dual systems (provided you buy the accessory kit and Revolt X power supply) or for installing 19 storage drives (again, you need to buy accessories) are clever but seem to us to be of niche interest.
The options for installing extensive liquid cooling with the minimum of hassle is what impresses us most about Evolv X. Once the hardware is installed you can simply close the cable management covers and the build is effectively finished.
The combination of the new hook and loop straps and those clever covers really speeds up the build and very likely added the bare minimum to the cost of the Evolv X. This is clever design at work and we admire it hugely.
The surprising thing about Evolv X is that it is only slightly larger than Evolv ATX, standing 520mm high (Evolv ATX 495mm) and is 240mm wide (Evolv ATX 235mm) yet the number of features that have been added are quite eye-opening. The clever vertical GPU mount is superb and we love the anti-sag GPU bracket but we especially like the new Universal Fan Hub that hides up near the top of the case almost entirely out of sight. The next time we see a traditional rectangular fan hub on another case we shall surely be disappointed.
Phanteks has wisely opened up the air intakes and exhausts to help the Evolv X breath correctly and the results are very good. No doubt a full Mesh approach would help the Evolv X to breath even better but we are confident this is a good case that works very well.

Buy from Overclockers UK for £209.99 inc vat HERE.
Pros:
Huge number of options for cooling, storage or dual system.
Excellent cable management straps
Cable management covers conceal all the mess.
New fan hub design is very compact.
Hard drive cages can be stacked and moved around in the bottom compartment.
Excellent user guide.
Cons:
UK price is a bit steep.
Build quality is marginal in places, including the power supply mount.
The hard drive cages also feel a bit flexible.
The two glass doors are handed and are not interchangeable.
Full sized E-ATX users must look elsewhere.
KitGuru says: Phanteks Evolv X is clever, stylish, sophisticated and a winner.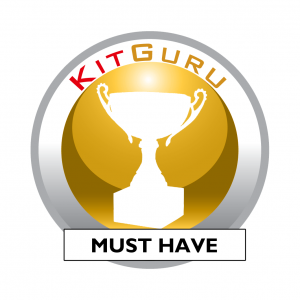 Be sure to check out our sponsors store EKWB here