Riotoro calls its CR1088 Prism an 'RGB Mini Tower' which is a neat description that skips over the detail of what they have done inside this chassis. The major design choice is a dual chamber layout that moves the power supply from the traditional location at the bottom of the case to the right hand side. This means the CR1088 is low in height and looks like a mATX design (or possibly a large Mini-ITX) however it actually accommodates a full ATX motherboard. Almost as a side note the motherboard is flipped so the graphics card cooler face upwards and the various headers and connectors are located at the top.
The other part of the description is RGB, and the CR1088 does indeed have lighting on the front panel. You can step through a handful of colours by using the RGB button on the case but if you want full RGB control you have to work fairly hard to connect the case to the RGB header on your motherboard.
Specification:
Motherboard support: ATX, Micro-ATX, Mini-ITX.
Expansion slots: 7.
Included fans: 1x 120mm front intake.
Fan mounts: 2x 120mm front, 1x 80mm rear.
120mm radiator mounts: 120mm/240mm front.
5.25″ drive bays: None.
Internal drive bays: 2x 3.5-inch/2.5-inch, 2x 2.5-inch.
Dimensions: 394mm H x 360mm D x 230mm W.
Clearances:
Max GPU Length: 300mm
Max CPU Cooler Height: 122mm
Max PSU Length: 175mm
In our video you will have seen that we were able to build a decent gaming PC inside the Riotoro CR1088 and that it looked pretty neat as well. The fact of the matter is that the build took longer than we hoped because the case is very tight for space in the main compartment, and it really didn't help matters that the user guide is just plain wrong.
For example the guide states that you can install a 120mm liquid cooler in the front yet you can clearly see we installed a 240mm Celsius S24, using the mounting slots provided by Riotoro. Clearly that is a handy point that worked in our favour but it means we were unable to trust the user guide.
It was a similar story with the RGB lighting which is controlled by a button on the front panel. Each click takes you to the next colour until you hit the RGB cycle however you cannot easily control the lighting with the software that is provided with many motherboards. You can extend the lighting by connecting an LED strip to the RGB plug that is hidden behind the storage caddy but this isn't much help. It is fairly difficult to route the strip though to the main compartment and surely no-one would would to illuminate their power supply.
Connecting the case lighting to your motherboard is possible, provided you replug one of the cables on the lighting hub, however we were only able to connect one lighting area at a time and found no way to manage all the case lighting as a single group.
This sounds like fairly minor stuff but nonetheless it was annoying. The bigger picture is that the dual chamber design of the CR1088 means you can install a decent gaming PC inside a small chassis.
Testing
To put this case through its cooling paces we will be using a test system consisting of an AMD Ryzen 7 1700,
EVGA GTX 1080Ti and an SSD. This system allows us to produce a substantial amount of heat and effectively test the Riotoro CR1088 Prism's cooling capabilities.For stress testing we use AIDA64 to create the maximum amount of load our CPU and GPU are ever likely to see.
Test System:
Processor: 3.2GHz AMD Ryzen 7 1700
Motherboard: ASRock X370 Pro4
CPU cooler: Fractal Design Celsius S24
Memory: 16GB G.Skill FlareX DDR4-3200MHz
Graphics card: EVGA GTX 1080 Ti
Power supply: Sea Sonic Prime Titanium 600W Fanless
Storage drive: Samsung PM951 M.2 SSD
OS: Windows 10
Cooling Performance.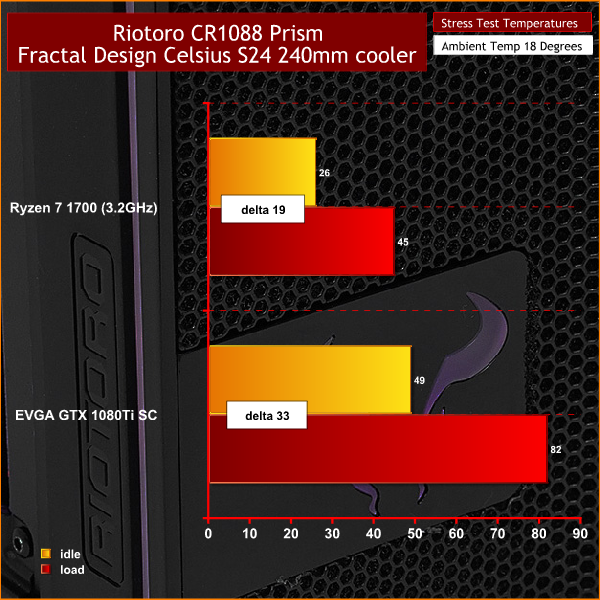 Temperatures with our Ryzen 7 1700 and GTX 1080Ti were about ten degrees C warmer than we would expect to see in a full sized ATX case with an exhaust fan. This is not ideal however it does not give us any great cause for concern. If you want more cooling you will need an exhaust fan(s) and the 80mm mounts at the rear of the CR1088 are not much help in that respect.
Acoustics performance.
We set the intake fans on the Celsius S24 to run low and slow and as a result the PC was very quiet. When we ramped up fan speed using PWM control the Riotoro became fairly noisy. Although the case is fully filtered it has no noise deadening material and the full acrylic window does very little to reduce noise levels.
Closing Thoughts.
The Riotoro CR1088 Prism looks interesting and is relatively cheap however it suffers from a handful of problems. The main issue is the acrylic window which looks rather 'olde worlde', and while it might be acceptable on a really cheap case, we do not consider the CR1088 qualifies – as it is priced more towards the mid-range.
Building inside the CR1088 is straightforward, provided you use an air cooler, as the components pretty much drop into place. If you want to use an All In One it takes a bit more work as you will very likely have to arrange the components carefully to fit everything inside. This is especially true if you are using a full length graphics card as the main compartment is very tight for space. We often complain that another 5mm or 10mm clearance would make a world of difference and this is certainly true of the CR1088 but we can see they have put an emphasis on making this case very compact. That's all well and good however we maintain that a bit more room inside would be a major bonus.
The only realistic options for cooling are located at the front panel. We really cannot see the 80mm fan mount at the rear of the case is likely to be very useful, while the ventilated top panel doesn't have any fan mounts at all.
Once your PC is built the most eye-catching feature is the RGB lighting on the front panel. It looks appealing however the difficulty of integrating the lighting with the RGB control on many modern motherboards is frustrating.
Throughout this review it felt as though the CR1088 was three or four years behind the times. Corsair has delivered Carbide Air with its dual chamber design that does a similar job to CR1088, only more effectively. When it comes to glass side panels and RGB integration we have to say that Phanteks led the way. These used to be novel and exciting features and have now become mainstream, so Riotoro cannot hope to charge a premium for their inclusion.
This leave us with the uncomfortable feeling that while the CR1088 looks perfectly OK and does a reasonable job it doesn't have anything special to offer the customer. This falls a long way short of the CR1088 having a Unique Selling Point and instead makes you wonder quite why the buying public should care about this case.
Our simple rule of thumb here, is that if you like the looks of the CR1088 you should spend the money but please, don't delve too deep as you are unlikely to find much else that you will admire.
Buy from Amazon UK For £69.68 HERE.
Pros:
Dual chamber design means this ATX case is relatively small.
Quirky design with an inverted motherboard tray.
RGB illumination in the front panel.
Support for up to four drives.
Cons:
Main windowed panel is plastic.
Front panel is tethered by cables.
Rear fan mount is 80mm.
Very tight for space inside the main compartment.
User guide is fairly poor.
KitGuru says: The Riotoro CR1088 looks interesting but fails to deliver.
Be sure to check out our sponsors store EKWB here