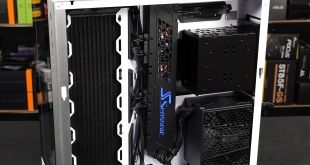 Seasonic CONNECT is a PC power supply like nothing we have ever seen before. The main unit is a 750W Gold rated Prime power supply with a short, fixed main 12V cable that plugs into the CONNECT unit, and that's where things get interesting. CONNECT is a distribution panel that is attached to the mid-panel of your PC with the aim of tidying all those messy cables.
Watch the video via our VIMEO Channel (Below) or over on YouTube at 2160p HERE
Key features
80 Plus Gold certified
Micro Tolerance Load Regulation (0.5 %)
Cable-free Connection Design
Premium Hybrid Fan Control – Fanless until 40% load
Multi-GPU setup
Gold plated connectors
10 years warranty
SSR-750FA Technical Specifications
80PLUS Rating: Gold
Dimensions: 140 mm (L) x 150 mm (W) x 86 mm (H)
Fan Size: 135 mm
Fan Bearing: Fluid Dynamic Bearing
Life Expectancy: 50,000 hours at 40°C
Cable Information: Fully Modular
Cable type: Flat black cables
Warranty: 10 Years
Total continuous power: 750W
When you look at the specification of the CONNECT power supply it adds up to a conventional 750W Gold rated unit that is housed in two units. In time we hope that Seasonic will deliver other versions with different power ratings that perhaps stretch to Platinum or Titanium, but for now the CONNECT family has a single model called SSR-750FA.
The main power unit houses a 135mm FDB fan and outputs 12V power and 5V stand-by through the chunky fixed cable to the CONNECT unit that distributes 12V, 5V and 3.3V around your PC. This means the CONNECT unit is performing two distinct tasks as it houses the hardware that converts 12V to 5V and 3.3V, and it also acts as a connection point for the cables that power your CPU, motherboard, graphics card(s), storage drives and peripherals.
Working with a regular Seasonic Prime PSU
We built a test PC inside the popular Lian Li O11D case to try out a few scenarios, starting with a Seasonic Prime 850W Titanium power supply with standard cables. The Lian Li has tinted glass panels that conceal the innards of the build to a certain extent. With the glass removed you can clearly see inside the case and the aesthetics of the cables were reasonably OK with nothing too offensive on show. Around the back of the case the drive plate covers the cables, however when the plate was removed the PC still looked tidy enough.
Adding £40-£50 CableMod extensions to the stock Seasonic cables makes a notable difference to the look of the main compartment. Around the back of the PC we now have more cables to tuck away so it's not a perfect situation but overall the build looks better than when we started.
Using £90-£100 CableMod replacements increases the cost significantly. Inside the main compartment we have the same appearance we saw with the extension cables, but round the back the PC now looks lovely and tidy.
Installing Seasonic CONNECT
Installing CONNECT doesn't take much thought as the unit requires a space measuring at least 330mm by 65mm with 21mm of depth. When you consider the CONNECT is tethered by the 12V cable you are unlikely to have many options… so clear the necessary space, place the supplied magnets on your case and stick the CONNECT in place.
After that, you plug in the 24-pin cable and one or two EPS cables (as required) and then consider your options with the PCIe graphics cables. After that hook up your storage and peripherals and the job is done. The CONNECT unit transforms the looks of the back of the case but may potentially be problematic in terms of clearance.
In the main compartment you are faced with conventional flat black cables and as the whole point of CONNECT is to pretty up your PC we are confident you will want to upgrade to replacement cables ASAP.
Closing Thoughts
We know full well that Seasonic understands power supplies and there can be no argument that a Prime 750W Gold will work well as a PSU so that important aspect of Seasonic CONNECT is a given. The cable management side of things is a different matter as the finished build has to look good and, ideally, the building process should be easier than usual.
The fact we are unfamiliar with CONNECT means the build takes slightly longer than a conventional ATX PSU, but getting the big bits in place doesn't present much difficulty. Connecting up the cables is easy enough but this also requires a small amount of thought as we have been doing this for quite some while and are somewhat set in our ways.
The cables coming from CONNECT were very close to the grommets in our O11D case so we fed them through as we brought the CONNECT into place until everything landed with a satisfying magnetic snick. It would be helpful if CONNECT was shorter in length and required less space, and if that means it supports fewer connection then so be it.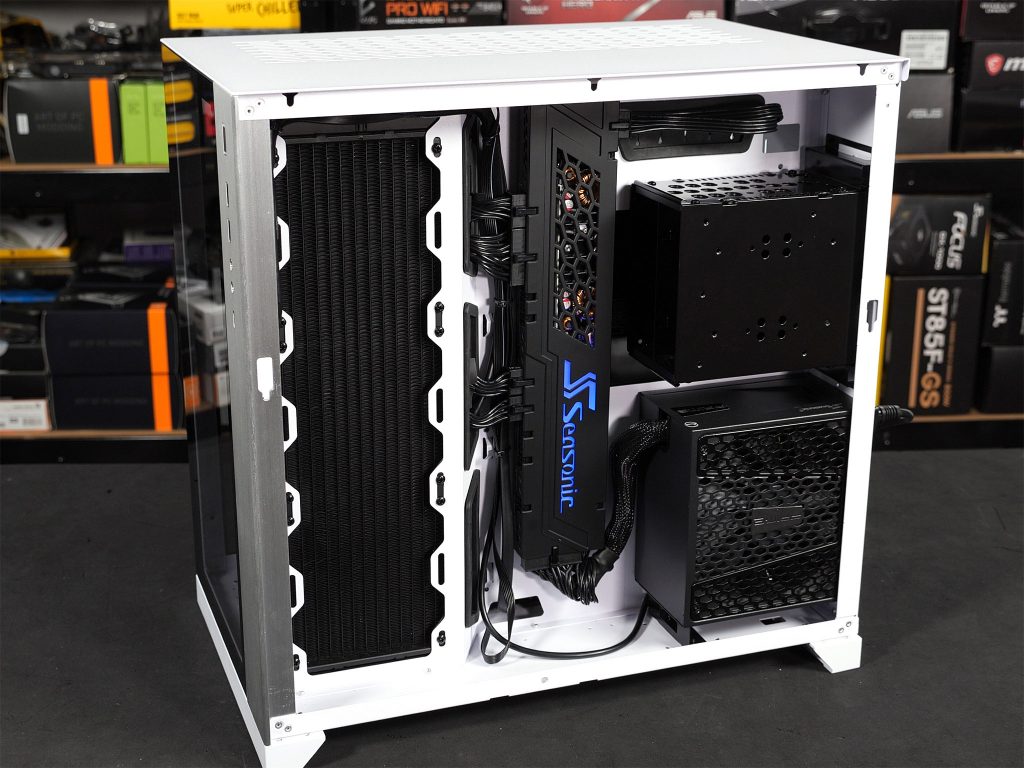 If we could change one thing on this CONNECT, it would be the locations of the connectors for the main 24-pin and the PCIe graphics on the CONNECT as we were forced to push the cables through grommets that would not have been our first choice.
The other point is the obvious one that the stock flat black cables detract from the looks. We aren't too fussed about that with a conventional power supply but Seasonic CONNECT is all about the looks and we want both sides of the PC to look smart which includes the front as well as the back.
We don't yet have a buy link for the Seasonic CONNECT, but we have been told to expecting pricing at £161 inc VAT.
Discuss on our Facebook page HERE.
Pros:
High quality power supply at a reasonable price.
Installation is straightforward and the CONNECT unit looks radical and different.
The cables run horizontally and require less bending and wrestling into position.
Sufficient connectors for any enthusiast PC.
Cons:
You need to budget for a set of cables that will give a finished look to your PC build.
CONNECT requires plenty of space and will cause issues in some PC cases.
In most cases CONNECT will be hidden behind a solid panel (unless you get modding of course …)
KitGuru says: Seasonic CONNECT is different and hallelujah for that, however it still requires work. A set of smarter cables would go a long way towards making us happier.
Be sure to check out our sponsors store EKWB here