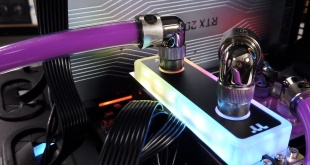 Thermaltake has entered the DDR4 memory market in typical Thermaltake style. There are two kits of DDR4-3200MHz in the shape of a dual module 16GB kit and a quad module 32GB kit. You won't be surprised to learn that WaterRAM comes with RGB lighting however the novel part is that these kits can be water cooled with the minimum of fuss. You have three distinct options when it comes to cooling; you can leave the modules bare, apart from their 2mm thick aluminium heat sinks that function through regular convection cooling. Alternatively you can top off the assembly with the water block with its copper base to increase the thermal mass and thus assist cooling. Finally you opt for the Full Monty and plumb the water block to a custom loop.
The important thing here is that you don't have to replace the heat sinks on the RAM modules with the attendant risk of damaging the ICs, and neither do you have to add a manifold as Thermaltake has done all the engineering for you.
Note: if the above images are not displaying properly, you may need to disable your Ad Blocker as it is known to interfere with our display code.
We open our video by asking the big question of 2018 that has now become 2019; exactly how much RGB is too much RGB? We came to the conclusion there is no such number as some people are not much interested in RGB while everyone else wants as much as possible.
When you look at the mountains of RGB RAM on the market such as G.Skill TridentZ RGB, GeiL Evo X, Corsair Vengeance RGB, HyperX RGB and Team Group Xcalibur RGB you can see a common approach. The manufacturer typically add a row of LEDs to the top of the module, cover it with a diffuser and then figure out how they will control the lighting and integrate it with the other lighting in your PC.
Thermaltake has taken a different approach with WaterRAM RGB. The DDR4 DIMM modules carry no RGB and look either dull or understated, depending on your point of view. Thermaltake has clearly worked on the thermal and mechanical side of things with a good deal of attention paid to the thermal pads and connectivity between the ICs and the heat spreaders.
At their heart these modules appear to be very similar to G.Skill TridentZ RGB DDR4-3200MHz (see HERE) – they use SK Hynix RAM that is rated at 3200MHz with timings of 16-18-18-38 when XMP is enabled. One clear difference is that Thermaltake has included a thermal sensor so you can monitor the temperature of each module.
The major point of difference is that Thermaltake has included two female threads on top of each DDR4 module that you use to attach the water block. This block has a nickel plated copper base that transfers heat away from the DDR4 and the assembly is topped off with a small reservoir that includes the RGB lighting.
Thermaltake gave us prices of US$249.99 and US$439.99 for 16GB and 32GB WaterRAM kits which suggests each 16GB kit costs US$199 plus US$50 for the liquid/lighting kit.
The obvious advantage of this approach is that the RGB block has the same appearance whether it is sat on top of two or four memory modules, with the result that you don't have any annoying gaps in your RGB light show. Balanced against that the module adds a certain amount of height to the assembly. The bare WaterRAM modules have the same 37mm height as G.Skill TridentZ RGB. The water block adds 18mm in vertical height to the RAM, and on top of that you need to make allowance for the cooling hardware which will require at least another 20mm.
Testing and Performance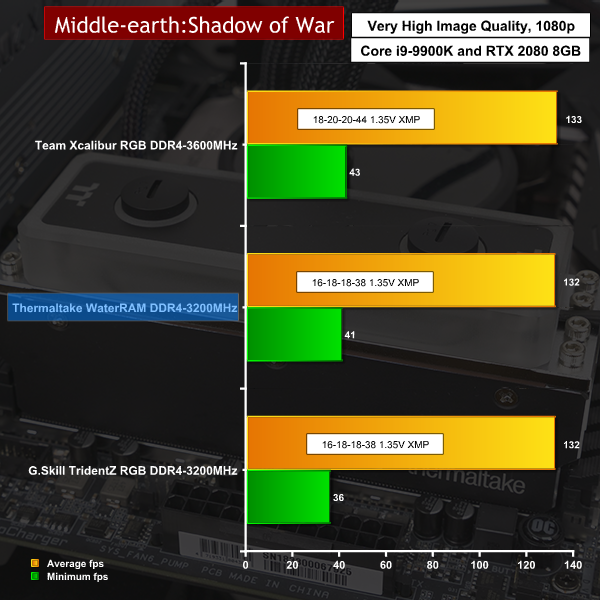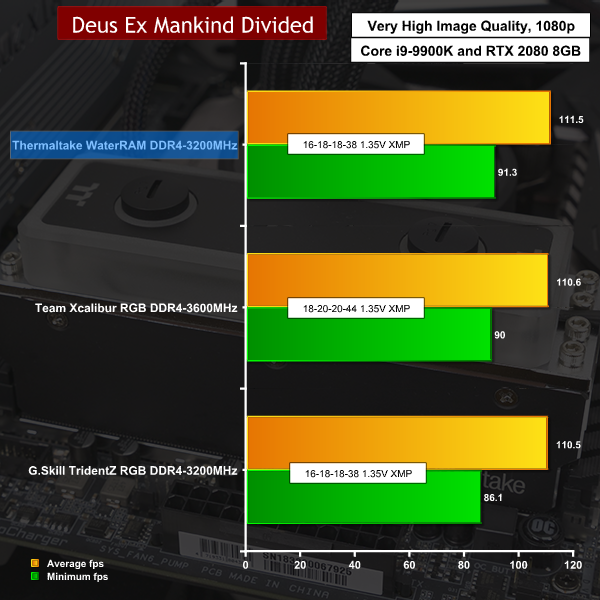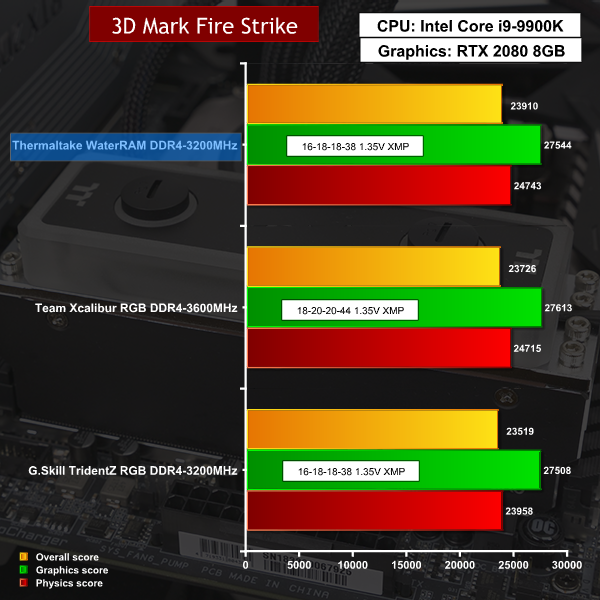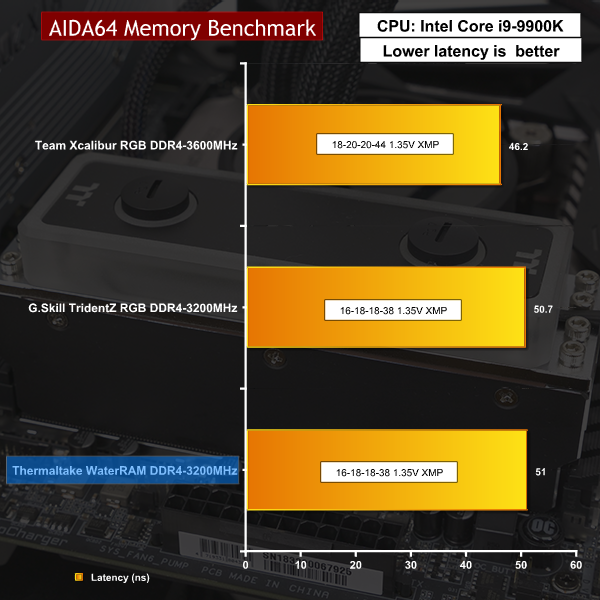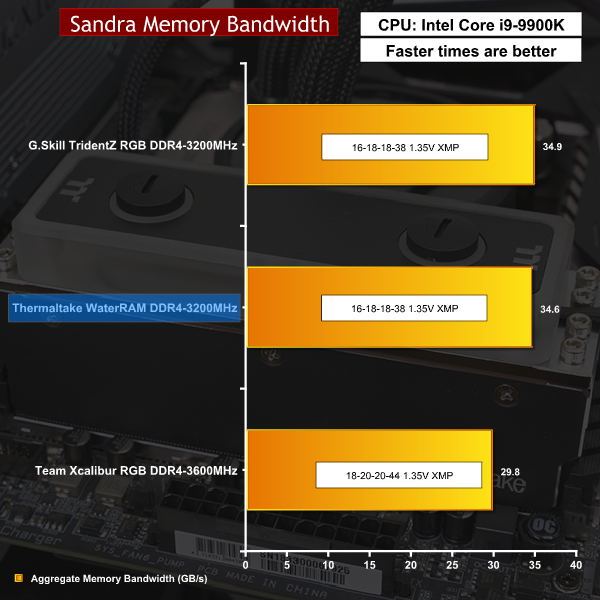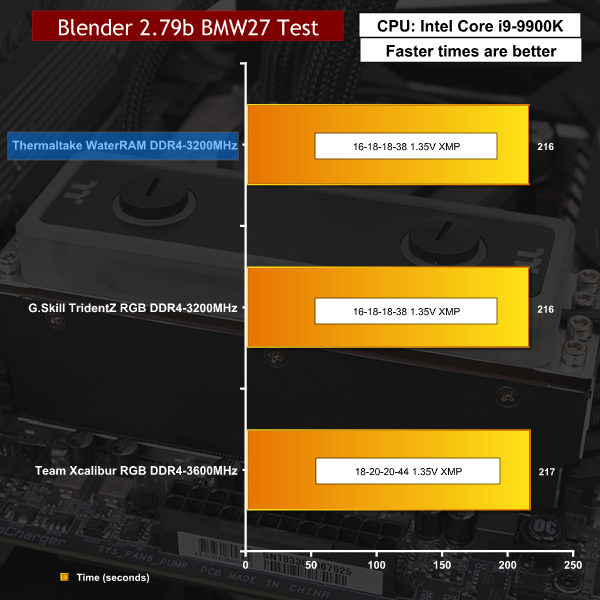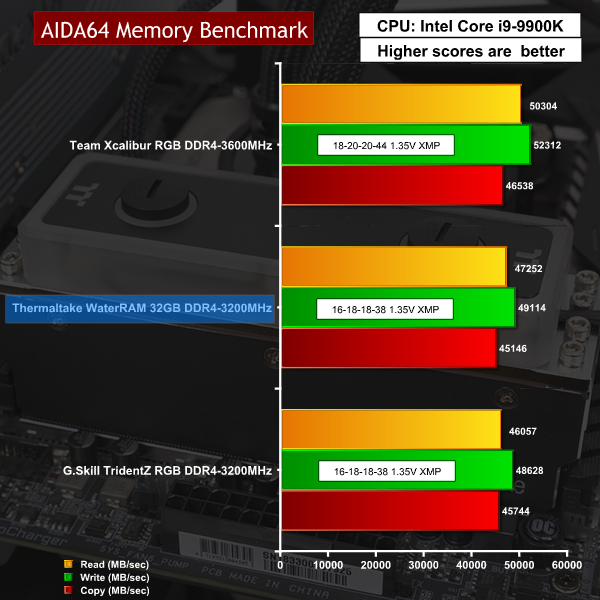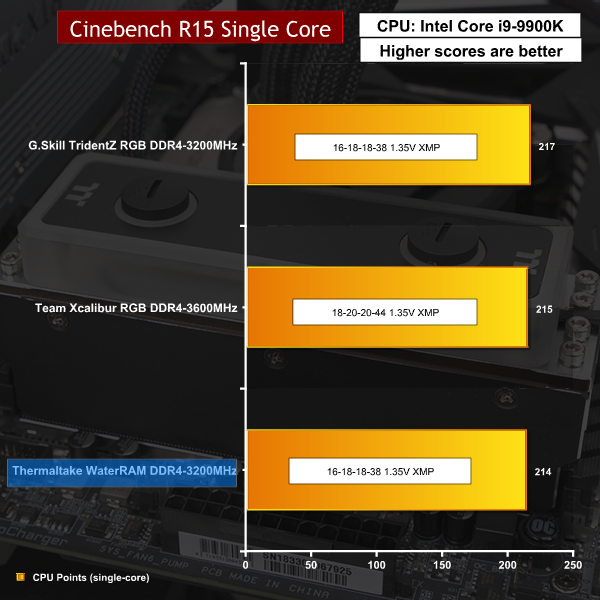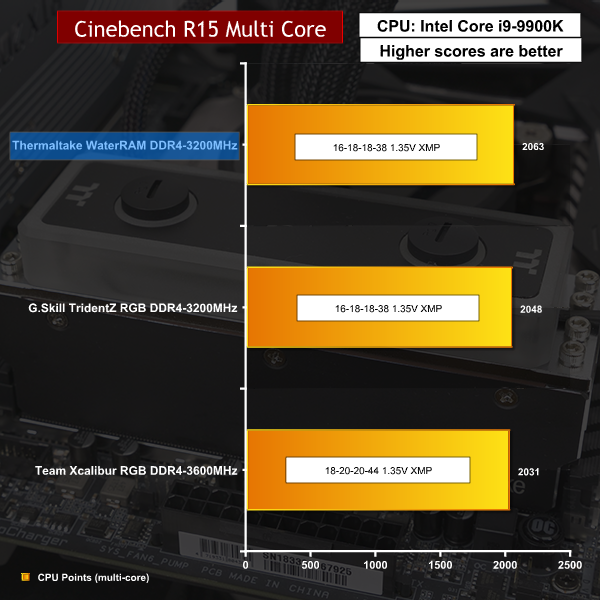 Test system
CPU Intel Core i9-9900K
Motherboard Gigabyte Aorus Z390 Master
Case Thermaltake Level 20 XT
Fans 4x TT Riing Plus 14
PSU TT Toughpower Grand RGB 850W
Cooling loop:
CPU block TT Pacific W3
Pump/reservoir TT Pacific PR15-D5
Radiator TT Pacific RL420
Fittings EKWB 10/16mm
Coolant EKWB Cryofuel Solid Electric Purple
We used a good deal of Thermaltake hardware for our testing including an enormous Thermaltake Level 20 XT case. This is significant as it lays the motherboard down horizontally and gives you all the vertical clearance you could possibly require. Anyone who knows anything about liquid cooling will see the big question is how you connect the loop from RAM block to CPU block, and possibly to a second RAM block. You either require some very tight tube bends or instead use large, extravagant bends that take up a good deal of space.
Performance Overview
The performance of the memory is good, as far as 3200MHz RAM goes. The timings are very acceptable and while the more elitist types may look down on anything that isn't Samsung B-die we get along just fine with SK Hynix ICs.
Cooling Performance.
(Left: no block. Right: with block).
We were less impressed by the cooling performance of Thermaltake WaterRAM, and that is despite the fact it worked perfectly! Thermaltake claims that RAM can run at 48 degrees without heat sinks that drops to 45.8 degrees when you install the heat sinks and water block. Turn on your liquid cooling, they claim, and the temperature drops to 30.2 degrees. It clearly makes a huge difference how you configure your test system.9i
When we hammered the bare modules (heat sinks installed but no water block) with the AIDA64 memory test we saw a temperature of 38.1 degrees C however this was with zero air flow. Adding the water block dropped the temperature to 36.2 degrees C and when we turned on the cooling pump it was easy to drive the temperature below 30 degrees and close to the idle temperature of 27.3 degrees C. Ambient temperature was 22 degrees.
How you configure the system makes a world of difference and it is clear to us that Thermaltake has taken the worst case scenario with zero airflow. That 45.8 degree figure seems extremely high for RAM and yet, simultaneously, it is very low in the great scheme of things.
Provided there is some level of airflow inside the PC we feel no need to liquid cool DDR4 RAM, and as far as we are concerned this system is all about the RGB.
Closing Thoughts.
We are not the least bit convinced about the case for liquid cooled DDR4 RAM, however the system used by Thermaltake adds a superb RGB light show and works very effectively. Their TT RGB Plus software is very good indeed and integrates their hardware and lighting to an impressive level.
There are two obvious points of view to make here. The first is that every other memory manufacturer is chasing a slice of the DDR4-with-RGB-along-the-top market, and many of them do it very well indeed. In the great scheme of things you will struggle to separate HyperX from, say, Team without focusing on the exact shape of the heat spreader or the precise timings of the memory ICs.
By contrast Thermaltake takes a completely different approach that will either float your boat or leave you cold. We can see no middle ground here. If you have already bought in to the Thermaltake way of things and use TT RGB Plus software you will likely hate the idea of adding Corsair iCue or Asus Aura software and will instead wish to stick with a single control system.
The other question is the physical height of the WaterRAM. A good many Thermaltake cases are quite large and have plenty of clearance for the cooling components. Thermaltake understands its customers and knows what it is doing and most people will have little trouble with the installation. Having said that, that are some conventional cases in the Thermaltake range that strike us as problematic, however you can pretty much judge that by eye.
Our single biggest complaint about WaterRAM is that Thermaltake finds it hard to know when to stop. We don't much like the idea that all Thermaltake TT RGB PLUS products support Amazon Alexa Voice Service, which allows you to give voice commands to the Alexa-enabled devices.
This is the precise opposite of what we want to see in PC products, however we know that 'problem' will cause a good many potential customers to clap their hands with glee. Learning a series of Alexa commands to change a lighting pattern fills us with horror and yet we know for sure that many enthusiasts will be bowled over by this innovation.
Thermaltake has been slow to enter the DDR4 RAM market and they have done it in an unusual manner however we have to admire their novel approach and we simply love the look of the finished RGB light show.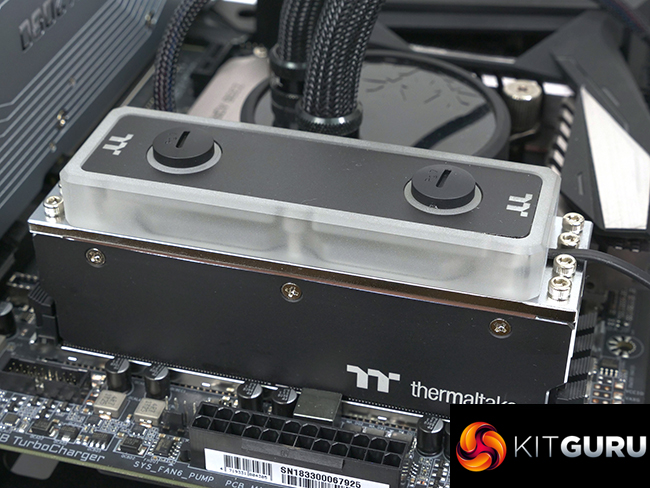 Pros:
Some of the best RGB we have seen.
TT RGB Plus software is very good.
Decent DDR4 performance .
This is the easiest way to water cool your DDR4 RAM.
Cons:
The installed height of WaterRAM is significant.
Water cooling RAM is aesthetic, rather than a necessity.
You need to jump into the Thermaltake eco-system wholesale.
Connecting the cooling loop requires some thought.
Thermaltake 32GB DDR4-3200MHz WaterRAM RGB
Prices 32GB US$439.99 and 16GB US$249.99
KitGuru says: Well done to Thermaltake for delivering a new approach to cooling RAM!
Be sure to check out our sponsors store EKWB here