It is tricky to describe the Thermaltake Core P90 Tempered Glass as it is unlike any PC case we have ever seen before. That's a bold statement but a quick glance at our photos and video will confirm we are giving you the genuine low-down as the main part of the chassis is shaped like a giant steel Toblerone. Add four shiny steel poles on each side to support two 5mm thick tempered glass panels and you have a curious structure that can either stand on end using the supplied feet or be laid down … something like a V-angle car engine. Theoretically you could wall mount this chassis on VESA mounts but that seems like a scary proposition as the weight is significant.
In fairness to Thermaltake, they do a decent job of describing this unique new PC chassis when they say it delivers 'A New Angle on PC Gaming' — it is also mildly amusing.
As we make clear in our video we cannot really regard the Core P90 Tempered Glass as a PC case and instead think of it more as a platform for showing off your PC hardware. While you might, theoretically, build a gaming PC using this chassis it is very large and bulky and also has no dust filtering whatsoever. If you have pets or small children in the house you can be fairly sure that a finger or nose will end up getting stuck in the wrong place.
On the other hand the Core P90 Tempered Glass is an incredibly visual and striking piece of work and we know this is the sort of thing that appeals to a certain type of PC enthusiast.
If you can't see the image gallery above then whitelist us in your adblocker as they can interfere with our display code.
Overview:
A New Angle on PC Gaming: Build from a different angle isolating components for proper heat dissipation.
2-Sided Glass Viewing Protection: Surrounded in 5mm thick tempered glass panels to protect and present.
Go Vertical: 2-way GPU placement allows vertical GPU mounting (TT Gaming Riser Cable Included)
3-Way Placement Layout: Supporting 3-way placement layouts (Wall-mount, Vertical and Horizontal) angle your PC in multiple ways.
Specification
Type: ATX Mid Tower
Motherboard Compatibility: ATX/Micro-ATX/Mini-ITX
CPU cooler height limitation: 180mm
VGA length limitation: 320mm
PSU Length Limitation: 220mm
Side Panel Windows: 2x 5mm Tempered Glass Panels
Drive Bays:
3x 2.5-inch (HDD Bracket)
2x 2.5-inch or 2x 3.5-inch (Behind the M/B tray)
2x 2.5-inch or 2x 3.5-inch optional
Expansion Slots: 8
I/O Ports: 2x USB 3.0, 2x USB 2.0, 1x Headphone, 1x Mic Ports
Cooling Fan Support: 4x 120mm or 3x 140mm
Radiator Support: 1x 120mm/240mm/360mm/480mm or 1x 140mm/280mm/420mm
VESA Compatibility: 200×200, 100×100, 75×75
Dimensions: 470mm (H) x 470mm (W) x 615mm (D)
Weight: 17.2kg
Full specification HERE
The notes we made while we were assembling a system using the Core P90 Tempered Glass cover a handful of points that illustrate our minor struggles as we came to terms with this new type of case. Sorry, chassis.
This is one of the very few 'cases' on the market to come without any fans at all.
The front supporting feet are essential to support the chassis. Those 5mm glass panels are heavy!
There is no support frame for the I/O panel so the solid nature of our Asus ROG Maximus X Formula worked perfectly.
With this case you pay a lot to be different.
Once you have unpacked the chassis you will find there is a certain amount of assembly that you have to perform, which is the opposite of a regular case where you pull off the panels and remove various components such as drive bays. Here you have to install the two brackets that retain your power supply and attach the eight posts that support the glass, and then you have to make a few decisions. If you are standing the chassis upright you need to install the feet, which is fiddly and you will find that life is easier if you use a magnetic screwdriver.
If you can't see the image gallery above then whitelist us in your adblocker as they can interfere with our display code.
Following on from that, if you are installing a cooler or some hard drive on the right hand side you will need to install a couple of mounting brackets. Alternatively if you want to lay your graphics card down flat using the PCI Express extension cable you will need to use a different bracket. Once you decide where the graphics card is going you can then install the expansion card support bracket and then you can get on with the motherboard and the rest of the hardware.
If you have plans to use a full custom cooling loop instead of an air cooler or closed loop cooler then you need to step back and consider your plans carefully. As we show in our video, Australian PC modder Stuart Tonks installed the pump/reservoir units on the back of the chassis, which is certainly unusual.
Once the PC is assembled you appreciate how the Core P90 Tempered Glass breaks pretty much every rule in the game. Most of the components are mounted externally where they are on show and the only internal parts of interest are the handful of drive bays. We cannot imagine anyone is likely to build a PC using this chassis with multiple drives, however the option has been provided. At first it seems strange thing that the chassis allows air to flow through from one side to the other but in fact this is an essential feature as you would otherwise find your fans and radiator were mounted against a solid surface, and that is unlikely to end well.
Once you appreciate the way the centre of the chassis works you will quickly appreciate that cable management is a difficult task. The chassis has a large number of mounting holes and slots for installing hardware and a series of large holes for air flow, so the best course of action is to keep the build minimalist and reduce clutter to a minimum.
Testing
To put this case through its cooling paces we will be using a test system consisting of an Intel Core i7-8700K, GTX 1080 and an SSD. This system allows us to produce a substantial amount of heat and effectively test the Thermaltake Core P90 TG's cooling capabilities.
For stress testing we use AIDA64 to create the maximum amount of load our CPU and GPU are ever likely to see.
Test System:
Processor: 4.3GHz Intel Core i7-8700K
Motherboard: Asus ROG Maximus X Formula
CPU cooler: Thermaltake Water 3.0 Riing RGB 280
Memory: 16GB G.Skill TridentZ DDR4-3866MHz
Graphics card: EVGA GTX 1080 SC
Power supply: Sea Sonic Prime Titanium 600W Fanless
Storage drives: Samsung 960 M.2 SSD
OS: Windows 10 Pro
Cooling Performance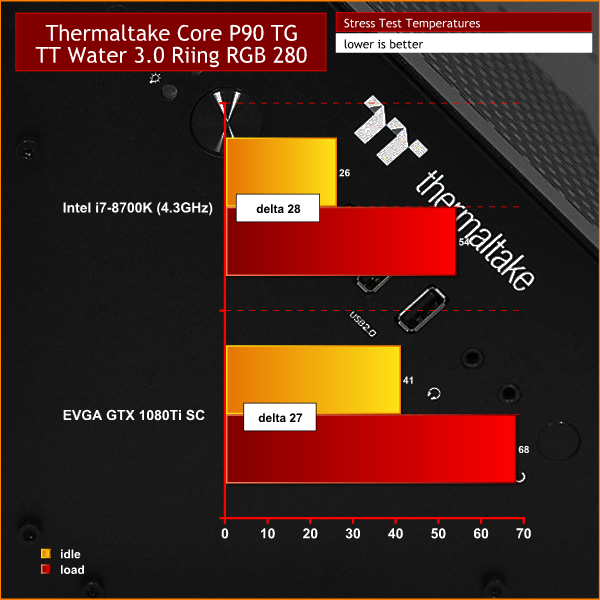 Thermaltake Core P90 Tempered Glass is completely open and allows air to flow through your cooling hardware with near-zero restrictions. The result is CPU and GPU temperatures that are very low, however it is worth noting there will be very little airflow over components such as the VRMs or your liquid cooled graphics card.
Acoustics performance
The only fans in our test system were the two 140mm fans on the Thermaltake Water 3.0 liquid cooler and they were controlled by PWM at low speed. Despite the open nature of the chassis this system was very quiet and was effectively inaudible during our video, despite its close proximity.
Closing Thoughts
In all probability you made up your mind about the Thermaltake Core P90 Tempered Glass during the first minute of our video. It has a unique form factor and is both big and imposing, but whether these are problems or features is entirely a matter of personal opinion. If you want a conventional case that contains your hardware the Core P90 is pretty much hopeless, and the same is true if you want a PC you can take to LAN parties or place discreetly under your desk. In these scenarios the Core P90 is no good at all.
On the other hand if you want to build a big, brash and eye-catching system with the hardware on show you will very likely find the Thermaltake Core P5 is a better choice as it is a more conventional shape.
This V-shaped chassis is so unusual that is it suited to a very small handful of builders and modders and that is the reason why we didn't mention the price during the video as it is irrelevant. Sure it looks expensive at £194.99 (you'll find it slightly cheaper if you look hard) but £100, £200 or £300 are much of a muchness when you're talking about something that is unique.
In a similar vein the build quality is the usual Thermaltake thing where the panels are quite flexible and the screws do not feel especially good, but the whole things goes together well enough and does a reasonable job.
If we were comparing the Thermaltake Core P90 with a Fractal Design or Phanteks chassis that would very likely be a damning criticism but it isn't, not this time. This case is unique and the usual comparisons do not really apply. You either look at Core P90 and immediately develop a plan or wonder what the heck it is all about while walking swiftly in the other direction.

Buy from Overclockers UK for £194.99 inc VAT HERE
Pros:
Unique V-shaped configuration.
Two hefty 5mm tempered glass panels.
Can accommodate a 420mm or 480mm radiator.
Open design ensures plenty of cooling air.
Cons:
A large chassis that requires plenty of space.
You get novel looks but not much else.
Installing a custom loop could prove difficult.
Cable management is an obvious problem.
KitGuru says: Thermaltake Core P90 Tempered Glass is a unique V-shaped PC chassis.
Be sure to check out our sponsors store EKWB here