EVGA Corp. has quietly started to sell its own-brand memory modules in the U.S. The modules are designed for enthusiast-class personal computers, but do not offer extreme performance like DIMMs from traditional suppliers of high-end memory. Since the new products are not available widely, it looks like the company is only testing waters with the initial lineup.
EVGA was founded in 1999 by Andrew Han, a co-founder of Epox, and Keith Rotchford, a computer engineer an inventor, with a purpose to make high-end graphics cards. The company quickly gained respect from enthusiasts for its advanced graphics adapters and eventually the firm started to design and produce its own mainboards after acquiring a design team from Epox. Since 2010, EVGA has been consistently expanding its computer components portfolio with power supplies, PC cases, gaming mice, mobile devices and various accessories. Apparently, the company now wants to further capitalize on its brand and recognition by offering its own memory modules.
EVGA's Superclocked and SSC [Super Superclocked] DDR3 and DDR4 memory modules come in dual- and quad-channel kits and feature up to 2.40GHz (DDR3) and 2.80GHz (DDR4) clock-rates. The modules feature custom black printed-circuit boards, stylish heat-spreaders and are based on "carefully selected" memory chips. EVGA's memory kits are backed by a three-year limited warranty and are currently available only in the U.S. at MicroCenter.
In the recent years, EVGA got a lot of accolades for its highly custom factory-overclocked Nvidia GeForce GTX-based graphics cards that offer massive performance advantage over reference graphics adapters. In view of that, it is a bit surprising that EVGA decided not to introduce memory modules with extreme data-rates that would compete against ultra-high-end products like Corsair Dominator Platinum.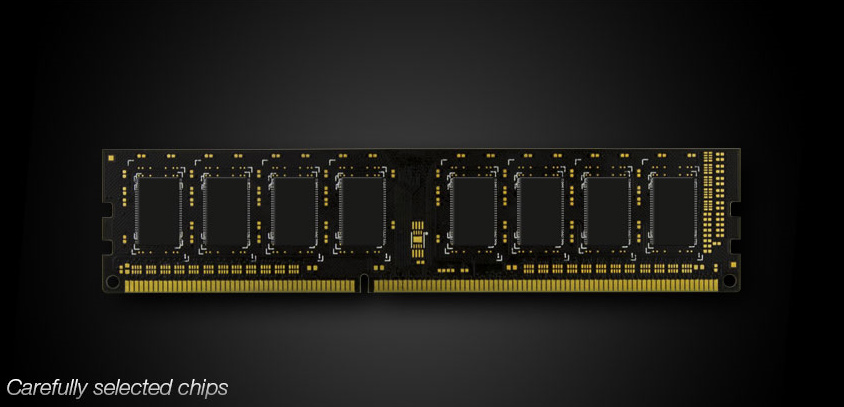 As it appears, competing for ultra-premium DIMM market is not something that EVGA initially wants to do. One of the key tasks for EVGA's memory modules is to "deliver an unbeatable combination of price and performance" in order to gain some recognition and find out how profitable or unprofitable the branded DIMM business is these days. For that reason, EVGA set pretty low prices on its modules. EVGA's quad-channel 16GB DDR4 kit rated to run at 2800MHz with CL16 16-16-36 timings at 1.2V costs just $179. Comparable 16GB 2666MHz/2800MHz kits from Crucial or Corsair cost from $249 to $399. While premium modules from renowned brands are covered with lifetime warranties, given massive price difference between them and EVGA, many people will be satisfied with the company's three-year warranty.
It is unknown whether EVGA plans to expand its memory module business to other stores in the U.S. as well as to other regions. Perhaps, if demand for EVGA DIMMs gets high, the company will at least think about it.
Discuss on our Facebook page, HERE.
KitGuru Says: It is quite surprising that EVGA decided to enter the DRAM module market at all. A number of companies in the recent years either stopped selling memory modules or even ceased to exist. If EVGA owns manufacturing capacities, then DIMMs are a good way to keep them utilized at all times. Moreover, modules do not require a lot of R&D spending, like solid-state drives do. If the company outsources manufacturing of memory modules, then the reasons why it decided to enter this business are completely unclear.