Toshiba Corp. and SK Hynix on Thursday signed a formal agreement under which the two companies will jointly develop a nanoimprint lithography (NIL) process technology. The two producers of chips and computer memory plan to start using NIL technology in 2017. The companies believe that the tech will allow them to make DRAM, NAND and other types of memory more cost-efficiently.
NIL is the one of candidate process technologies for advancing the migration to future generations of memory devices. Photolithography, the current mainstream fabrication process, uses a laser and photosensitive mask to etch circuits on a light-sensitive coating on semiconductor wafers. NIL transfers the circuit design directly, by impressing a patterned template onto the wafer. It creates patterns by mechanical deformation of imprint resist and subsequent processes. The imprint resist is typically a monomer or polymer formulation that is cured by heat or UV light during the imprinting, according to Wikipedia. Adhesion between the resist and the template is controlled to allow proper release. It is believed that NIL has the potential to achieve finer designs.
Engineers from Toshiba and SK Hynix will initiate development of basic technologies for the process at Toshiba's Yokohama Complex in Yokohama, Japan in April, 2015, targeting practical use in 2017.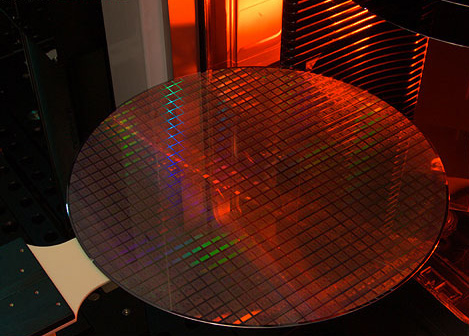 Toshiba has already worked with several equipment and materials companies on NIL, integrating their technologies with Toshiba's semiconductor manufacturing process. The joint development program with SK Hynix accelerate progress towards practical use and will lower burden of Toshiba's investment into NIL development.
Toshiba will continue drive development of next generation lithography technology, such as NIL and extreme ultraviolet lithography in a bid to keep up with increasing demand for more NAND flash memory.
Discuss on our Facebook page, HERE.
KitGuru Says: The NIL technologies look good on paper, but there are a lot of concerns about their viability too. It will be very interesting to see the results of Toshiba's and SK Hynix's co-work.