With just how powerful AMD's new Threadripper CPUs are, it is ideal to balance them with equally high-end components. G.Skill takes this to the extreme with the introduction of its new Flare X DDR4 RAM, coming in sets of 3600MHz or 128GB memory kits.
While any DDR4 stick should slot into any motherboard compatible with the socket, it's not always as simple as plug-and-play. Some combinations work better than others, especially with regards to overclocking. G.Skill recognise this and has expanded its Flare X line to include sets specifically designed for AMD motherboards and processors, boasting compatibility with the new Threadripper processors and X399 chipset.
The first of the two sets is 32GB (8GBx4) running at 3600MHz, timed at 16-18-18-38 and requiring 1.35V. G.Skill also offer a similar kit running at 3466MHz using the same specifications as well as a slightly slower kit of 3200MHz timed at a closer 14-14-14-34.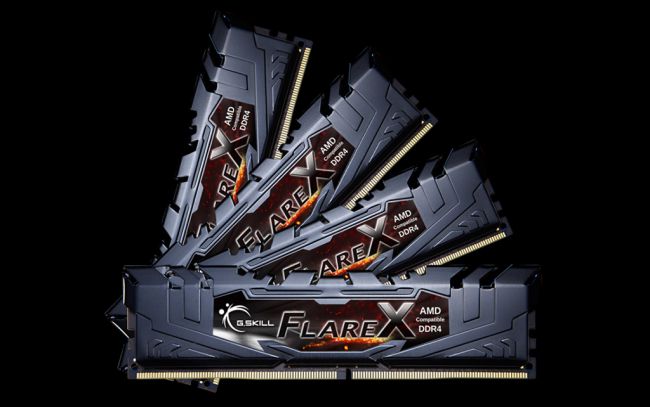 The second set takes advantage of the AMD X399 platform's 8 memory slots with a whopping 128GB (16GBx8). This massive piece of kit also requires 1.35V and comes in at a slower 2933MHz with the same tight timings of 14-14-14-34.
Needless to say that these kits aren't built with the average gamer in mind, but instead to satisfy the intense content creators and professionals in the world. Not that these kits wouldn't satisfy gamers in an overkll system, of course.
Pricing and availability for these new kits are yet to be announced by G.Skill, but I imagine it will cost a pretty penny for such extreme and tested performance.
We got our hands on AMD's new Threadripper CPUs yesterday and determined that the company, for the first time in years, might have just dethroned Intel in the consumer market for higher end processors.
KitGuru Says: I am currently running 3000MHz RAM and certainly noticed the jump in speed when video editing, so these kits along with the idea of owning a Threadripper CPU are already burning a hole in my pocket. Do you plan on picking up a Threadripper CPU? Would you pick up either of these new sets of RAM?