TeamGroup has established its T-force RAM as one of the most high-performance brands on the market, making it popular with gamers and enthusiasts who want to extract every ounce of performance from their rigs. The company has now launched the world's first mirror design ARGB gaming memory.
TeamGroup's gaming division T-force has announced an addition to its high-performance memory range with the T-Force XTREEM ARGB Gaming series. The XTREEM ARGB Gaming memory features the world's first full mirror reflection design with light penetration and ARGB lighting core technologies.
T-Force XTREEM ARGB Gaming memory features the industry's first full-screen light guiding technology. A unique lighting method and addressable RGB LEDs are used to allow users to configure the integrated RGB lighting as they choose. The mirror finish screen is manufactured from a combination of a special spluttering process and light guiding technology, which can directly penetrate and reflect surrounding components.
The high-performance T-Force XTREEM ARGB Gaming memory is capable of reaching frequencies up to 4800MHZ due to its IC chips being selected through a rigorous testing procedure, with each chip extensively tested to produce ultimate compatibility and stability for gamers and PC enthusiasts.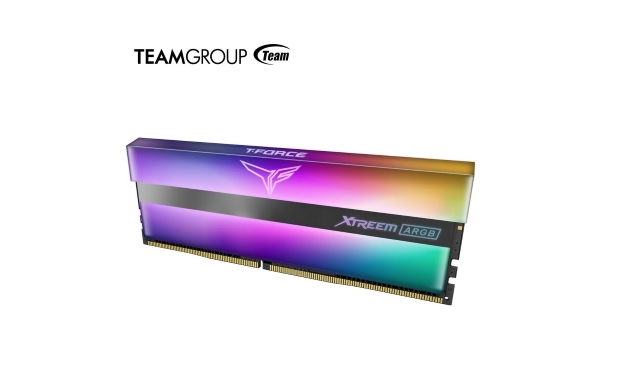 T-Force XTREEM ARGB Gaming memory has a built-in O.C profile to provide an ultra-fast experience of one-click overclocking on both Intel and AMD platforms. The memory modules support all major RGB lighting control software for full control and synchronisation with other addressable RGB products and can be customised to suit individual user preference.
T-Force XTREEM Gaming memory Specification:
Module Type
288 Pin Unbuffered DIMM Non ECC
Capacity
8GBx2
Frequency
3200
3600
4000
Data Transfer Bandwidth
25,600 MB/s

(PC4 25600)

28,800 MB/s

(PC4 28800)

28,800 MB/s

(PC4 28800)

32,000 MB/s

(PC4 32000)

Latency
CL16-18-18-38
CL14-14-14-34
CL14-15-15-35
CL18-22-22-42
CL18-22-22-42
Voltage
1.35V
1.45V
1.35V
Dimensions
48.7(H) x 133.7(L) x 8.1(W)mm
Warranty
Lifetime warranty
Discuss on our Facebook page HERE.
KitGuru says: T-Force has always offered excellent performance memory for high-end PC systems. What do you guys think to this new ARGB mirror effect RAM from TeamGroup?