We might be in the midst of a RAM shortage but that isn't stopping G.Skill from consistently raising the bar when it comes to DDR4 speed. This week, G.Skill unveiled its new 32GB kit, the world's fastest running at 4400MHz.

G.Skill's latest Trident Z 32GB (4x8GB) DDR4 RAM kit is built using Samsung B-die ICs, which are tested and pre-binned to ensure they can hit 4400MHz. This kit also runs with a CL19-19-19-39 timing. This comes just a few days after Corsair proclaimed to have the highest speed 32GB DDR4 kit, running at 4333MHz.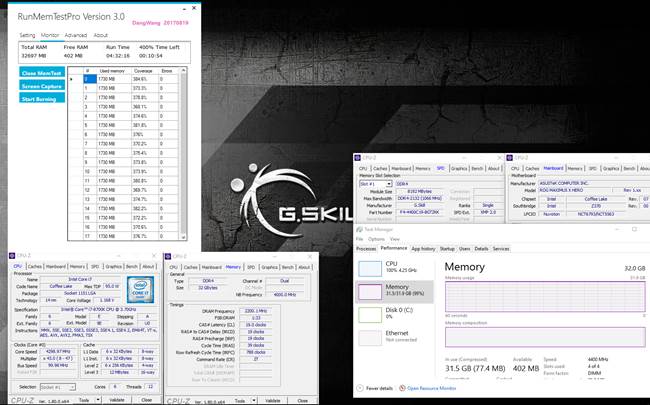 G.Skill validated its speeds on a system using an Intel Core Core i7 8700K and an ASUS ROG Maximus X Hero motherboard. Asus's OptiMem technology compliments G.Skill's kit by using equalized trace lengths. The four-DIMM configuration also has improved stability, allowing it to hold such high speeds while using an exceptionally aggressive timing of CL19-19-19-39 in 32GB (4x8GB) at 1.5V.
This new Trident Z series is programmed using the Intel XMP 2.0 profile, so you should easily be able to enable these speeds in the BIOS. You could potentially tweak things to squeeze more performance out manually, but at the very least, you should be able to hit 4400MHz.
KitGuru Says: Pricing and availability is still up in the air, but we'll hopefully learn more about that soon. G.Skill has been pushing hard with its DDR4 kits in recent years, consistently breaking records and raising the bar. With that in mind, I'm looking forward to seeing what they bring to the table next.