Asustek Computer, the world's largest maker of mainboards, has announced that it had sold its 500 millionth motherboard since its establishment in 1989. To celebrate the milestone, the company announced a global giveaway.
"I want to thank all of our customers for their support throughout the past 25 years. We share a common passion for technology and their inputs have enabled us to grow on this journey in search of incredible," said Jonney Shih, the chairman of Asustek. "We are committed to delivering more innovation to market and we aim to bring a seamless and joyful digital life for everyone to enjoy."
Asus, headquartered in Beitou District, Taipei, Taiwan, was established in 1989 by T.H. Tung, Ted Hsu, Wayne Hsieh and M.T. Liao, who all were engineers in Acer Group. At that time Taiwan was not a key country in the global PC industry. According to the legend, Asus created a prototype for a mainboard designed for Intel 486 microprocessor, but had to do so without access to the actual chip because at the time Intel supplied its new CPUs to companies like IBM first. It turned out that Asustek's mainboard was better than Intel's own, which is why the company began to receive samples of Intel's chips ahead of the competition.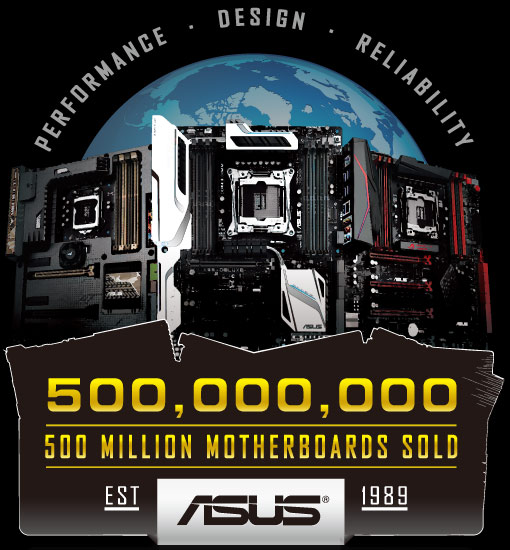 Throughout its history, Asus created a number of unique industry-first mainboards that were better than platforms from competitors. For example, Asus developed the world's first dual-socket motherboard for Intel Pentium processors.
Today Asustek Computer remains the largest supplier of mainboards in the world. Asus ROG motherboards are highly respected by technology enthusiasts and overclockers worldwide.
Since its establishment, Asus founded another major maker of mainboards, Asrock, a contract manufacturer Pegatron as well as Unihan Corp., which focuses on non-PC manufacturing such as cases and molding.
The company is now holding a global competition for its fans. The company will raffle mainboards, mice, routers, monitors and other prices, including unique customized TUF case mod.
Discuss on our Facebook page, HERE.
KitGuru Says: Asus will likely remain the world's biggest mainboard supplier in the coming years thanks to its vast engineering resources and financial prowess.