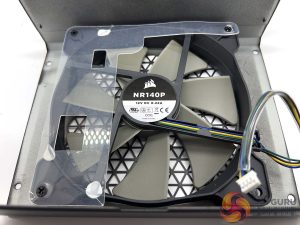 The HX1500i incorporates a high grade NR140P fan rated 12V 0.22A. You can buy these fans online for around the £20-£25 mark HERE. This is a Fluid Dynamic bearing fan (FDB). The partial plastic sheet is in place to focus air flow over specific parts of the unit underneath.
This is a fully digital unit with resonant LLC topology and DC to DC conversion. It has been created for Corsair by CWT under their guidance. The soldering and build quality is at a level we would expect for a flagship model. The unit is clean and well designed throughout.
The design incorporates 105C Japanese electrolytic capacitors. Platinum efficiency allows for that only a couple of heatsinks are needed across the PCB. The unit offers OCP, OVP, SCP, OPP, OTP and CFP protection.
Be sure to check out our sponsors store EKWB here