The Kolink Continuum KL-C1500PL is a rather unusual power supply because its been specifically designed to target the enthusiast base who mine with multiple graphics cards.
First impressions weren't that positive for me. The stickers look ugly, and the lack of C19 cable surprised me, along with an error on the specifications sticker (watts instead of amps). As I explained earlier in the review, I raised these points with Kolink and they told me that miners use their own power cable and that the typo has already been fixed on the next batch of retail supplies.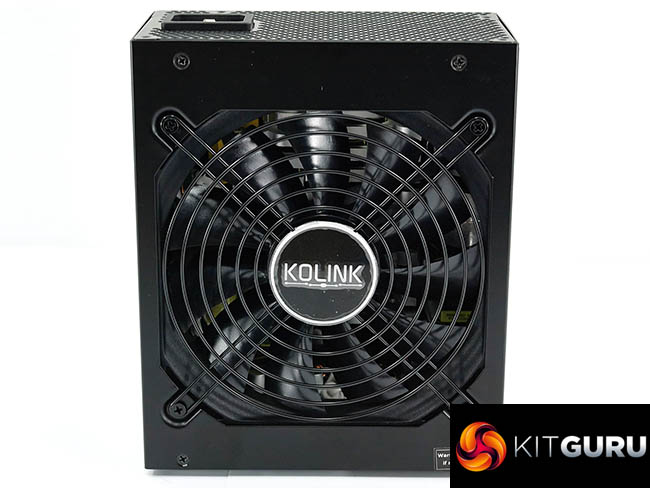 Kolink have surprised me, and in a positive way. When I was feeding back my thoughts they wanted to detail the reasons behind their decisions, and they haven't been slow in supplying information either – which is good.
Based on the C19 cable feedback they did say they will try and set a bundle up with a C19 power cable included. I think that is a good move as not everyone will already have a C19 cable at hand.
It would be fair to say that the finishing of the power supply could be better. It is budget looking and when compared to high end market leaders such as Seasonic, the overall appearance is disappointing. Its not pleasant having huge stickers on the sides, but when they aren't stuck on perfectly straight it just exacerbates the overall feeling of a lack of attention to detail.
Technically, I was pleased to note that things started looking better. The Enhance design is very good and the power supply delivered in excess of 1600 watts before shutting down, and a constant 1,600 watts would be possible, although I doubt Kolink would recommend it. They have not cut corners by using cheaper Chinese capacitors, instead opting for high quality Nichicon capacitors rated 450v at 560uF per capacitor. There are three in this 1500W unit, totalling 1680uF – which really is impressive.
The use of a Double Ball Bearing fan means that this unit does operate a little louder than many high end units available today, but the fan selection is based on the fact that miners will want the most reliable long term solution under heavy load. A 2BB fan offers that over a FDB/HDB/Rifle fan.
As I noted earlier in the review, this Enhance design looks similar to other Enhance 1500W units on the market today, but it appears to be a custom mixture of the new Platinum and Titanium Enhance models with LLC primary and DC-DC secondary. Kolink said they worked with Enhance to make around 50 changes to this particular unit to enhance the overall performance.
Another design decision catering to the mining market is the removal of the mechanical power switch. This removes another possible issue and as miners often remote control their rigs it makes sense to take another possible long term issue out of the way.

The pricing on the Kolink Continuum KL-C1500PL is competitive. Right now you can buy it from Overclockers UK for £289.99 inc vat HERE. Silverstone for instance offer their Strider SST-ST1500 unit for £309.95 inc vat – but its only 80 Plus Gold certified (HERE). If you are building a new system for mining and are using multiple graphics cards and need a lot of power then the Kolink Continuum KL-C1500PL is a sound purchase.
Pros:
good ripple suppression.
modified Enhance design is well made.
strong load regulation.
quality cables.
12 PCIe connectors.
105c Japanese capacitors throughout
fan selection aids long life.
competitively priced.
Cons:
only a 5 year warranty.
can get loud under load.
no C19 cable bundled.
'stickered' exterior is ugly.
Kitguru Says: The Kolink Continuum KL-C1500PL is specifically designed for the mining audience, and its technically a very solid customised Enhance design with a focus on high load long term reliability.