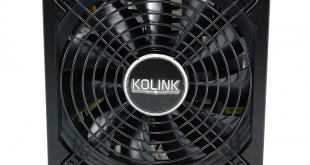 Miners may be the bane of the gaming community but it goes without saying that companies are finding this market very lucrative. Our readers constantly complain about the lack of availability of AMD Vega graphics cards for instance – and when they become available they are often selling for up to £900! With miners specifically in mind, Kolink have launched a monstrous Platinum rated 1500w power supply with several key options to cater specifically to the miners out there.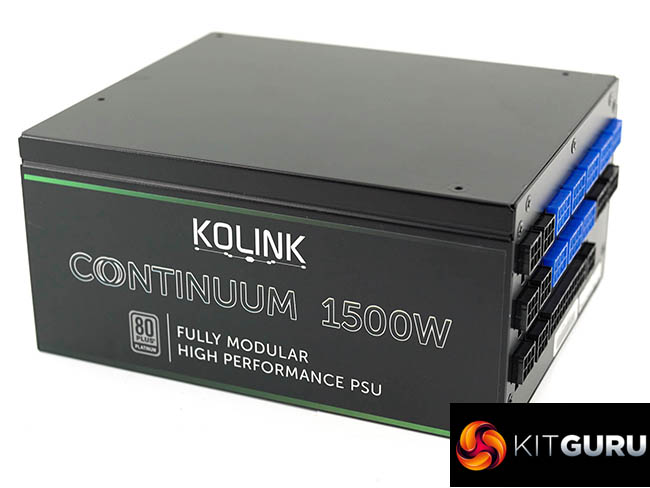 This focus means that Kolink have opted to incorporate a fan featuring a Double Ball Bearing fan (2BB) bearing. They considered FDB, HDB and rifle bearing fans but when it comes to longevity there is no denying that 2BB fan bearings are rated highest. Noise levels are likely going to be higher, however Kolink incorporated a semi fanless mode to keep the PC noise down at idle and lower load demands.
To ensure maximum stability over many years, Kolink told us they opted for 100% Japanese electrolytics with some solid state and ceramic capacitors. This should help improve heavy load stability and long term reliability.
To fully support the mining community, Kolink have opted for a design with support for 12 PCIe connectors. In practice this means you can use six AMD 580 / 1080 graphics cards without the need for adapters. They have also included single PCI connector based cables to cater for heavily overclocked systems.
The designers decided to get rid of the mechanical power switch. This helps improve airflow and also reduces RMA issues. I was told by a Kolink representative that switches can be an RMA concern and miners don't like those switches as they like to remote control their rigs anyway.
To be fair this power supply could be easily used for a myriad of tasks – for graphics based workstations, Render systems and scientific rigs. Yes, it will power your gaming system as well, but it seems somewhat overkill – even for a rig with two GTX 1080 ti's.
Interesting to see only a 5 year warranty with this unit, Seasonic are leading the way right now with 12 years warranty. Other companies such as Cooler Master, eVGA and Corsair are offering warranty terms between 7 and 10 years. Playing Devils Advocate – this is one of the cheapest 1500W Platinum power supplies you can currently buy so its likely part of the tradeoff.
Technical Details:
Dimensions: 150 x 86 x 180 mm (W x H x D)
Fans: 135 mm (automatic control, semi-passive)
Colour: Black (PSU, fan)
Efficiency: At least 92/90/89 percent at 50/20/100 percent utilisation. Meets the requirements of 80 Plus Platinum. Efficiency in the European 230V network is up to two percentage points higher
Active PFC
Form Factor: ATX12V 2.4/EPS12V 2.92
Power: 1,500 W (continuous power)
. 3.3V: 25 A
5V: 22 A
3,3V & +5V combined: 120 W
12V: 1,500 W / 125 A
12V: 3,6 W / 0,3 A
5Vsb: 15 W / 3 A
Manufacturer's Warranty: 5 years
Review photography handled in house at KitGuru with a Leica S series medium format camera and S series prime lens. Please do not use any of the images within this review without express permission.