Both GTX 1080 Strix and GTX 1070 Strix were excellent products and received KitGuru's top Must Have award, in many ways the STRIX GTX 1060 is a predictable conclusion since it uses the same cooling solution and overall design philosophy.
ASUS offers the GTX 1060 STRIX OC at £320/$330 and the GTX 1060 STRIX at £300/$310, the latter of which is a fair price given ASUS has other lesser-spec'd GTX 1060 options to cater to lower price points including the GTX 1060 Dual, Dual OC and Turbo. It's also only about 10% more expensive than the Founders Edition, given all the extra features and functionality that's a premium well worth paying.
The ROG STRIX model is about offering the best feature set for the Nvidia GTX 1060 GPU and this card does that. It's built like a tank with a cooling solution that is engineered to handle a GTX 1080, meaning the GTX 1060 is cooled without breaking a sweat.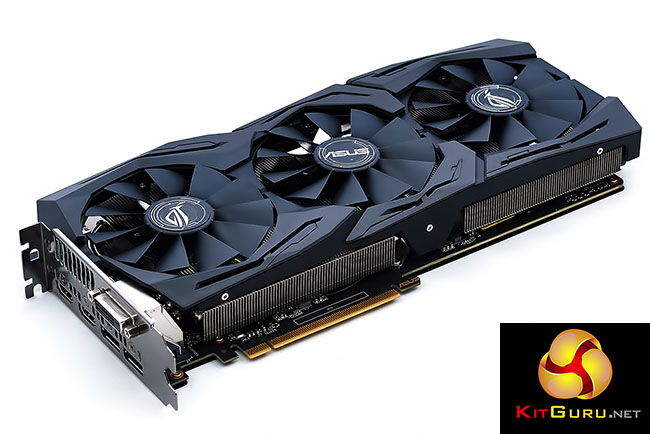 There are a number of other extra features that add value and justify the price point beyond the excellent cooler. The onboard fan headers are actually a smart idea since, generally speaking, the GPU will be the single biggest heat source in a system so having the GPU temperature dictate the case fan behaviour makes sense. The RGB lighting and backplate help to give a premium finish to the card that other cheaper GTX 1060s lack.
There is an inherent danger though, at least with the OC model, that pricing is falling too close to the GTX 1070s. In the UK these GTX 1070s start from £370 while ASUS expects £320 for the STRIX OC GTX 1060. Arguably the OC model fails to be relevant since the standard clocked model can be overclocked to the same level in seconds, saving customers money and effectively delivering the exact same product.
Our testing also demonstrated that the OC model doesn't bring with it any additional overclocking headroom either.

Buy from Overclockers UK for £325.99 inc vat HERE.
Discuss on our Facebook page, over HERE.
Pros
Astounding cooling performance
Quiet operation
RGB functionality
Backplate
Passive fan mode at low loads
2 x HDMI ports for VR
Cons:
OC model is too expensive
Larger than it needs to be for the TDP
KitGuru says: An over-engineered cooling solution and plentiful range of features, the ASUS GTX 1060 STRIX is an excellent upgrade over the Founders Edition.