Plextor, one of the most respected brand-names in the consumer storage industry, this week unveiled its new M6 lineup of solid-state drives. The new SSDs come in various form-factors that target different types of personal computers and also sport different interfaces, including Serial ATA and PCI Express. The latter brings performance of consumer solid-state storage to a new level.
Plextor M6-series solid-state drives are based on Marvell 88SS9183 multi-core flash controller with the company's own firmware. The drives rely on Toshiba's second-generation multi-level cell (MLC) NAND flash memory produced using 19nm process technology with toggle DDR interface. The M6-series features tweaked TrueSpeed technology that guarantees consistently high performance over time. To further improve speed of the new solid-state drives, the M6 line sports new "Adaptive Write" proprietary firmware technology designed to maintain SSD performance under heavy workloads throughout the life warranty of the drive.
The manufacturer will offer M6-series in 128GB, 256GB and 512GB capacity points and in 2.5"/5mm (M6S), mSATA (M6M), M.2 PCIe (M6e) and PCI Express half height/half length card (M6e HHHL) form-factors. The M6S solid-state drives are designed for mainstream laptops, high-performance desktops and workstations. The M6M and M6e in M.2 form-factor are aimed at ultrabooks, ultra-thin notebooks and small form-factor desktops. The M6e HHHL PCIe SSD card is designed for high-end desktops and workstations.
The M6-series SSDs with Serial ATA-6Gb/s interface sport sequential read/write speeds of up to 520MB/440MB per second and random read/write speeds up to 94K and 80K IOPS [input/output operations per second], respectively. While declared maximum performance figures may not impress from the start, it should be noted that the speed of today's SATA-6Gb/s SSDs is limited by the interface specification; moreover, thanks to TrueSpeed and Adaptive Write technologies, high performance will be sustained over a long time.
The M6-series solid-state storage devices with PCI Express 2.0 x2 interface (M6e in M.2 form-factor and M6e HHHL PCIe SSD card) provide much higher performance compared to drives with SATA interface. The manufacturer declares maximum sequential read/write speeds of up to 770/625MB per second and random read/write speeds of up to 105K and 100K IOPS. The M6e is automatically recognized as an advanced host controller interface (AHCI) device, requiring no additional drivers, which means that the PCIe-based storage can be used as a boot device. Plextor claims whopping 2.4 million hours mean time between failures for its PCI Express-based drives. It is noteworthy that Plextor officially positions the M6e as ultimate solutions for gaming PCs.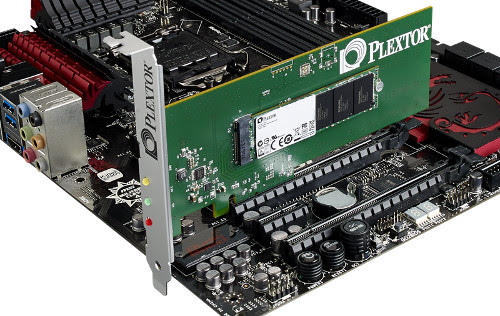 Plextor M6e PCIe HHHL card SSD. Image by StorageReview.com
"Plextor has built a close relationship with the gaming community, so it is natural that we're the first to provide an SSD that meets its specific needs," said Zhang Yaping, M6e product manager. "Modern games push systems to their limits; by getting data from storage to the graphics card and into RAM fast, even under heavy load, the M6e makes the gameplay experience smoother and better. We've also optimized the M6e to perform smoothly with a large variety of games so it's suitable for use by all types of players."
Plextor M6 family of SSDs is backed by a five-year warranty. The M6 series is set to be available for purchase in the spring of 2014.
KitGuru Says: Plextor-branded solid-state drives do not come with extreme performance specifications that many SSD makers like to brag about. Given the reputation that Plextor has deserved in more than 25 years of its history and a set of proprietary technologies, owners can expect their drives to perform as advertised throughout their lifetime.